Amazon Orders 1,800 Mercedes-Benz Electric Delivery Vans For UK And EU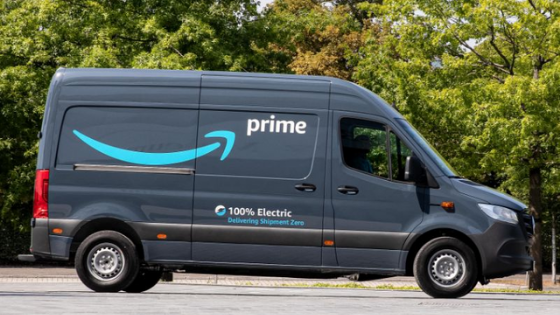 Global online retailer Amazon announced last week that they're buying 1,800 electric vans from Mercedes-Benz for their European delivery fleets, as part of their goal to be carbon-neutral by 2040.
Out of the total purchased 1,800 electric Mercedes-Benz vans, 1,200 will be the e-Sprinter and the remaining 600 will be eVitos. These will be mixed into Amazon's delivery fleets by the end of this year.
Amazon's Chief Executive Officer, Jeff Bezos, commented that the Mercedes-Benz van order was part of the company's 'journey to build the most sustainable transportation fleet in the world.'
But Amazon aren't alone – delivery corporations around the world are all moving towards electrifying their fleets, including UPS (UPS), which is taking 10,000 electric vans from Arrival in the UK.
Last Friday, Mercedes-Benz signed Amazon's 'Climate Pledge', which calls on companies to also commit to being carbon neutral by 2040.
Online retailing giant Amazon's overall goal is for their entire delivery fleet - consisting of hundreds of thousands of vehicles, from bicycles to tractor trailers - to be carbon neutral by 2040.
'We welcome the bold leadership demonstrated by Mercedes-Benz by signing up to The Climate Pledge and committing to ambitious action to address climate change,' stated Amazon's CEO Jeff Bezos.
'We need continued innovation and partnership from auto manufacturers like Mercedes-Benz to decarbonize the transportation sector and tackle the climate crisis.'
If you'd like to browse our current deals on all the latest Mercedes-Benz vans, click the link below: