All-New Kia Niro Delivers Next Step in Sustainable Mobility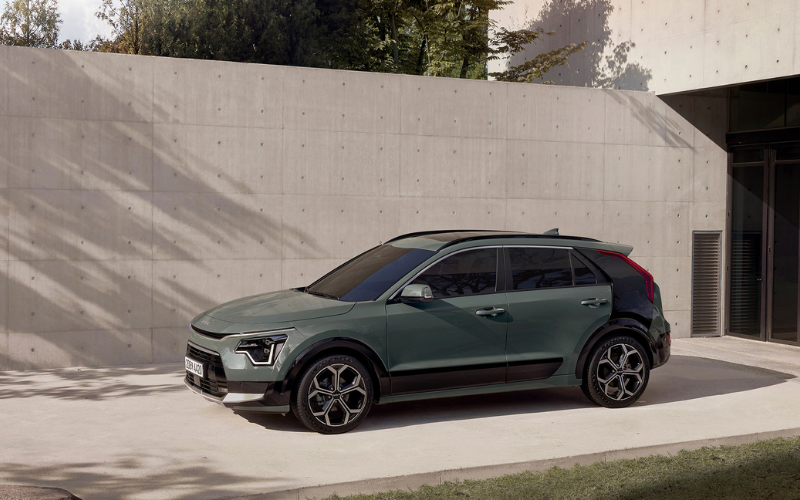 Kia has revealed the next generation Niro; a state-of-the-art model which is set to further cement the manufacturer's sustainability drive.
Designed to meet the complex and variable needs of today's eco-conscious consumers, the all-new Niro will deliver a step-change in sustainable mobility.
Read on to find out more.
Exterior
The all-new Kia Niro has a bold and dynamic style and comes with a choice of colours, materials and finishes that aim to strike a perfect balance between delivering an environmentally responsible approach to mobility, alongside a future-focused vision.
The exterior design has been influenced by the 2019 HabaNiro concept car; with a number of stylish features such as a two-tone finish, as well as elements to enhance aerodynamics such as wide Aero C-Pillar.
The front of the vehicle features the latest evolution of the manufacturer's signature Tiger Face, and striking daytime running lights and bold skid plates add to the vehicles rugged presence.
At the rear, sturdy skid plates and a low bumper complement the vehicles rugged front-end design.
Nine expressive exterior colour options are available on the latest generation model, these include Cityscape Green, Snow White Pearl, Aurora Black Pearl, Mineral Blue, Interstellar Grey, Orange Delight, Runway Red and Steel Grey. Plus, there is a choice of six contrasting colours for the C pillar and three different cladding finishes which allow customers to personalise their vehicle to their own specific tastes.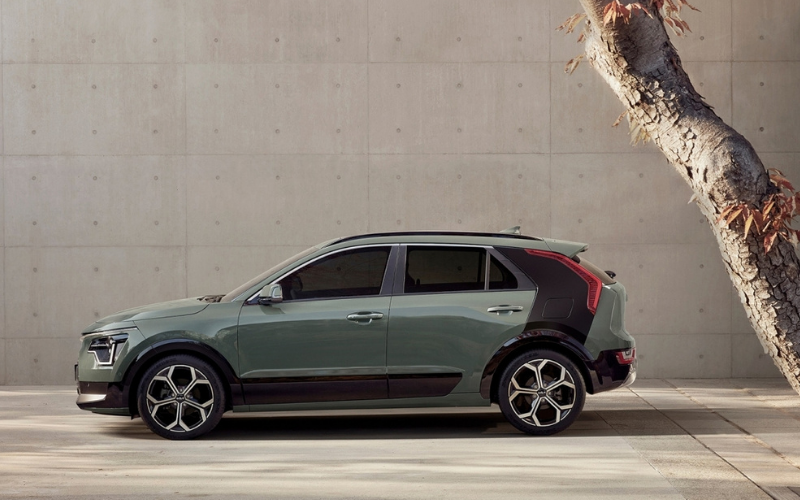 Interior
The all-new Niro has a larger body which translates to class-leading space and storage inside. Premium materials have been used throughout the cabin to create a minimalist, avant-garde feel. Plus, a number of sustainable materials have also been used, for example, the headlining is made from recycled wallpaper and BTX free paint is used on the door panels to minimise environmental impact.
An off-centre dashboard curves around front occupants, and ambient mood lighting creates a serene environment. The 10.-25-inch panoramic high-definition digital display integrates the instrument cluster and infotainment system as one, delivering high-tech convenience and connectivity features to make life easier and more comfortable for those inside the vehicle.
Further personalisation can be added through the choice of three new interior colours: Charcoal, Medium Grey and Petrol.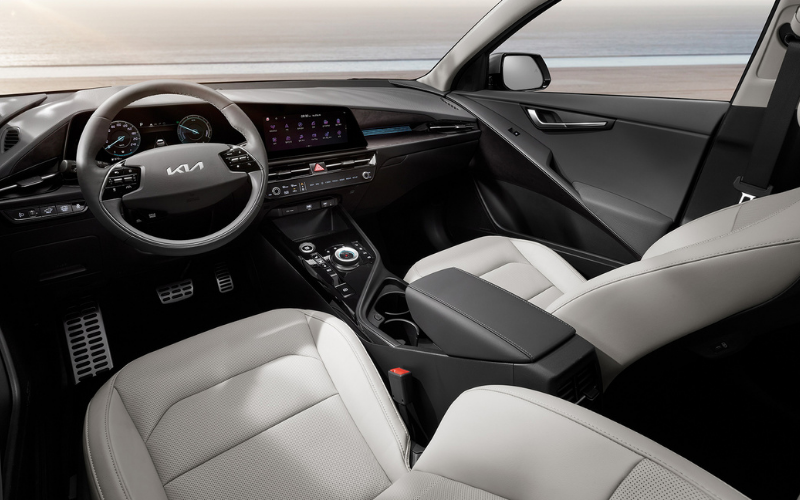 Efficiency
Three state-of-the-art electrified powertrains lie at the heart of the all-new Niro's sustainability credentials, these include: hybrid electric (HEV), plug-in hybrid (PHEV) and battery electric (BEV) options.
The HEV model features an efficient Smartstream 1.6-litre GDI engine with improved cooling, friction and combustion technology. Details on the PHEV and BEV models will be revealed closer to market launch.
The latest generation Niro also comes with Kia's Green Zone Drive Mode that automatically activates the electric-only drive operation to ensure zero-emissions in certain situations. This is useful when driving in green zones, for example.
Safety
Safety has been a high priority for Kia when creating the all-new Niro, with a suite of DriveWise intelligent Advanced Driver Assistance Systems (ADAS) such as Forward Collision Avoidance, Intelligent Speed Limit Assist, Safe Exit Assist, Remote Parking Assist. The vehicle also has a high strength lightweight body which features a multi-load front impact structure set to protect passengers in the event of a front-end collision.
Due for global market launch later this year, more information on the all-new Kia Niro will be available in due course.