Audi Winter Driving Tips - Getting Winter Ready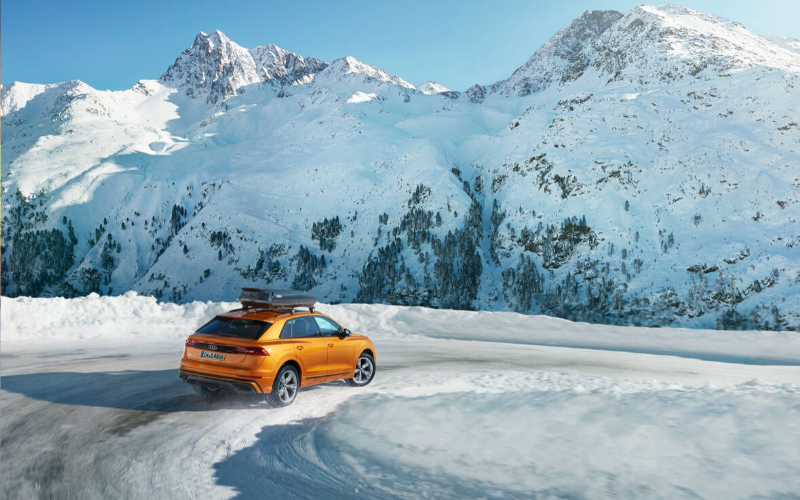 With temperatures already touching -0 degrees C, it's a good time to make sure that your car is maintained and in good condition.
Here are a few things to double check and get packed in preparation, to help survive the winter weather.
CHECK
Tyres
Your tyres need to be in tip-top condition for the winter, as the conditions can become a lot more challenging. Inspect your tyres at least every two weeks, checking for cracks, bulges and damage. Make sure your tyre pressure is topped up and of course the tread is of the legal limit. Remember that over-inflation can actually reduce grip!
Battery
Batteries tend to take a bit of a hammering in the winter – headlights are on more frequently, heaters and blowers are going full pelt and the cold itself can have a negative effect on an already struggling battery. Get your battery checked and replaced if needed.
Lights
Bulbs should be checked regularly but with the dark nights coming in thick and fast, the last thing you want is to be driving anywhere with a light out. Check your brake lights, headlights, fog lights and indicators for peace of mind.
Windscreen Wipers
Windscreen wipers are your allies, particularly with the rain and snow! Make sure yours don't have any cracks in the rubber, aren't squeaking or dragging across the windscreen - and give your windscreen a good clean, both inside and out.
Fluids
Anti-freeze, engine coolant, screen wash, engine oil and power steering fluid all need checking and topped up if low. When the weather gets worse, you want to be sure that you are fully stocked so that your car can run as smoothly as possible. If you're going out, have at least a quarter of a tank of fuel, in case of delays.
It's important to keep your car in top condition - especially when driving conditions are challenging.
Your car's safety is very important to us at Hereford Audi, and that's why we've made it easier than ever to have everything checked over by experts. Book your Winter Health Check now to make sure your car is as safe as it can be for the snowy season ahead.
PREPARE
Because preparation is key, it is advised that you keep a supply of winter kit in your car at all times. If you get stranded in extreme weather, you'll be glad that you thought ahead!
Here's a list of suggested supplies to get stored, so you don't have to suffer this season:
1. A Shovel
If you haven't felt the pain of being snowed in, you won't know how important having a shovel is. Nothing is fun about trying to dig your car out of the snow with your hands! Foldable shovels are also available, which can be efficiently stowed away for when needed.
2. A Foil Blanket
These lightweight and compact blankets not only keep you warmer in very cold conditions, they also keep you protected against wind and rain (tinfoil is not a good substitute)!
3. De-icer
We live in the UK – no more needs to be said!
4. A Scraper
Credit cards work fine�until they snap. Best off investing in the real deal!
5. Water and Non-Perishable Snacks
Snacks in the car are a must most of the time, but it's worth making sure you have something to eat and drink in case you get stuck! With bad road conditions during the winter, cars can become unexpectantly stranded at foots of hills, or trapped in traffic for long periods of time.
6. Phone Charger
If your phone is dead, you have little means to call for assistance or check when the Roast will be ready at home. Make sure you can stay in touch, if or when you need to. USB sockets are standard across the Audi range, so you always have the opportunity to charge if you remember your phone's charging cable.
7. Torch
Thanks to daylight savings time and other earthly phenomena, we get less hours of light during the winter. Equip yourself with a torch (and spare batteries if it requires them!).
8. Gloves, hat and scarf
Pretty self-explanatory but always better to double check that you have warm clothing in the car.
9. Rock Salt
It is great to have this in the car if you get into a pickle with icy roads. Sprinkle rock salt and it should help melt the ice so you can be on your way!
10. First Aid Kit
We would always recommend having a first aid kit in the car, just in case, but even more so in the winter. It's always good to be prepared!
Along with a little preparation, our Audi's innovative technology and exceptional capability will give you the confidence to safely navigate the icy winter roads this winter.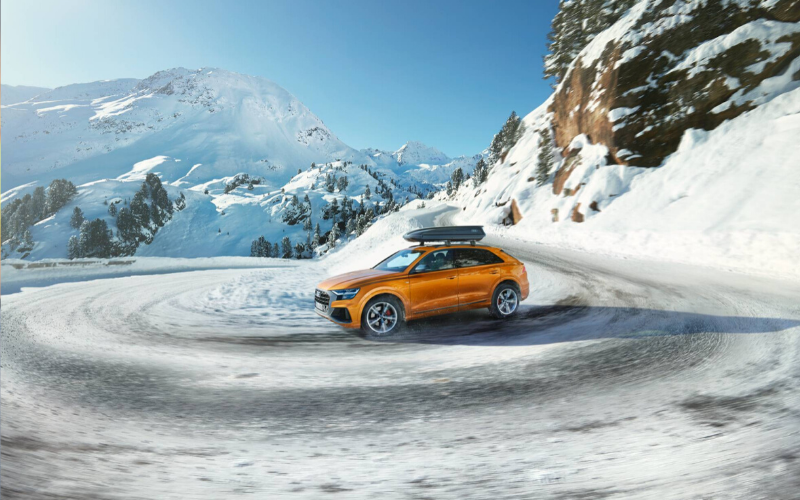 Check yours and get prepared today, so that driving your Audi this winter is completely safe and reliable.