Auto Trader Awards The Volkswagen Golf As Best Car For Long Distances 2020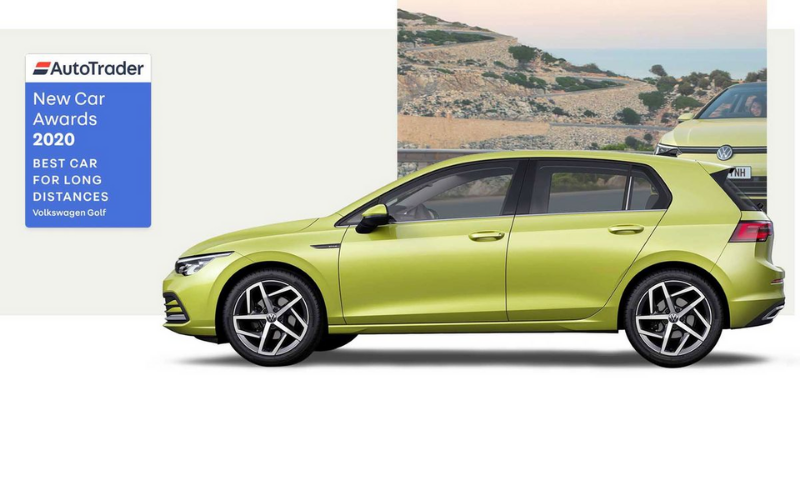 Find out why the Auto Trader New Car Awards 2020 named the Volkswagen Golf as the winner of the Best Car for Long Distances category.
Auto Trader is an established group that buys and sells used cars, by working with manufacturers and retailers. This week however, they revealed the winners of their Auto Trader New Car Awards 2020.
The annual awards have been decided by the public – the winners were voted for by over 181,000 UK car buyers.
From this year's awards, Vertu Motors are proud to share that the Volkswagen Golf achieved Best Car for Long Distances, beating many worthy competitors in its category.
Auto Trader published the following reasons as to why the 8th generation Golf won:
'Whether you're switching from public transport to the car for work travel, or your post-lockdown holiday plans mean long drives rather than flights abroad, it's possible you'll be racking up big miles in your next car. If that's the case this award will be one to watch, given it celebrates the cars best suited to long hours on the road.
'There were five cars in contention for this prize with the Skoda Octavia and BMW 5 Series both scoring well.
'The clear winner by a huge margin, though, is the VW Golf, this model's appearance in the shortlists for many categories this year a reflection of its all-round popularity and talent.
'You voted the Golf first in five of the 16 judging categories, including features and accessories, looks, ease of parking, safety equipment and how confidence inspiring it is to drive. Practicality, performance, quality and comfort were also praised.
'What is it about the Golf owners love most? "The car's ability to do all that I ask of it, performance and handling, long distance driving combined with economy, feeling safe with my eight-year-old in the car, overall comfort," said one respondent, before concluding, "I really like this car."
'Can't say it simpler than that.'
Come and see what makes the all-new Golf Mk8 special for yourself; it's available now at your local Vertu Motors Volkswagen retailer for a test drive.
You can also view and shop the amazing deals we have here at Vertu Motors, available on the new and iconic Volkswagen Golf: