BMW M Reveals All-New BMW 3.0 CSL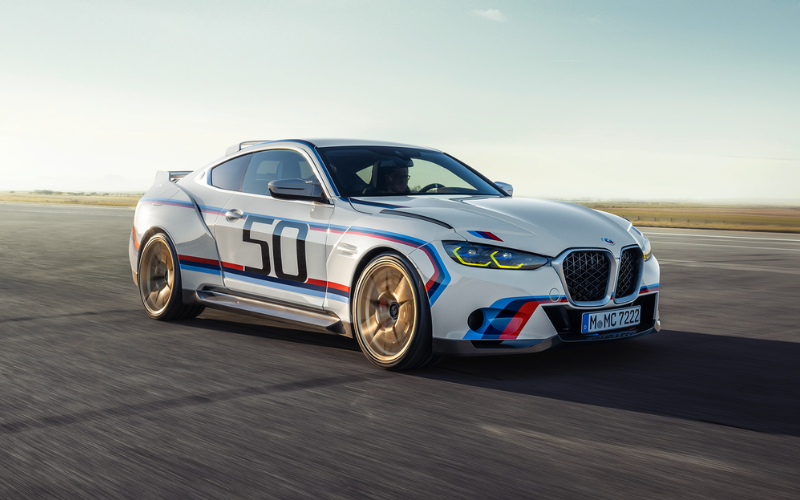 Just one of the ways the brand is celebrating 50 years of motorsport heritage, with the remaking of the classic BMW 3.0 CSL car.
The BMW 3.0 CSL was first built back in the 1970s, though it has been given an exciting revamp as the BMW M brand celebrates half a century in the motorsport industry.
Bringing this classic performance car into the twenty-first century, new additions include a sportier cockpit inside, an incredibly lightweight chassis, and a powerful 6-cylinder engine.
The sleek, sporty CSL - meaning 'coupe, sport, lightweight' - is a limited edition model created to celebrate the brand's 50-year anniversary in motorsport, with only 50 numbered units going on sale.
Unique Motorsport Design
The BMW 3.0 CSL fuses together the brand's motorsport heritage perfectly, with signature colour body striping, alloy wheels with a gold paint finish, and wide wheel arches.
The roof and rear spoiler add to the CSL's stunning aerodynamics and sleek profile, and it even has a lightweight chassis thanks to its minimalist design, with the help of carbon fibre reinforced plastic (CFRP) and minimal insulating materials used.
World-leading Power
Utilising the latest motorsport technology, the BMW 3.0 CSL is a powerful machine that is built to impress. It comprises a straight, 6-cylinder engine with direct injection, which sees BMW's most advanced engine to date providing the thrilling, sporty driving experience you would expect.
It features a classic rear-wheel drive and refined suspension technology, as well as a re-imagined rear wing to increase wheel grip, offering improved control and handling, placing power well and truly into your hands.
For a premium, sporty feel, the driver and front passenger also benefit from full M Carbon bucket seats, so you can really feel like part of the race.
Bringing together BMW's unwaveringly high standards for sophistication and excellence throughout, the BMW 3.0 CSL is an icon, having received an impressive 200 hours' worth of work to optimize airflow and aerodynamics alone.
The Remaking of a Classic
The new BMW 3.0 CSL pays the perfect tribute to the 1970s coupe classic, with distinctive air deflection elements and wheel arches, and a striking rear spoiler.
The arrow-like arrangement of the four exhaust tailpipes also gives a sporty, yet sophisticated rear look, while the front features the iconic BMW kidney grille in satin aluminium, and distinctive yellow BMW LED Laser Light headlights.
The Y-spoke alloy wheels are also given a luxurious gold paint finish for the perfect finishing touch to this show-stopping, high-performing machine.
In fact, the racing version of the classic BMW 3.0 CSL was crowned winner of the European Touring Car Championship in 1973 and won the title five times in a row following this from 1975-1979.
Historic, yet revolutionary all at once.
Stay connected to more news and updates from BMW via our newsroom