Bradford Hospital accelerates care on children's ward with mini Land Rover gift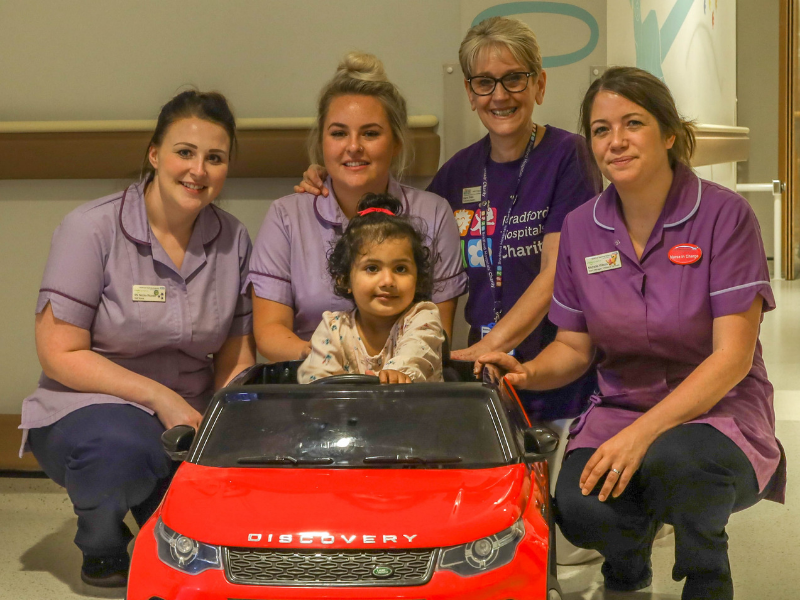 Bradford Royal Infirmary is geared up to provide comfort and distraction for its young patients with a mini electric Land Rover Discovery, donated by Farnell Land Rover Bradford.
The Discovery was donated to Bradford Hospitals 'Charity on behalf of Bradford Teaching Hospitals NHS Foundation Trust (BTHFT). It will be kept in the Children and Young People's Unit activity room, which allows children to enjoy playing with toys and paint pictures to act as a diversion from the fact that they are in hospital.
BTHFT has recently received huge investment in its facilities, with £28million used to create a fantastic new wing, in which the children's ward is situated.
Hayley Collis, head of fundraising for Bradford Hospitals' Charity, said: "We are so grateful to Farnell Land Rover Bradford for the gift to our Children and Young People's Unit. Our young patients can find hospital stays very difficult, so the distraction will make a huge difference to their experience.
"The electric car has been great fun so far, and it really helps to settle the younger patients in the hospital, particularly when they're driving to theatre!"
Howard Jessop, head of business at Farnell Land Rover Bradford, said: "I'm really pleased we have been able to support Bradford Hospital children's ward and I'm glad the cars have been a hit!
"I'm sure that trips to the hospital can be a daunting experience for a little one so it's great that our mini Discoveries can bring some joy to their stays."