Celebrating 75 Years of Land Rover with the Limited Edition Defender 75th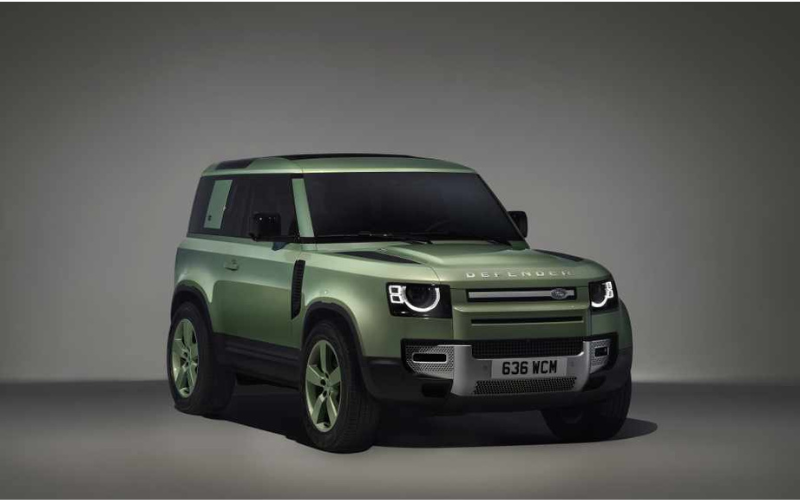 Land Rover have unveiled the new Defender 75th Limited Edition to celebrate 75 years in the automotive industry.
The Land Rover name has long been associated with premium, luxurious SUVs with their vehicles high in-demand in today's market.
After winning 50 awards worldwide including the Top Gear 2020 Car of the Year, AutoCar's Best SUV of 2020 and achieving a 5-star Euro NCAP safety rating, it's not hard to see why the Defender continues to run the show.
It all started with a single vehicle in 1948, with the introduction of the Series I at the Amsterdam Motor Show.
A whole 75 years later, the Land Rover brand is celebrating this milestone with an all-new, Limited edition Defender 75th.
Let's take a look.
Design
The Defender 75th' sports a unique Grasmere Green colour on both the exterior and interior for a seamlessly luxurious, distinctive design.
It features 20-inch alloy wheels (also in Grasmere Green including the centre caps), as well as interior finishes such as the Cross Car Beam featuring a matching Powder Coat finish, and laser-etched '75 Years' detailing on the end caps.
The Defender 75th also boasts Ceres Silver bumpers, Privacy Glass and other features designed for luxurious comfort, including premium Robustec material seats in Resist Ebony, 14-way driver and passenger heated seats, a heated steering wheel and climate control.
In the interest of exclusivity, there's also a unique '75 Years' graphic featured on the 90 and 110 body styles, so you can really stand out on the road.
Specification and Technology
The Defender 75th Limited Edition from Land Rover offers some of the most technologically advanced features seen among prestige vehicles on the market.
Expect a 3D Surround Camera and Configurable Terrain Response to help make your drive smoother, a Meridian Sound System for crisp, unrivalled acoustics. Matrix LED front lighting gives you optimised vision and an 11.4-inch Pivi Pro infotainment system provides effortless connectivity.
There's even Head-Up Display for improved control and handling, and various tech-savvy features such as a Wireless Device Charger and domestic plug socket for added convenience.
All models feature a Folding Fabric Roof but can also be made with an optional Sliding Panoramic Roof complete with roof rails, and there are other alluring options such as the Towing Pack, headlamp power wash and electrically adjustable steering column for added luxury.
Powertrain options include the P400e plug-in Electric Hybrid (PHEV) on 110 models, or the D300 Ingenium diesel model with Mild Hybrid Electric Vehicle technology (MHEV), the latter of which enables better fuel economy through storing power from regenerative braking.
Lifestyle Collection
Land Rover have also designed a range of goods with their Lifestyle Collection to make drivers feel even more special, incorporating the exclusive Grasmere Green colour of course.
The collection includes a minimalist unique two-strap watch, a backpack and clothing featuring the unique 75 Years graphic.
Pricing
The new Defender 75th Limited Edition starts at £85,995 for the 90 model, and £89,995 for the 110. For more information on configurations, contact your local Vertu Motors Land Rover dealership.