Charity Raffle Raises Almost £42,000 As Sunderland Prize Winner Announced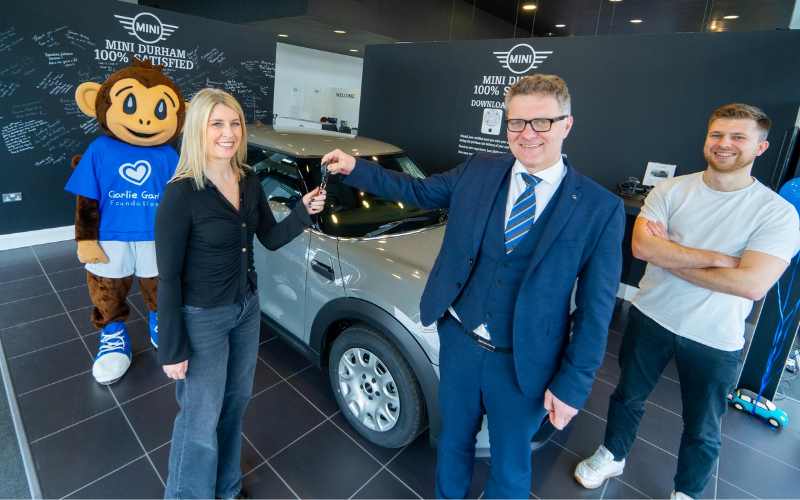 2022 has got off to a brilliant start for Emily Taylor, who has won the top prize of a £17,405 car in the Great Christmas Raffle.
Emily is now the proud owner of a MINI One Classic 3-Door Hatchback in Moonwalk Grey, which was generously donated by Vertu Motors.
The Great Christmas Raffle raised a total of almost £42,000 for a range of good causes It was organised by Charity Escapes, which was founded by entrepreneur and philanthropist Jeremy Middleton CBE.
Working in partnership with Raffolux, this year's online fundraising allowed individuals and businesses to support all the charities taking part, donate to one in particular, or for corporate donors to nominate a company's chosen charity.
Emily, who lives in Sunderland with her husband Dean, decided to donate to the Charlie Gard Foundation, which supports children, adults and their families that have been affected by mitochondrial disease, which was featured in a Coronation Street storyline in 2020.
She said: "This sort of thing just doesn't happen to me. I am in shock, but over the moon at the same time.
"I have been driving an old-ish 'banger' as they say, so winning such a fantastic new car is absolutely amazing."
Emily continued: "With the Great Christmas Raffle, it was great to be able to give something back by choosing to which charity you wanted to donate. I chose the Charlie Gard Foundation because it is a great charity, based locally, but supports people across the whole country."
Jeremy Middleton, of the Middleton Foundation, said: "COVID-19 has had a devastating effect on many amazing charities, which have experienced a huge shortfall in their money-generating abilities, especially with fundraising events and initiatives having to be cancelled.
"The Great Christmas Raffle was created as a way for the public and business owners to show support and help ensure that many worthwhile causes are able to keep going.
"Thank you to everyone who helped us reach such an excellent amount."
Robert Forrester, Chief Executive of Vertu Motors, which operates MINI dealerships in Durham, Malton, Teesside, Sunderland and York, said: "Many charities have struggled during the pandemic, seeing large gaps in their financial income. We're therefore delighted that the Great Christmas Raffle has raised a magnificent amount for a wide range of worthy causes.
"Vertu Motors prides itself on supporting initiatives in the wider community, such as the Great Christmas Raffle, which has a positive impact on the lives of so many people.
"Congratulations to Emily for being the winner of a fantastic new car."
Steph Roundsmith, head of communications and fundraising at the Charlie Gard Foundation said: "Money raised from the Raffle has helped us tremendously as we really did struggle through Covid.
"For someone who is ill through mitochondrial disease you just can't turn it off, our projects still need to be completed so the money raised from this has been a fantastic help."
An extensive variety of 30-plus good causes, including Muscular Dystrophy UK, North East Homeless, All Dogs Matter, Deaf Blind UK, The Bradley Lowery Foundation, Show Racism the Red Card, the Theatre Royal Newcastle, the Motor Neurone Association, Mind UK and Hospice UK, have benefited from the Great Christmas Raffle.