'Diamond' Colleague's 60 Years Of Work Recognised In Presentation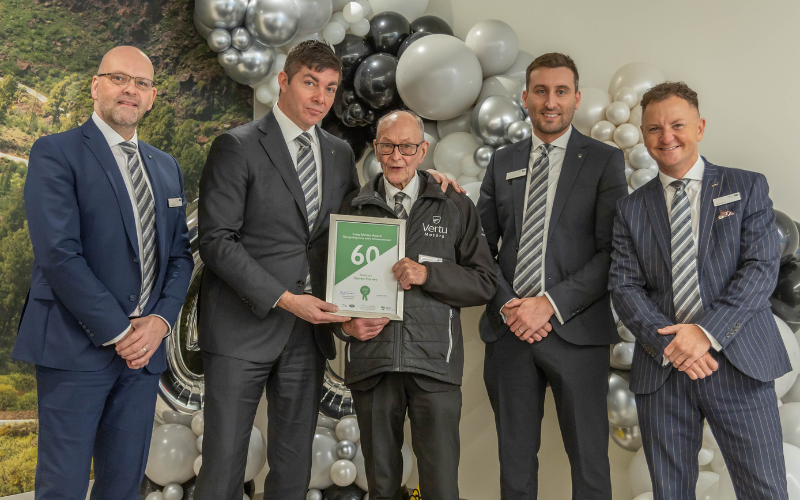 Photo L-R: Paul Bamford, Leon Caruso, Steve Harvey, Lee Burns, James Boyd
A Bolton motor retail professional who has spent 60 years with the same Land Rover dealership has had his loyalty rewarded by his employer, Vertu Motors.
In recognition of his diamond work anniversary, Steve Harvey, 75, who joined the dealership as an apprentice technician at just 15 years-old in 1963, was recognised for his commitment in a ceremony hosted by Group Operations Director Leon Caruso.
Gathered colleagues formed a guard of honour to welcome Vertu Motors' longest serving colleague Steve into his dealership. He was then presented with a bottle of champagne and two tickets for a first-class steam train experience to enjoy with his wife.
A Land Rover fan through and through, Steve's favourite model is a Discovery Mk1 and he currently drives a 2003 edition, which he maintains himself. He says it has many journeys ahead of it, despite clocking more than 300,000 miles.
Steve, a Sales Progressor at Vertu Bolton Jaguar Land Rover, said: "I'd like to thank all my colleagues from over the last 60 years. It's been a long journey, but I'm not finished yet. I'm going to carry on and I'm going as far as I can. The dealership is everything to me, it's my home.
"It was incredible to have such a fuss made of me. I am a bit of a train enthusiast and I'm really looking forward to a nice ride on a steam loco with my wife. I also got a letter from the big chief Robert Forrester, thanking me for my work.
"Becoming part of the Vertu Motors group has been the best thing that has happened to the dealership; it's a world away from the way car dealerships operated when I started, it is a business run with honesty and integrity."
When asked what he would say to a young person considering a career in the motor trade, Steve added: "It's the best business you can be in. The learning you can get as an apprentice here can't be beaten.
"It's probably better than university because it's directed at a career path and gives you a fantastic education. I would encourage anyone to give it a go!"
Leon Caruso, Group Operations Director at Vertu Motors plc, said: "Sixty years is certainly a record for the Group and having spoken with Steve, he's looking forward to celebrating his sixty-fifth anniversary with us, which says a lot about him!
"When you talk with Steve, you realise that he still attacks each day with the same energy, passion and commitment he did 60 years ago.
"Not only is it great to recognise and celebrate Steve's achievement with him, but it also demonstrates to colleagues across the business what can be achieved with dedication, commitment, and passion for the job."
Robert Forrester, Chief Executive of Vertu Motors plc, said: "Individuals like Steve are the lifeblood of our business. He epitomises the Group's values of respect, recognition, opportunity, professionalism and integrity.
"Steve's passion and enthusiasm for the job is clear, and he sets a brilliant example to colleagues who are just beginning their careers with us.
"We want to thank Steve for his commitment to his team. I'm very much looking forward to celebrating his sixty-fifth anniversary with him in five years' time!"