Discover the New Range Rover Sport First Edition From Land Rover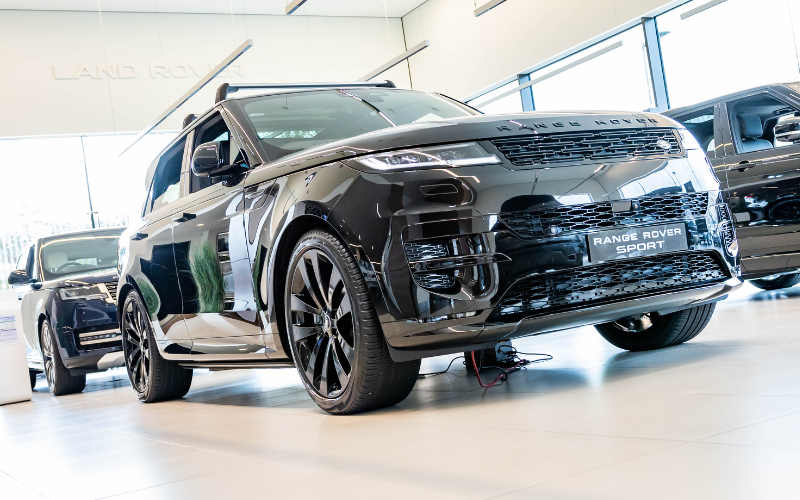 In this article, we take a look at the new Range Rover Sport First Edition, Land Rover's newest luxury SUV which you can test drive now.
The Range Rover Sport sees the perfect fusing together of luxury, modernity, and practicality to create a premium SUV that knows no limits.
Let's take an in-depth look at what this highly anticipated vehicle has to offer.
Dynamic, Distinctive Design
Building on the robust design of Land Rover's previous Range Rover models, the Range Rover Sport First Edition sees an upgrade in the form of a muscular, contoured body shape to create the perfect vehicle for tackling rugged terrains and off-road adventures.
The broad, elevated chassis projects power and performance as well as luxurious style – from the sleek LED headlights with signature daytime running lights (DRL) and image projection to the sculpted lower bumpers and 23" alloy wheels.
The Range Rover Sport also features striking design touches with a Satin Forged Carbon finisher with First Edition Script, all adding to the strong attitude and character of this eye-catching SUV.
On the inside, the Range Rover Sport opts for more minimalist design touches, showing that less truly is more. The driver cockpit sees functionality and simplicity as the focus, resulting in a user-friendly interior and an ultimately controlled driving experience.
Sculpted interior seats also give a more premium feel with soft contours to embrace passengers delivering optimal comfort. This is accentuated by semi-aniline leather seats for the most luxurious experience.
Further chrome detailing on the interior pulls together the contemporary focus of the Range Rover Sport's design, with Noble and Moonlight Chrome details. You can also enjoy the ambience of premium cabin lighting for a relaxed interior.
Powered By Modernity
The Range Rover Sport First Edition is fit for the modern era of motoring with a hybrid electric drivetrain. This brings you a maximum speed of 242km/h (150mph), and rapid acceleration from 0-60mph in just 5.2 seconds.
You'll also receive an electric hybrid range of up to 113km (70 miles) WLTP, bringing you reduced emissions and greater fuel economy.
With automatic transmission, all you need to do is press your foot on the pedal - and the rest is taken care of. This allows you to experience a much smoother and more convenient drive.
Though there are several engine options available, meaning you can tailor your Range Rover Sport to suit your driving needs, each offers a powerful, modernised drive. These include:
- 3.0-litre, 6-cylinder 510PS turbocharged petrol PHEV (automatic)
- 3.0-litre, 6-cylinder 350PS turbocharged diesel MHEV (automatic)
- 3.0-litre, 6-cylinder 400PS turbocharged petrol MHEV (automatic)
- 4.4-litre, 8-cylinder 530PS turbocharged petrol (automatic)
Seamless Connectivity
With the new Range Rover Sport, you can stay effortlessly connected with complete control at your fingertips.
With Amazon Alexa integrated, you can ask Alexa to play music, make a hands-free call or set the temperature on your climate control, and you can even interact with your Range Rover Sport using the feature via an app on your Alexa device.
An intuitive Pivi Pro infotainment system gives you complete clarity with your Range Rover Sport's controls, from the curved 13.1" touchscreen, Wireless Apple CarPlay and Wireless Android Auto.
Placing convenience at the forefront of your drive, benefit from fast start-up, artificial intelligence, intelligent navigation, 2D and 3D maps, and live traffic information.
With over-the-air software updates, you can also be sure that your Range Rover Sport is up to speed with the latest technology.
When it comes to sound, the Range Rover Sport delivers acoustic excellence thanks to a Meridian Sound System offering unparalleled sound quality.
Comprising up to 29 speakers, this creates an immersive audio experience unlike any other so that each drive delivers whichever atmosphere you desire.
For passengers, the Land Rover Sport even offers custom entertainment with two 11.4" high-definition screens on the back of the front seats, perfect for longer journeys.
There is also wireless device charging and WIFI enabled with a data plan so that you can stay connected wherever the journey takes you.
Parking a larger SUV such as the Range Rover Sport has also never been easier thanks to a 3D surround camera and remote park assist, giving you complete confidence to tackle those tricky manoeuvres.
Ready to discover the Range Rover Sport? Book a test drive now at your local Vertu Motors Land Rover dealership.
Just picture yourself in the car of your dreams...