Everything You Need To Know About Charging Your EQC Or Mercedes-Benz PHEV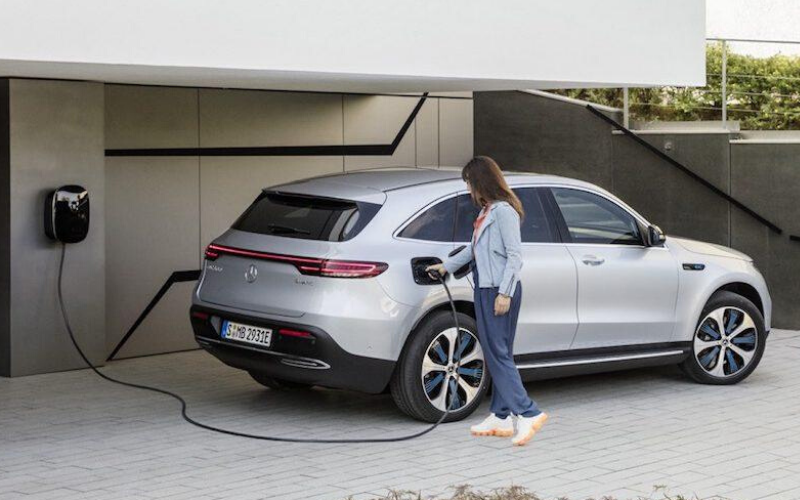 Whether you're charging from home, at work or in public, powering-up your PHEV or fully-EV is easier and more convenient than you think.
Charging an electric or plug-in hybrid car may be a new experience for many, but it's actually far easier than many people believe. In some ways it's just like filling a traditional petrol or diesel car – but cheaper. So here's a simple guide on how and where to charge your vehicle.
Charging Your Car At Home
In the UK, around 80% of all EV charging is done at home. This is the most convenient and cost-effective way to charge. Charge your vehicle overnight and you wake up every day with a 'full tank', so you don't have to worry about stopping for fuel when you're in a rush on your way to work!
The best way to do this is to get a home chargepoint installed – there is an OLEV government grant available to help you with the cost.
A dedicated chargepoint will charge your car much faster than using a normal three-pin domestic plug – they're safer too.
These days, most chargers are smart and come Wi-Fi enabled. This means you can keep track of how much you've spent on charging, which can also be useful for invoicing your travel costs if needs be.
It can even help you save money by charging at those times of day when electricity is cheapest.
Charging Your Car In A Public Place
There are more than 31,000 public charging points in the UK – in fact, there are more charging locations than petrol stations – so there are plenty of places to stop if you need to recharge!
Many are found in town centres, supermarkets and motorway services, with apps available (see section below) to show you where to find chargers and even give you information on their speed, price and availability.
Rapid chargers found in public places are capable of fully charging some EVs in as little as 35 minutes. That's just enough time for a coffee and toilet break during your road trip!
Paying for public charging is becoming simpler everyday – new chargers accept simple contactless payment. There are other ways to pay too though. Public chargers are run by different charging networks, and some will offer subscription services via an app or a contactless card that will be sent to you in post once you register.
These can offer you different ways to pay or even offer free charging. Prices for public charging vary, but it's usually significantly cheaper than fueling with petrol or diesel.
Which Charging Connector Do I Use?
Depending on how you charge, different connectors are used – this is simpler than it sounds...
The first option is the 3-pin plug your household appliances use.
The second option is the Type 2 charger. This is compatible with nearly every UK electric vehicle and supports charging from 3.6kW-7.6kW – such as from a dedicated home chargepoint or certain public chargers.
The third option is the Combined Charging System (CCS) connector, which is used for rapid DC charging (50kW-100kW) on most fully electric vehicles.
Wherever you are, just plug in the right connector to what's available and you're good to go!
Charging Your Car At Work
Through the government's workplace charging scheme, businesses can apply for £350 towards the cost of purchasing and installing a chargepoint socket at work. And, they can now apply for grants for up to 40 sockets!
They're ideal for keeping your car topped up during the day, and particularly useful for owners of plug-in hybrid cars – effectively meaning you could drive up to 30 miles to work, charge, then complete the 60-mile round trip on battery power alone.
Charging at work may also be cheaper than using a public charger, so may reduce your running costs.
Helpful Charging Apps
We've researched the good, the bad and the ugly apps which help you locate charging points to get your EV raring to go again, and here are some of the best!
Plugshare
By far the leading app for EV drivers currently (in our opinion!). Plugshare not only allows you to locate the nearest charging point to you and details what type of plug it is, it also allows EV drivers to check in, rate, upload photos and comment on the charging point. Kinda like a certain hotel reviewing website, if you catch our drift...
In a nutshell - If you are looking for a highly accurate and informative app, this is the answer to your prayers.
NextCharge
Bonjour! Hola! Guten Tag! That's right, this app is available in 6 languages, making it the most polylingual app we've come across of its type! Not only that but this app also offers a ticket to the EV community, allowing users to have their say on the charging stations in their area! You can filter for different things including access, types of plugs and speed of charge, as well as the status of the charging point! And who doesn't love a filter?!
In a nutshell – Great for specific searches of charging types etc. and it isn't restricted to English-speaking EV drivers! Spread the joy!
Chargemap
Not far behind, Chargemap definitely comes up with the goods after improvements on a slightly rocky start. Adopting a similar 'community' feel, Chargemap allows users to interact with the app, saving EV drivers time and frustration by avoiding unsuitable charging points! The added bonus with this app is they have dedicated user support available 24/7 who will help you get out of any EV charging-related pickle! (This doesn't include helping you pick pizza toppings at 1am, we've already tested those waters!)
In a nutshell – After a little hiccup or two, this app has left the stalls eager to prove itself and it is certainly a go-to for any EV driver.
Zap-Map
The Zap-Map is ideal for those who want a little colour in their lives! The colour coded pins on the map mean you can see where your suitable charging points are at a glance (assuming you know the code!) For you lovely Android users, you can plan your route to incorporate charging point stops and it will give you an estimated charge left at the end of your journey! For the iOS squad, this feature will be available later in the summer.
In a nutshell – Nice to look at and user friendly – what more could you ask for?!
WattsUp
WattsUp is slightly different to the other apps of its kind, in that you have to set your criteria before it shows you a map of charging points – great for people who like to get down to business! It also features voice prompts and estimated time to reach your charging point/destination, so that rules out any excuses for being late! With a choice of routes to take you where you want to go, there will be no stopping you and your EV!
In a nutshell – Apart from a rather clever name, this app is comprised of all of the right features to get you from A to B with minimal drama.
Emergency Charging
It is extremely unlikely that you will ever run out of charge – your EV will warn you and (if it's capable) guide you to your nearest charge point if you're running low. It will also most likely plan charging stops into longer journeys where appropriate.
However, if you do need assistance, the RAC has special patrol vehicles that can give your car enough power to get to the nearest charge point. Alternatively, you can be towed home or to the nearest rapid charger – it's your choice. Just like a fuelled car, you will never be stuck completely!
Found this useful?
The future is turning electric; more and more EV and powerful PHEV models are introduced to the automotive market every day. If you're thinking about making the switch and joining the trend, you can click the link below to find out more on all things hybrid and electric:
Learn more about Electric and Hybrid Vehicles
Alternatively, get in touch with us to start your electric journey – our friendly team of experts are always on hand to help: