Facelift for the Volkswagen Amarok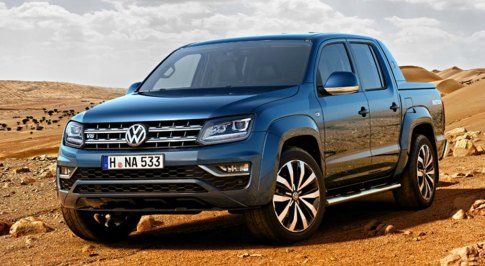 Volkswagen's brawny Amarok has been given an overhaul, and the German manufacturer has revealed the details to the updated pick-up truck.
The updated Amarok will proudly feature a 3.0 litre V6 diesel engine, of which 161bhp, 201bhp and 221bhp forms are available. The most powerful version of the engine is set to produce a whopping 406lb ft of torque, over 100lb ft more than the current Amarok, which produces 161bhp from its 2.0 twin-turbocharged litre diesel engine.
It's not just the engine that's had the beauty treatment. The cars exteriors have been spruced up to be more in line with later Volkswagen models. The new Amarok will feature new bumpers, headlamps, air vents, wheels and more in a new clean design that brings the pick up into the future while still retaining its tough, hardy feel. Inside, the updated car will gain a brand new dashboard, as well as more ergonomic seating.
The new Amarok isn't all form over function, though. It will have a tow capacity of 3.5 tonnes, and a max carry capacity around 1 tonne. Additionally, LED lights are installed for the daytime running lights, licence plate lighting, and illuminated side sills under the doors.