Farnell Land Rover Leeds Parts Manager Rewarded For Out-Standing Performance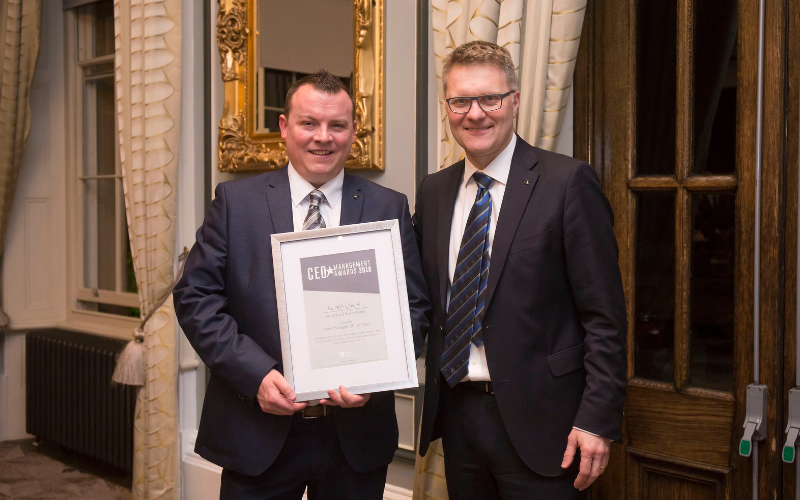 The team at Farnell Land Rover Leeds is celebrating after one of their colleagues was named 'Parts Manager of the Year' at a national awards ceremony.
Vertu Motors plc, parent company of the Bristol Street Motors, Macklin Motors, Farnell Jaguar Land Rover, Vertu Honda and Vertu Toyota franchises, celebrated the achievements of 'game-changing' colleagues throughout the UK, including Farnell Land Rover Leeds Gareth Davies, at the company's annual awards event at Oulton Hall in Leeds.
Gareth began his career in the motor industry as an apprentice parts adviser in 1996. He joined Jaguar Land Rover in 2001, progressing to parts manager at Farnell Land Rover Leeds and now heads up the Parts department at the Arch Concept JLR destination retailer in Leeds. The company's chief executive, Robert Forrester, reviews each individual nomination submitted by the board and management teams, before personally selecting the most significant performers in each area of the business.

Robert Forrester said: "Gareth has been a highly valued part of Team Farnell for almost 10 years. He has grown his team from four to twelve colleagues and has established a significant trade parts operation from scratch, with four vans, that service local business with speed and efficiency.
"Gareth has shown huge commitment to the business and the energy in his department to ensure customers are satisfied is outstanding. He has championed and helped to develop a number of colleagues within his team, who have now progressed into more senior roles. He is a credit to the business."

Gareth Davies said: "I have worked at Farnell Land Rover Leeds for nearly ten years now and I am thoroughly enjoying my role as parts manager. Vertu Motors invests heavily in the training and progression of its colleagues, which I have benefitted from personally and I am very grateful to have these resources available to me.

"I have been given many opportunities to expand my role and have been fully supported in these endeavours, particularly by my team. I would like to thank Robert for this award and hope to continue to demonstrate the qualities which I have been acknowledged for in the years to come."