Five Great Features of the New Volvo C40 Recharge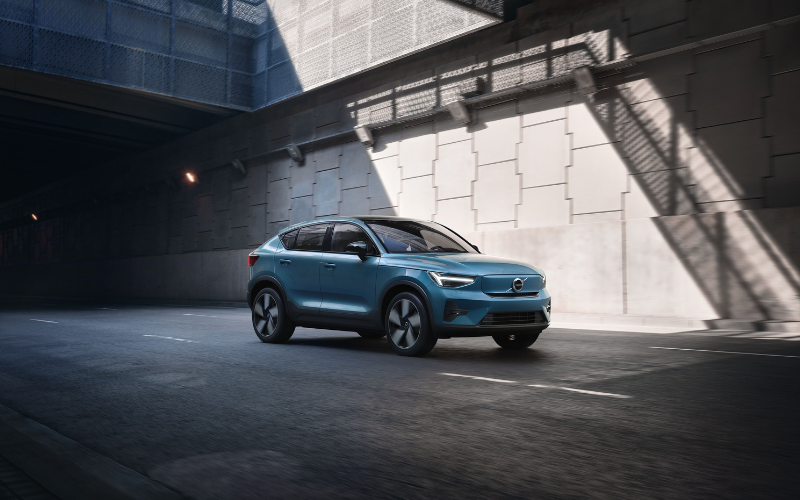 The new Volvo C40 Recharge is a sleek styled coupe SUV, and it's Volvo's first all-electric purpose-built SUV.
Volvo wants the ownership experience to be simplified. There are three different trim levels – Core, Plus, and Ultimate, although the Plus and Ultimate have the choice of a single motor (and front-wheel drive) or a dual motor with all-wheel drive. The single motor setup delivers 231hp, and the dual motor has 408hp, 0 – 60mph in 4.7 seconds, with a WLTP range of up to 274 miles1.
1 The figures are based on WLTP data obtained under specific testing conditions. The real-life driving range and energy consumption [22.3 - 20.9 kWh/1000km] achieved under real conditions varies depending on driving behaviour and other external factors.
We've highlighted five of our favourite features of the Volvo C40 Recharge.
1. Hassle-Free Subscription
There really is no simpler way to get behind the wheel of a new C40 than the 'Care by Volvo' subscription service.
You can choose between a fixed or flexible subscription, the main difference being the notice period needed to change, but it includes nearly everything you need – servicing, maintenance, road tax, roadside assistance, warranty, MOT - everything aside from insurance and the charger (although there's still subsidised costs for chargers at the moment2).
Choose between a 3-month or a 36-month plan for complete flexibility.
2 Subject to change and may vary.
2. No Compromise on Range
Keeping with a simple ownership experience, the C40 doesn't require you to understand the nuances of electric vehicle ownership, or to be able to work out what the best driving strategy is for your journey – no need to choose between power and responsibility, just enjoy the freedom that one pedal driving brings, and with a WLTP range of 274 miles.
Let the C40 do the work for you; just take your seat and drive away with smooth acceleration and zero tailpipe emissions.
3. Google Assistant
"Hey Google, set the temperature to 18 degrees."
"Hey Google, where's the nearest charger?"
The Google Assistant seamlessly integrates you, your car, and your life like never before. It can give you directions, change your playlist, keep in touch with people, change the cabin environment - it can even control your smart home devices. There are no additional charges either, for at least four years3 – all data is included.
3 The Volvo Cars app remote services are enabled through the Digital services subscription. It is included for up to four years from the retail delivery date if the car is new. After this period ends, new terms and conditions will apply.
4. Interior Ambience
As you'd expect, Volvo has also given great thought to the interior, and how that fits with environmental concerns, and there's an element of bringing nature into the cabin.
The upholstery is 100% leather-free, the carpets are made from partially recycled materials, and the fixed glass panoramic roof creates an airy and natural environment.
When you add in the topography-inspired translucent, backlit decor, there's a whole new soothing element, with a contemporary vibe. It's a special place to be, whether that's on a five-minute journey to the local shops, or an all-day trek.
5. Volvo Cars App
"Making your everyday life a little less complicated."
The Volvo Cars app has a number of useful functions and features, and it helps you keep in touch with your car wherever you are.
It can tell you the temperature at the car's location, or give you the power to check (and alter) the status of the door and window locks (remote locking) - you can even send your intended destination straight to the car's navigation system before you leave.
Finally, it keeps a detailed (and exportable) log of all your trips, which is handy, whether that's for business use, or just understanding how you use the car.
To get the latest information about the new C40, contact your local Volvo dealership.