Get To Know Jeep's New Plug-In Hybrid Wrangler 4xe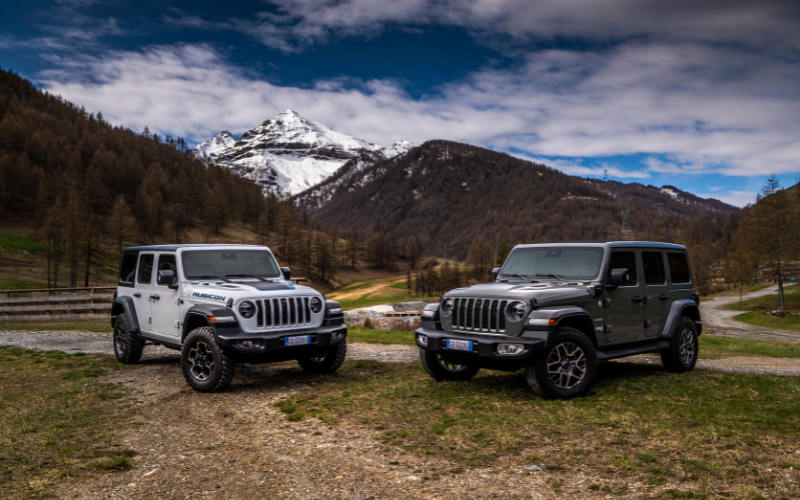 Jeep has revealed a new plug-in hybrid version of its incredible Wrangler off-roader, launching very soon.
Boasting an impressive range of up to 30 miles of all-electric driving, it's the first time the 4x4 icon is going electric.
The all-new Wrangler 4xe joins the hybrid version of the Renegade, revealed early 2020, as Jeep gears up to electrify its entire model line-up in the coming years.
The refreshed Wrangler has been described by the manufacturer as the most 'technically advanced and eco-friendly' iteration of the iconic 4x4 yet produced. It is said to offer enhanced usability, both on and off road, over the standard car.
Design
Styling across the all-new Wrangler 4xe range is set to be very similar to that of the incredibly popular standard SUV, but blue tow hooks, badging and interior elements mark it out as the hybrid car.
The Wrangler 4xe maintains the iconic, sculptural design aesthetic, with its unmistakable functional elements, such as Jeep's 'trapezoidal' wheel arches, the famous seven-slot grille and round headlights.
With the all-new Wrangler, three trim levels will available. Entry-level 4xe and mid-range Sahara trims are equipped with full-time four-wheel drive, a two-speed transfer case and heavy-duty Dana 44 axles.
The top-range Rubicon model brings an upgraded Rock-Track 4x4 system, axle lockers, improved articulation and a front sway bar disconnect for improved suspension travel. All trims have been designed to rule the road.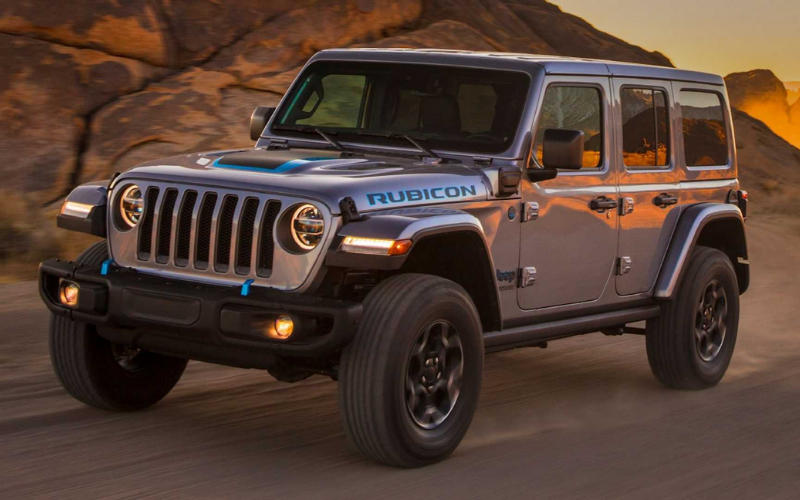 Power
Courtesy of Jeep's latest 4xe technology, the new Wrangler can drive in four-wheel drive in full-electric mode, with a maximum combined output of 380hp and peak torque of 637Nm.
Jeep have stated that it will deliver unprecedented off-road performance in complete safety, while preserving its 'Trail Rated' capability.
The new model's electrified powertrain combines a 2.0-litre turbocharged four-cylinder petrol engine with a 400V, 17kWh battery pack. This will recuperate energy from a belt-integrated starter/generator under deceleration and can power a pair of electric motors, one mounted in front of the engine and the other just forward of the gearbox.
The all-new Wrangler 4xe boasts a significant improvement in on-road performance, capable of accelerating from 0 to 62mph in just 6.4 seconds.
Charging will be easy and user-friendly too, with a full charge available in less than 3 hours. A conventional charging port is located on the front left wing.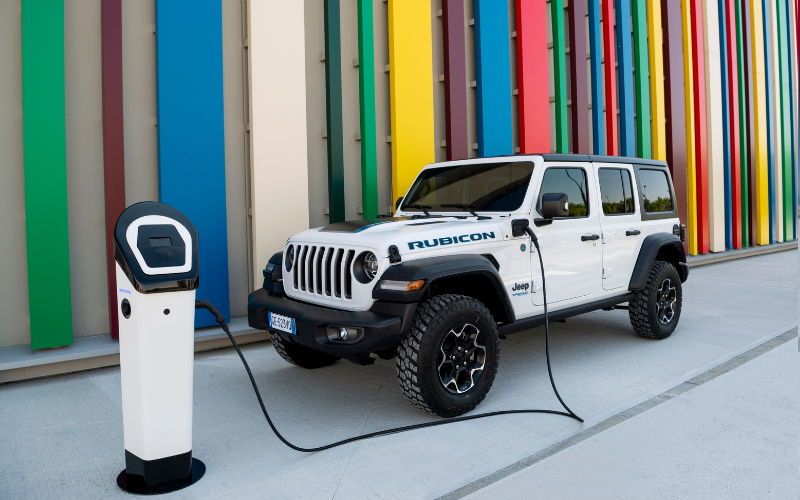 Drive
With the all-new Wrangler 4xe, three drive modes are available: Hybrid, which uses the combustion and electric motors in conjunction; Electric, which shuts out the combustion motor until the battery's charge is depleted; and eSave, which uses the petrol engine exclusively.
A new 'Eco Coaching' display offers drivers the opportunity to monitor power flow and optimise use of regenerative braking, schedule charge times and view driving history.
A 'Max Regen' function can be used to optimise electrical energy generation, using what Jeep calls 'more assertive' regenerative braking.
Jeep have declared that the 'seamless integration of electric power into the 4x4 drivetrain elevates the Wrangler 4xe to new levels of off-road performance'.
Instant torque, even in Electric mode, allows for a more precise and controlled driving experience for climbing and crawling, while conserving fuel and minimising noise.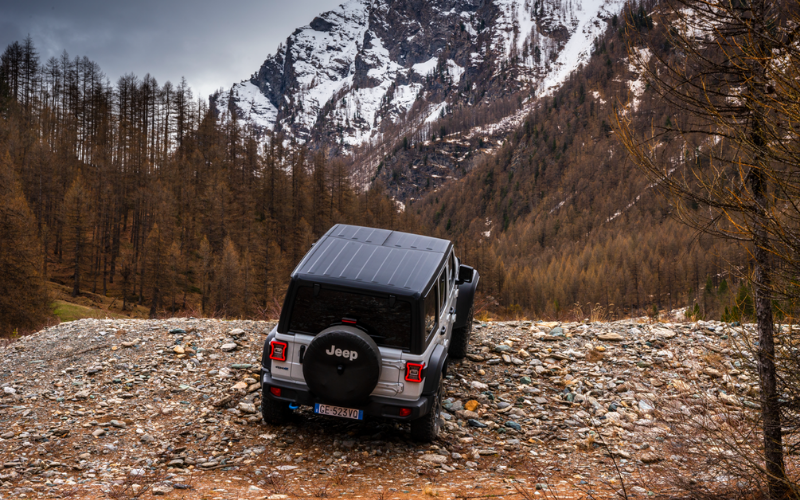 Practicality
The all-new Wrangler 4xe is designed and engineered for a 21st century adventure. It's the same great capability, with a much more efficient powertrain.
The Wrangler 4xe's battery pack is mounted underneath the rear seat for optimal protection from the elements, while maintaining the model's impressive interior dimensions.
The battery is intelligently cooled using the Wrangler's air conditioning refrigerant.
With comprehensive weatherproofing around all new electrical components, the Wrangler 4xe can still match the non-electrified version's 30-inch wading depth.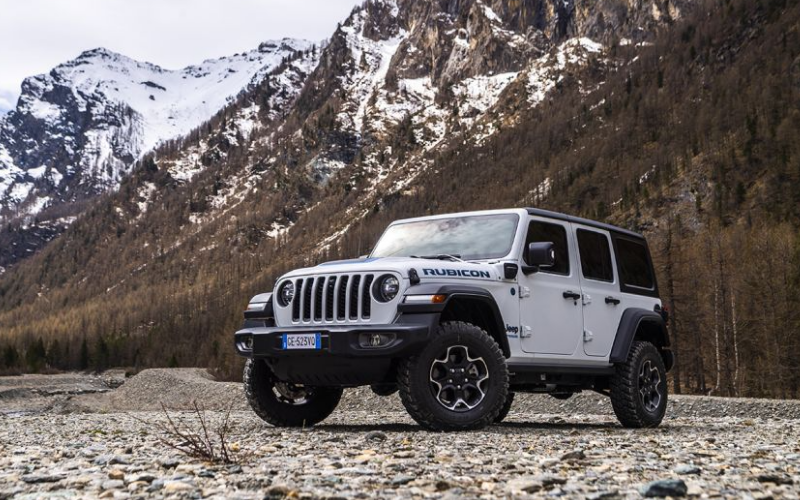 Prices for the new Wrangler 4xe PHEV are yet to be confirmed, but it is expected to be priced in line with the current Rubicon range-topper, available from around £51,000.
Stay tuned here in our newsroom for more updates regarding the all-new Wrangler 4xe, coming soon.
In the meantime, if you'd like to learn more about hybrid and electric vehicles, click the link below: