Here's How the PFA Fans' Player of The Month Trophy Is Made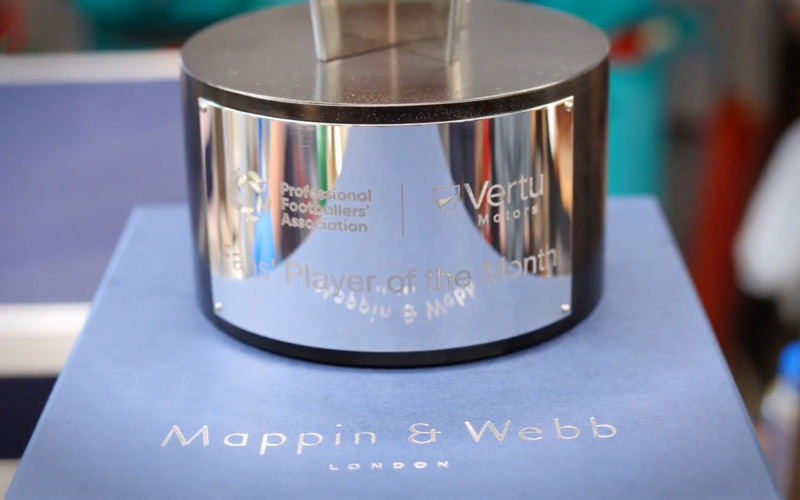 The iconic trophy is designed by jewellers Mappin and Webb and is presented to some of the top professional footballers across five key leagues.
The PFA Fans' Player of The Month awards recognise the individual achievements and performance of top players in the sport, who will receive a shiny new trophy to celebrate their success.
It's also one of the only awards in the industry which involves the opinions of those crucial to its success- the fans!
As dedicated fans supporting your football club, the PFA Fans' Player of The Month Award gives you the chance to get involved and have your say, helping to recognise heroes on the pitch every month throughout the season.
About Mappin and Webb
Established in 1775, Mappin and Webb are a British jewellery and silverware company, specialising high-quality watches, jewellery, cutlery, and glassware. Taking up roots in Sheffield, it was created by Jonathon Mappin. The first store in London then opened in 1860 at 77/78 Oxford Street.
Famous faces to visit the store included Charles Dickins who purchased a Claret Jug in 1859, and Houdini who visited the Sheffield factory to purchase silver gifts. In the modern era, Mappin and Webb have been serving Her Majesty the Queen as Royal Warrant Holder since 2019, while continuing to sell premium jewellery worldwide.
About the Trophy
Over their largely successful history, Mappin and Webb have also expanded their portfolio to include trophies.
Not only do they design the trophies for the Player of the Month Award, but also the Player of The Year Award and Young Player of The Year awards.
Watch the video below and take a look at how the iconic PFA Fan's Player of the Month Award is made before it's ready to be placed into the hands of each winner.
Keep up with PFA news and the latest updates, including nominations and winners, via our newsroom