Honda Release Full Pricing and Specification for All-New Civic e:HEV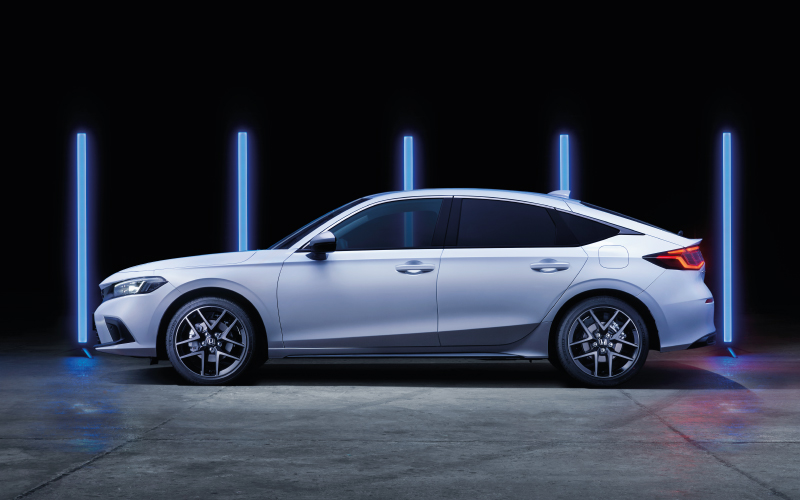 Honda's Electric Vision strategy thunders into the mainstream with the All-New Civic e:HEV.
Honda are aiming to electrify all of its passenger cars by the end of 2022, and the latest model to get the treatment is the eye catching Civic e:HEV.
Starting from £29,595 OTR or from £349* per month through the Honda Finance scheme, the 11th generation Civic is an affordable hybrid version of one of the most recognisable models on the market.
It includes Honda's self-charging, two-motor e:HEV powertrain technology which helps reduce CO2 emissions and delivers electrifying on-road performance.
Check out the e:HEV collection
The Elegance Grade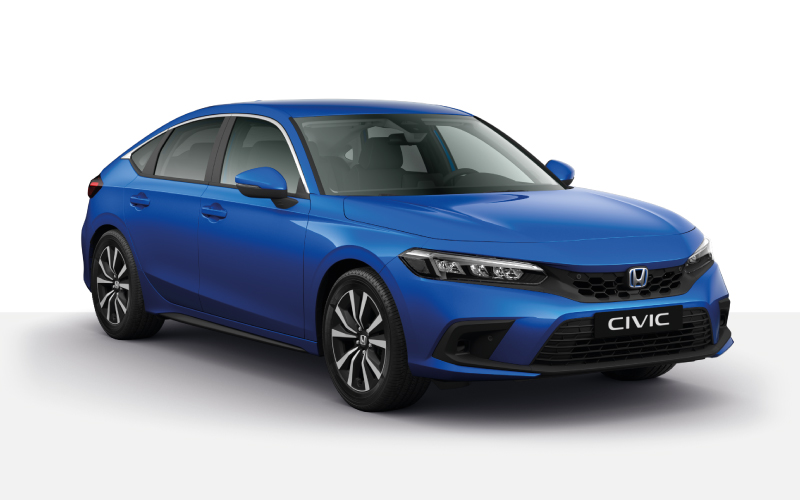 Starting with the Elegance grade, the all-new EV offers motorists the following standard features to deliver practicality and performance:
- 17" alloy wheels
- Fabric seats
- Front and rear parking sensors
- Rear camera
- 7" multi-info display binnacle
- 8-speaker, Apple CarPlay/Android Auto compatible infotainment
- Navigational system
The Sport Grade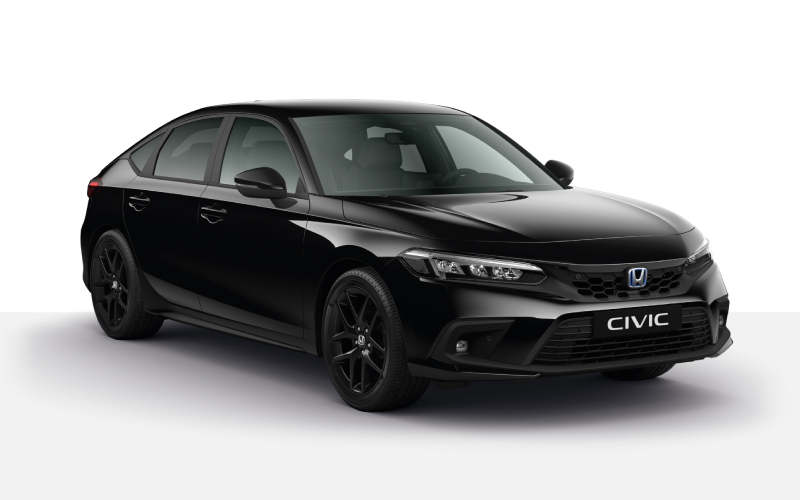 - Seats upholstered in a combination of fabric and synthetic leather
- Sports pedals
- LED fog lights
- Gloss black mirrors offset against low-gloss black window surrounds
- 18" black alloy wheels
The Advance Grade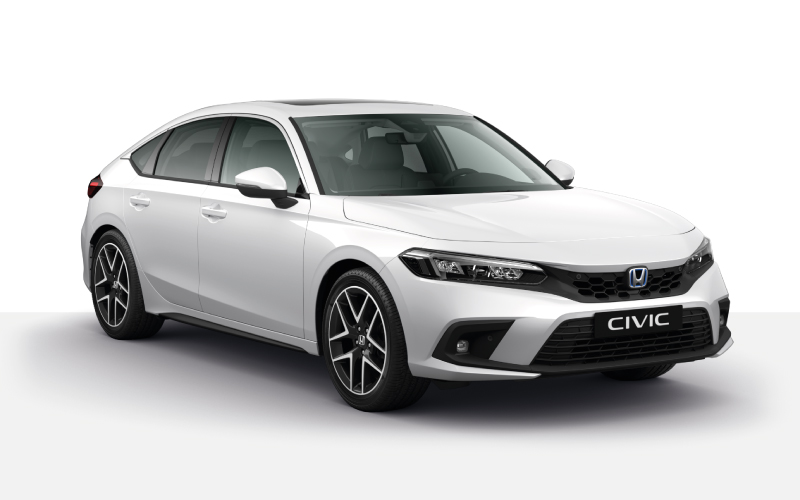 With prices starting from £32,995 OTR, the Advance Grade includes:
- An upgraded, premium 12-speaker BOSE 'CentrepointTM' sound system
- Panoramic sunroof
- Adaptive Driving Beam (ADB) headlights
- Upgraded 10.2" multi-information display binnacle
- Two-tone black, diamond-cut finished 18" alloy wheels
- Leather seats
- Heated steering wheel
All Civic grades also feature Honda SENSINGTM, a high-tech system providing all the safety technologies and driver aids needed for a safer, more controlled drive. This includes the Lane Keeping Assistant System, and the new Traffic Jam Assist function.
All Civic grades are packed with drive safe technology, Honda's high-tech system which features collision braking, lane assist and warning, adaptive cruise control and more. These handy features add up to give you a safer and more comfortable drive.
Rebecca Adamson, Head of Automobile for Honda UK said:
"The launch of the all-new Civic marks an important milestone for the brand, celebrating the iconic model with the best iteration yet. It has once again set the benchmark in practicality, efficiency, performance and safety, tailored to modern customer demands across Europe."
The launch comes ahead of the 50th anniversary of the Civic, which has sold a whooping 27.5 million models in 170 countries since launched in 1972.
While it has a storied history, Honda are looking to safeguard and improve the future of the Civic line with the terrific e:HEV.
It's evolved design, improved dynamics and an impressive powertrain technology are sure to capture the interest of existing Civic aficionados.
It will also attract a new generation thanks to its killer looks and fantastic hybrid credentials.
Launching Autumn 2022.
In the meantime, why not explore our current Honda range?
You can also ask your local dealership for details on the Honda Civic Weekend Launch Event, coming 17-18th September.
*Representative example
| Model (Solid Paint) | Elegance | Sport | Advance |
| --- | --- | --- | --- |
| OTR | £29,595 | £30,595 | £32,995 |
| Customer Deposit | £5,426.95 | £5,377.49 | £5,844.11 |
| Honda Deposit Contribution | £1,000 | £1,000 | £1,000 |
| Amount of Credit | £23,168.05 | £24,217.51 | £26,150.89 |
| 36 Regular monthly payments | £349 | £369 | £399 |
| Final Payment | £14,501.55 | £14,991.55 | £16,167.55 |
| Final Payment Inc. Option Fee | £14,511.55 | £15,001.55 | £16,177.55 |
| Total Amount Payable | £33,502.63 | £34,663.04 | £37,385.66 |
| APR Representive | 6.9% | 6.9% | 6.9% |
| Option to Purchase Fee | £10 | £10 | £10 |
| Annual Contracted Mileage | 10,000 | 10,000 | 10,000 |
| Excess Mileage Charge | £0.10 | £0.10 | £0.10 |
| Interest Rate pa | 6.68% | 6.68% | 6.68% |
Terms and conditions
Finance offers available from when Civic e:HEV becomes available to order. Subject to model and colour availability. Offers applicable at participating dealers (excluding Channel Islands) and are at the promoter's absolute discretion. Not to be used along with any other offers currently available.
OTR may be subject to change due to actual or unexpected changes in tariffs, duties taxes or other costs which may affect importation or other costs of supply.
Honda deposit contribution: £1000 Honda deposit contribution on all new retail Civic e:HEV models purchased through Honda Personal Contract Purchase (PCP) and Honda Hire Purchase (HP).
5 years service package: It is only included when your vehicle is financed through a Honda Personal Contract Purchase (PCP) or Honda Hire Purchase (HP) agreement with Honda Finance Europe with a minimum balance to finance of £5,000.You can settle your finance agreement at any time, however you will need to make at least six regular monthly payments to ensure qualification for the 5 years service package. If you do not make six regular monthly payments, the 5 years service package will be cancelled.
Visit www.honda.co.uk/cars/campaigns/five-servicing for more information about the 5 years service package.
6.9% APR representative Honda Personal Contract Purchase (PCP): Maximum customer deposit 30%. At the end of the agreement, there are three options: i) Retain: Pay the optional final payment to own the vehicle, ii) Return: Return the vehicle, or iii) Renew: Part exchange your Honda for a new one. You do not have to pay the Final Payment if you return the car at the end of the agreement and you have paid all other amounts due, the vehicle is in good condition and has been serviced in accordance with the Honda service book and the maximum annual mileage has not been exceeded. Excess mileage charge includes VAT at current rate.
6.9% APR representative Honda Hire Purchase (HP): At the end of the agreement, once the option to purchase fee [if applicable] has been paid you will own the vehicle outright, you could then choose to part exchange your Honda for a new one.
Indemnities may be required in certain circumstances. Finance is only available to persons aged 18 or over, subject to status. All figures are correct at time of publication but may be subject to change. Honda Franchise Dealers are credit brokers, not lenders. As the dealer offers products from a limited number of carefully selected finance providers, they are not independent financial advisors. We may or may not make a payment and / or reward to the dealer if you enter into an agreement with us. Credit provided by Honda Finance Europe Plc. Honda Financial Services is a trading name of Honda Finance Europe Plc. Cain Road, Bracknell, Berkshire RG12 1HL a company registered at Companies House No 03289418. Honda Finance Europe plc is authorised and regulated by the Financial Conduct Authority, Financial Services Register number 312541