Honda Wins Two Design Awards At Red Dot Product Design 2020 Awards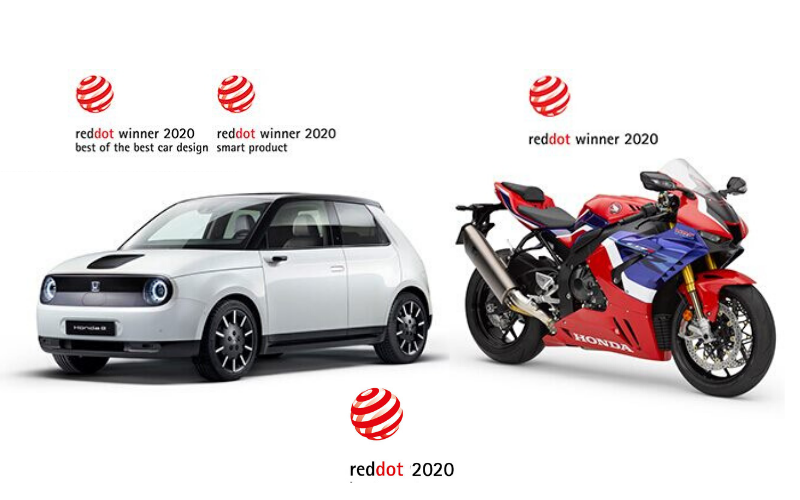 The Honda e and the CBR1000RR-R Fireblade have both won Design Awards in the Red Dot Award category - Product Design 2020.
Honda have announced that the all-new Honda e electric vehicle and the CBR1000RR-R Fireblade super sport bike, have won product design awards in one of the most respected awards in the world, the Red Dot Awards.
The Red Dot Awards were founded in 1955 and has since become one of the most respected design awards worldwide.
A range of 49 categories of industrial products are judged on nine criteria, including degree of innovation, functionality, durability and ergonomics. Outstanding designs are awarded by three awards, 'Red Dot: Best of the Best' (an overall winner), 'Red Dot' (an outstanding design) and 'Honourable Mention' (a commendable design).
The 'Red Dot: Best of the Best' is the most prestigious award among them.
Winner: The Honda e
Honda were delighted to announce that the upcoming Honda e has won 'Red Dot: Best of the Best 2020' in the automobile category, and also received 'Red Dot 2020' in the category of 'Smart Products'.
The Honda e is set to be a new-generation electric vehicle focused on a simple design and ease of use. The Honda e will meet the needs of modern urban life through seamlessly connected technology and outstanding driving dynamics.
The Honda e's dashboard features two large touchscreens which display a wide range of applications and connected infotainment services in a lounge-like atmosphere, seamlessly integrating with the occupants' urban lifestyle. You can find out more about the first Honda e test drive and review, here.
Winner: The CBR1000RR-R Fireblade
The CBR1000RR-R Fireblade received 'Red Dot 2020' in the motorcycle category.
The 2020 Fireblade was launched and showcased last year in Milan and Italy, with sales soon beginning in Europe.
Positioned as the top flagship of CBR series, the CBR1000RR-R Fireblade was developed with the concept 'Total Control for the Track' in mind.
The all-new Honda Fireblade gives a high performance on the road, track and in races. The frame has enhanced stability under acceleration and braking, and with the help of advanced electronic control system supporting sport riding, its potential has been further enhanced.
Honda believes the CBR1000RR-R Fireblade won the award in part due to 'its functional beauty honed through pursuing the limits of high-performance and radical new form, to achieve uncompromising function, not only in the public roads, but also in the circuit.'
You can find out more about the Honda CBR1000RR-R Fireblade, here.
We have no doubt that Honda's designs will go on to win more awards, later this year.
To see our great deals on the award-winning upcoming Honda e, click the link below:
To see our great deals on the award-winning Honda CBR1000RR-R Fireblade, click here: