How to Prepare Your Car For A Trip To Europe
Heading on a European road trip this year? We provide all the information you will need for travelling abroad in your car.
Ever considered using your car for a trip abroad? While most drivers use their cars for getting around locally - whether for work or social use - driving to Europe is more common than you think.
In fact, in a recent eBay Motors Group survey, 52% of respondents said they expect to use their car on holiday this year.
Among these, 13.4% said they plan to use it specifically for a holiday in Europe. So, what exactly should you do to prepare your car for such a journey?
Read on for all you need to know.
Make sure you have important documents to hand
When driving around Europe, there are some documents you should have readily available in case you encounter any issues. These include:
Your UK driving license and national insurance number
Proof of insurance for your vehicle
Passport
Your V5C certificate (log book)
Travel insurance documents
European Breakdown Cover documents (including your policy number)
Up-to-date tax and MOT certificates
A Crit'air sticker if driving in France
You may also need an International Driving Permit (IDP). You can purchase these for £5.50 at the Post Office. You will need an IDP depending on the specific country you plan to drive in, and the length of your stay. Find out how to check if you need an IDP for driving abroad.
Again, depending on the country you visit, you may also need a UK sticker if this is not featured on your numberplate. In some countries such as Cyprus, Malta, and Spain, it is compulsory to display this sticker, regardless of whether the GB or Union flag is on your number plate.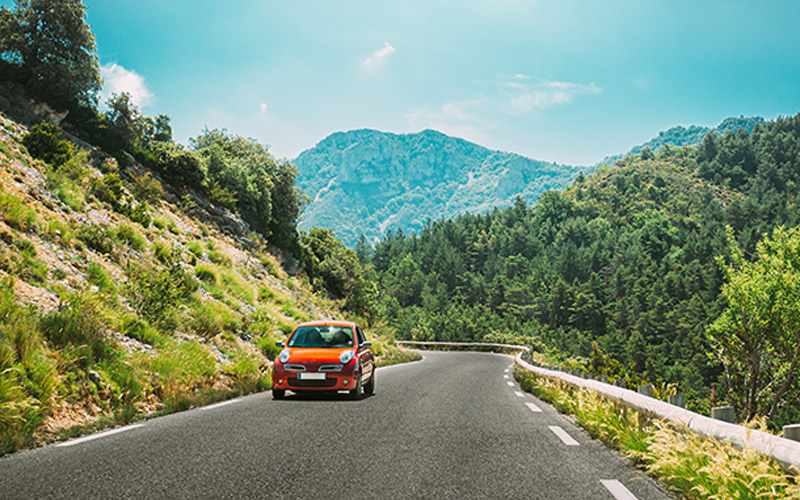 Pack the right equipment for your journey
When it comes to your accessories and equipment, there are also a few things you should pack for your road trip in Europe.
These include reflective jackets, and a hazard warning triangle. You should also purchase headlamp beam deflectors (if not adjusting your headlight beams manually), and a first aid kit (compulsory in Austria, France, and Germany).
RAC also recommends a few other items you may want to take with you on your trip to make sure you're prepared. These include:
Fire extinguisher
Spare bulbs
Torch
Spare fuel can
Engine oil and water for top-ups
Road maps
Blanket
Sun cream
Water and snacks
Medical supplies
Photocopies of important documents
European Health Insurance card
Prepare your car
After making sure you have all the necessary documentation and essentials packed, you will then need to make sure your car is prepared for the journey.
You should take it to your local Vertu Motors dealership and tell the technicians about your upcoming journey. They will be happy to give your vehicle a thorough inspection to make sure all main parts are working, and that it is roadworthy.
There are also a few checks you can do yourself. These include topping up your fluids, pumping up your tyres, and making sure bulbs and wipers are all working correctly.
Giving your car a well-deserved clean for the journey will also pay off. so that you can see through all windows clearly and there is no clutter making your car untidy inside.
Plan ahead
When heading for a trip abroad in your car, it is also important that you are familiar with the driving laws in the country you are visiting.
These may vary slightly in different countries, so it is best to check the rules beforehand to avoid any fines or accidents.
You should also spend time familiarising yourself with the routes you plan on taking, to make sure that you can use the roads safely and legally.
Before driving in some countries, you may need to adjust your headlights for driving on the right-hand side of the road. Otherwise, this may dazzle other drivers, getting you into trouble.
You can get headlamp converters for this, which are stickers placed on your headlights to help adjust the beam.
Checking your insurance and breakdown cover is also recommended, as you will need to make sure your cover extends to Europe for your visit.
If not, then you may need to purchase additional breakdown cover which can be purchased from £6 for short trips from the RAC, with an annual option available for longer visits.
You can also purchase short-term car insurance if you are not covered abroad, which covers you for up to 30 days.
Note that you may also need a visa for spending time abroad. You should take photocopies of any important documents as well as the originals so that the originals can be kept in a safe when going out and about.
We hope you feel well-prepare for your European road-trip. For more helpful tips and advice, visit our newsroom.