International Women's Day 2022: An Interview with Georgia Georgiou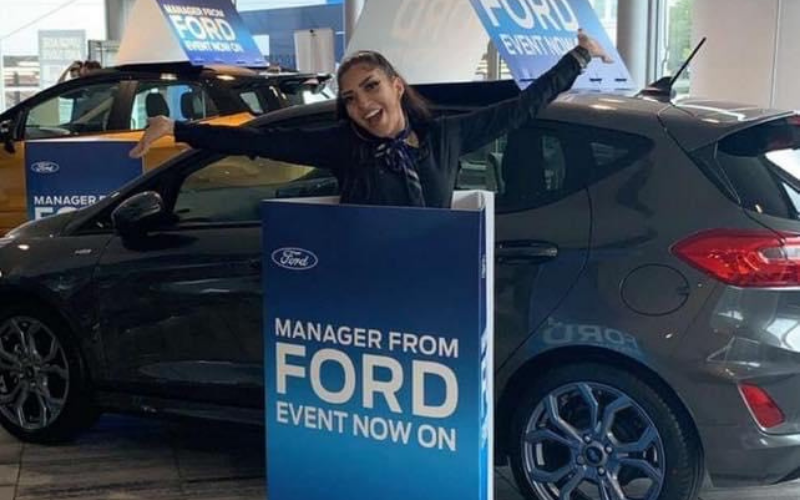 To celebrate this year's International Women's Day, we're catching up with some of the most inspiring women across the automotive industry.
The theme for International Women's Day 2022 is #BreakTheBias and we want to find out what that means for some of the influential women within the industry, while celebrating their achievements and successes.
Today, we caught up with one of our very own Sales Executives, Georgia Georgiou.
Working her way up from a trainee to a Sales Executive, Georgia has become an outstanding member of our Ford Bromley team and brings a fresh burst of energy to the business. Her passion and determination are a breath of fresh air and we're so excited to watch Georgia grow even more with us.
Read on to discover more about Georgia's success and find out who her female role models are and what #BreakTheBias means for her.
What does a typical day in your job role look like?
"My typical day is usually full of a lot of energy! I kick start every morning off with a motivational video so I can spread positivity to my customers and colleagues.
"There have been a few adaptations since COVID, so most of our work is prospecting and encouraging customers that right now is the best time to buy. We have also been making a lot of personalised AOS videos and, my favourite, live calls.
"We have to make sure our cars are prepped and perfect before we hand them over to our customers, thoroughly checking our cars before they go out. . I have worked many jobs, but by far, this has to be the best one yet."
How long have you worked in the automotive industry?
"I have only worked in the automotive industry for two years and three months, however I have learnt so much. I started as a trainee, and I have come a long way from when I started. This job has given me so much more confidence and has uplifted me as a person."
Have you always wanted to work in the automotive industry, or did you start out in another sector?
"I always wanted to work in the automotive industry, however, I never thought I would have the opportunity. So, when Vertu offered me the opportunity as a trainee, I was over the moon!
"I was always told beforehand that a woman could never survive in a 'man's world', so I knew when I joined, I had the opportunity to make a difference."
What's your biggest career achievement to date?
"My biggest achievement was when I filmed a video on the Mustang, which we had posted on Facebook, and the very next morning, a customer who had watched the video on our Facebook, bought the car and made us £11,051! ". It's so nice to be noticed for all my hard work from both customers and the CEO."
What's the best part about your job?
"I love the fact I get to meet and speak with loads of new people. I get to learn about people's histories and achievements, and I get to gain a lot of knowledge.
"I make genuine connections with my customers. I am constantly training and learning new things, so I guess the best part of this job is the knowledge I gain."
What progress do you think has been made within the automotive industry?
"I work alongside five other female sales executives and four female service advisors and let's not forget our account team with three female accountants.If we were to look back at how things were a few years ago, it would be difficult to find that.
"When I started working for Vertu, it was nice to see other women. I felt more relaxed, and I find a lot of my customers feel that same effect. Many customers have actually mentioned that they feel comfortable to see another woman and expressed how overwhelming it has been going to other dealerships."
What advice would you give young women who are wanting to pursue a career within the automotive industry?
"Do it! Best decision I have EVER made. It has grown me as a woman, built me with confidence and taught me a lot of life lessons."
Which female inspires you the most and why?
"Her name is Lorraine she works for a charity called Women's Aid. She inspires me because she has been through the most difficult situations, and she has grown beautifully away from her past.
"She now spends most of her time empowering other women and is a voice to a lot of other women when it is a little tough for them. She has really helped me and has been my backbone at a place I never thought I would have escaped. She puts in all her hard work to try and make a difference to the world, and she has inspired me and many other women to make differences and changes, too."
This year's IWD theme is #BreakTheBias. What does that mean for you?
"I think that it is important that we can live in a world free of bias, stereotypes and discrimination, a world where difference is valued and celebrated. Collectively we can all #BreakTheBias."
Join us in celebrating the success of more women from the automotive world