International Women's Day 2022: An Interview with Kiera Wright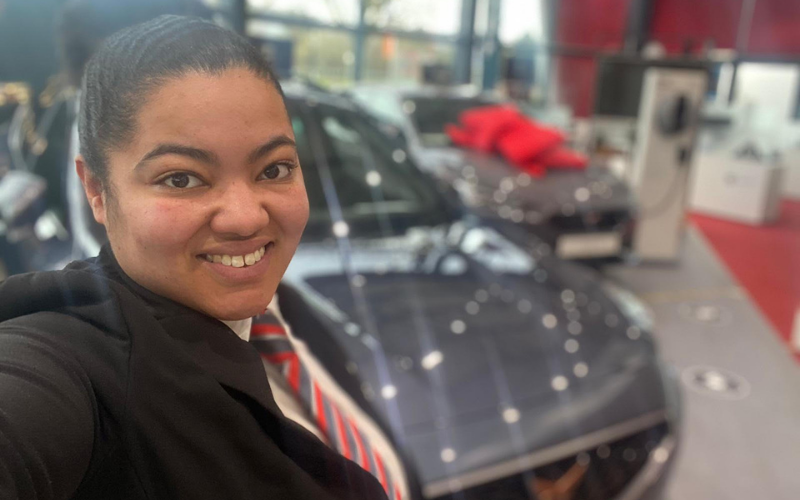 To celebrate this year's International Women's Day, we're catching up with some of the most inspiring women across the automotive industry.
The theme for International Women's Day 2022 is #BreakTheBias and we want to find out what that means for some of the influential women within the industry, while celebrating their achievements and successes.
Today, we caught up with one of our very own Business Managers, Kiera Wright.
At only 23 years of age, Kiera was promoted to Business Manager at our SEAT Derby dealership and four years on, she's going from strength to strength, driving the business to success every day.
Read on to discover more about Kiera's success and what #BreakTheBias means for her.
What does a typical day in your job role look like?
"A day at SEAT Derby is always different to the last. Since the pandemic, the way that customers enquire about vehicles has changed. Our phone and internet traffic has at least doubled. As a team, we ensure that our speed of response is key.
"It's my job to guide the Sales Executives through the sale of finance and to help potential customers. I may have to jump onto conference calls with regional staff to get updates on any changes. I post on our SEAT Derby Facebook page too and submit finance applications to our lenders."
How long have you worked in the automotive industry?
"I started my career in the industry in January 2015."
Have you always wanted to work in the automotive industry, or did you start out in another sector?
"Weirdly enough, no. I have family members that have worked in the industry, but I never considered it at school. I always wanted to go into the Police or Forensics. After Sixth Form, I decided not to pursue University and got a job at Farmfoods.
"I worked my way from Customer Service Assistant to Assistant Manager, then moved onto Tesco's to be a Team Leader. My brother worked for Vertu Honda at the time. He recommended the job to me, and I thought, why not? Me and my brother seem to excel in similar things, and he was getting on really well. I ended up starting at Peugeot Ilkeston.
"The dealership had to close, so I was transferred to SEAT Derby on April Fool's Day 2015... and the rest is history!"
What's your biggest career achievement to date?
"I would say my biggest achievement is being promoted to Business Manager, back in 2018, at the age of 23!"
What's the best part about your job?
"Making customers' buying experience memorable! People are spending a lot of money with us, so I love seeing a smile on their faces and making them feel special."
What progress do you think has been made within the automotive industry concerning gender equality?
"When I started in 2015, the number of women that worked for our company was low. I think it has come on leaps and bounds in the past 6/7 years - It's really great to see!
"There is still room to better these statistics though. If you are considering a career in the motor trade, apply. I did and I haven't looked back."
What advice would you give young women who are wanting to pursue a career within the automotive industry?
"Ignore the stigma and do what you want to do in life. Forget about gender and put yourself across in a professional manner. Confidence is key but don't come across cocky. If you want to do something, put your mind to it! Don't be afraid of working with loads of men..."
This year's IWD theme is #BreakTheBias. What does that mean for you?
"Should you have dreams or desires, go for them. Things don't change overnight but turn what you want into a habit and away you go."
Join us in celebrating the success of more women from the automotive world