International Women's Day 2022: An Interview with Vikki Brooks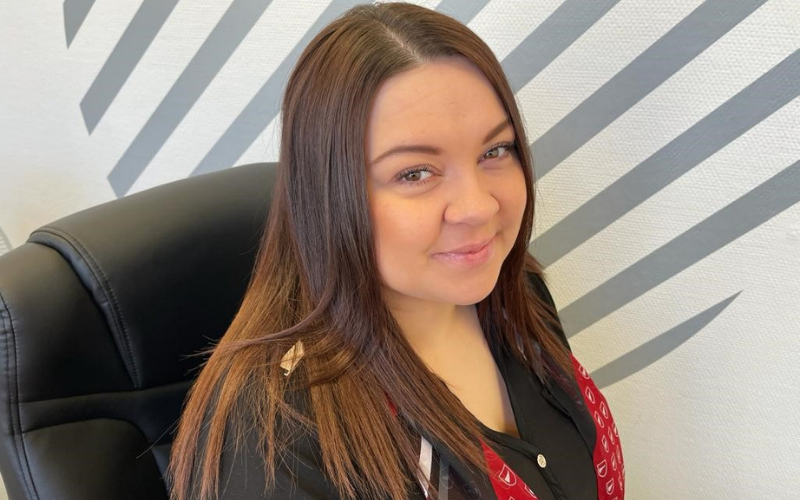 To celebrate this year's International Women's Day, we're catching up with some of the most inspiring women across the automotive industry.
The theme for International Women's Day 2022 is #BreakTheBias and we want to find out what that means for some of the influential women within the industry, while celebrating their achievements and successes.
Today, we caught up with our very own New Car Sales Manager, Vikki Brooks.
At only 26 years of age, Vikki is the New Car Sales Manager at our Nissan Derby dealership. Vikki leads and inspires the New Car and Commercial Sales team to deliver high-quality sales and exceptional customer service every day.
Named 'New Car Sales Manager of the Year' in 2020, read on to discover more about Vikki's success,who her female role models are, and what #BreakTheBias means for her.
What does a typical day in your job role look like?

"Every day is different in my role. Mainly, I help to serve customers by putting together the sales and finance packages that are tailored to each customer. I also order stock and ensure we have a great selection around us - I look after our marketing and advertising strategies and I train our staff members daily so they can perform to the best of their abilities and grow in confidence.
"Above all of that, I like to get involved in day-to-day activities to help the smooth running of the dealership. This can be stickering cars for display, taking photos for our online platform, getting involved with our social media activity, collecting and delivering vehicles, helping with the valeting and the preparation of our cars."
How long have you worked in the automotive industry?

"I have worked in the automotive industry for seven years. I started out as a Trainee Sales Executive, undertaking an NVQ in vehicle sales. After I found my passion for the role, I undertook various training courses to move to a Senior Sales Executive, a Business Manager and now a SalesManager."
Have you always wanted to work in the automotive industry, or did you start out in another sector?

"I fell into the motor industry! After leaving college, I was unsure of what I wanted to do. I was working part-time in retail, but I knew that this wasn't what I wanted to do forever, so I applied for several jobs.
"I applied for a job in the automotive sector as my late father was in this industry and I would help take the phone calls when he was selling vehicles. On one morning, I had two interviews - one in car sales and the other as a Care Assistant – but my first interview was so long that I ended up missing my second interview! So, I would say that it is fate that I have ended up in this industry and I was very glad I got the job!"
What's your biggest career achievement to date?

"My biggest career achievement was winning the 'New Car Sales Manager' award for the biggest overachieving dealership, in the volume division, at Vertu Motors. I am so proud of how my team excelled when they came back to work after the lockdown which enabled us to win."
What's the best part about your job?

"The best part about my job is watching my team grow and accomplish things that they never thought they could and, in turn, achieving fantastic results as a department."
What progress do you think has been made within the automotive industry concerning gender equality?

"Personally, I think that the automotive industry has started to appreciate and accept more women into different roles that were once more male dominated.
"As my time in the industry progresses, I have noticed that more and more females are applying and joining in various different roles. I know female Mechanics, Service Advisors, Service Managers, Sales Executives, Business Managers, Sales Managers and General Managers! I personally feel appreciated for what I do, and I don't feel like I get treated any differently due to my gender.
"I don't feel like there is an issue within the motor industry in regard to gender equality, however, I do feel like people's perceptions of the industry is still that it is a male dominated environment. To this day, people are still shocked that the female members of my sales team know just as much about cars as the males do and even more so when I introduce myself as their manager."
What advice would you give young women who are wanting to pursue a career within the automotive industry?

"Go for it but be confident! There are going to be challenges and hurdles in your way, but you can overcome them. You need to believe in yourself, and you can achieve anything you put your mind to."
Which female inspires you the most and why?

"The female that inspires me the most is my mum. She has always encouraged me to be the best version of myself, whilst always staying true to myself.
"My mum is the kind of person who puts people before her and empowers everyone around her. She has brought me up to be confident, outgoing and to go for my dreams. Without her, I wouldn't be the person I am today."
This year's IWD theme is #BreakTheBias. What does that mean for you? 
"A world full of diversity, inclusivity where difference is valued and celebrated."
Join us in celebrating the success of more women from the automotive world