Introducing: The All-New Toyota Aygo X Prologue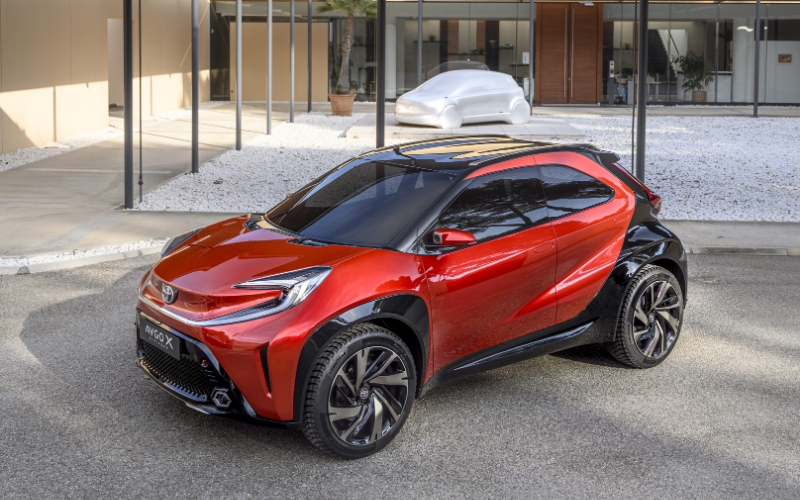 Toyota are renowned for designing bold, efficient and practical city cars, with the all-new Aygo X prologue set to be another example of this.
With the Aygo already recognised as a triumph within the A-segment for city cars, ED, Toyota's European Design HQ in the South of France, is determined to offer small car drivers even more 'boldness and spice'.
For most of the past two decades, Toyota has been a leader in the European A-segment.
In thinking about what should come next to the market, Toyota's ED team want to prove that cars traditionally referred to as an 'entry point' can still deliver stand-out design.
Toyota's European Assistant Chief Designer, Ken Billes, comments: 'With the Aygo X prologue, I believe we've demonstrated that a small car can still be big and bold in personality.'
Find out what's set to make it special, here:
An Icon Reimagined
Since its 2005 debut, the incredibly accessible Toyota Aygo has won the hearts of city car drivers with its sense of playfulness and fun.
Toyota's European Design Director, Lance Scott, notes: 'These qualities have always been at the heart of Aygo.
'Now we have added an extra pinch of hot spice.'
Appealing to a style-conscious audience, the Toyota Aygo's lively character and engaging driving dynamics have attracted many new customers to the brand.
Toyota now believes that their customers 'are looking for flair, distinctiveness and the chance to make a personal statement.' The Aygo X prologue is set to do just that, building on what the Aygo so successfully does already.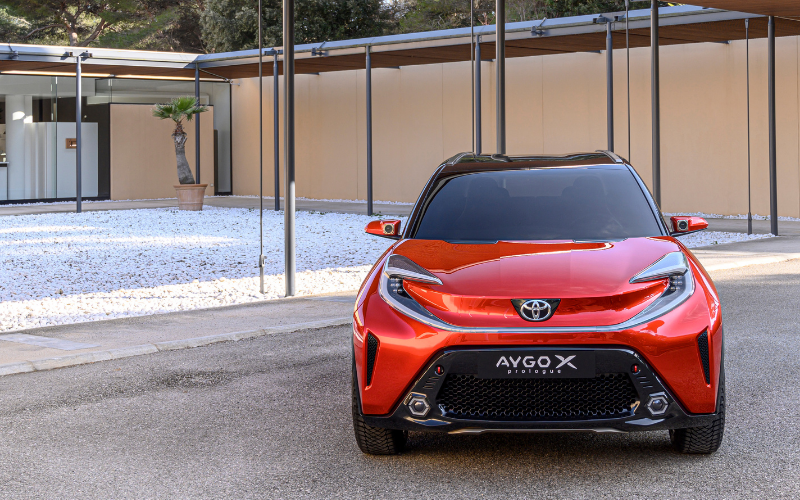 Enhanced
Toyota are proud of the Aygo name symbolising personal freedom and mobility.
The all-new X prologue is a cheeky, mischievous and slightly edgier version of the popular Aygo; set to be fun and confident to drive.
Expressing attitude from every angle, the X prologue comes with its own strong personality and stance too.
A new, wedged roofline increases the dynamic feeling and stronger sporty image.
With the wheels size increased and a higher seating position that offers greater visibility, the X prologue is an Aygo that comes with an improved road clearance for whatever might lie ahead.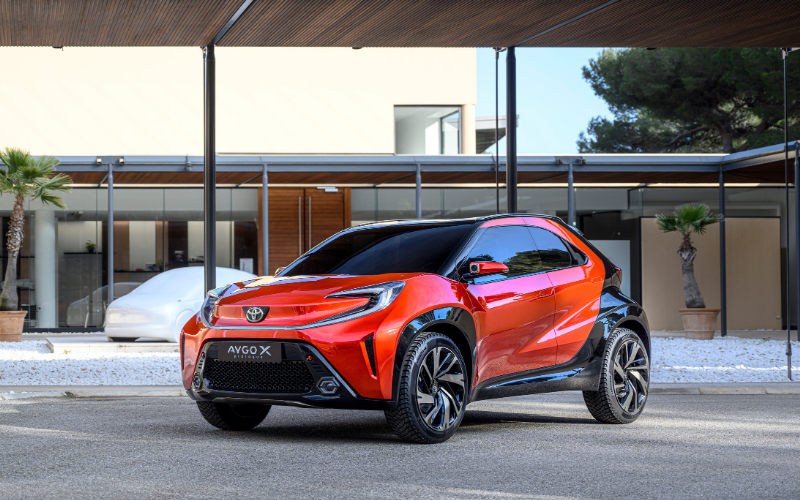 Ready To Go
The all-new Toyota Aygo X prologue comes with a whole host of practical features that will appeal to the free-spirited.
A rear skid plate has a bicycle holder mount for those who want to escape from the everyday, while the door mirror houses an action camera for capturing and sharing special moments of exploration.
An integrated roof rack accentuates the X prologue's profile and creates a visual link with the hexagonal tail lights – a subtle reminder of Aygo's design essence.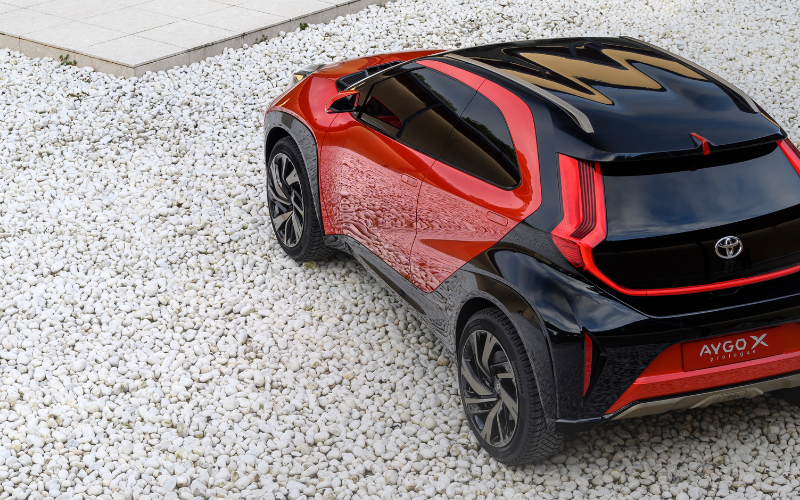 Bold And Bright
Toyota has said that the Aygo X prologue has been inspired by life and life's emotions, with colour being an important expression of this.
To make the Aygo X prologue 'spicy', as they call it, they've incorporated colours synonymous with this concept.
Toyota has said the all-new Aygo X prologue hints the following ingredients: chilli, ginger, wasabi and black pepper, with chilli the spiciest of them all.
Toyota's European Colour and Finishing Designer, Momoko Otawara, commented: 'I am a customer as well as a designer, so I helped design the Aygo X prologue to be the car that I wanted, for me.'
The new Toyota Aygo X prologue comes with a bi-tone finish.
Toyota's 'fine sprinkling of metallic blue flakes' in the paint can be spotted when you're up really close, creating a magical effect that makes the colour worthy of its name Sparkling Chilli Red.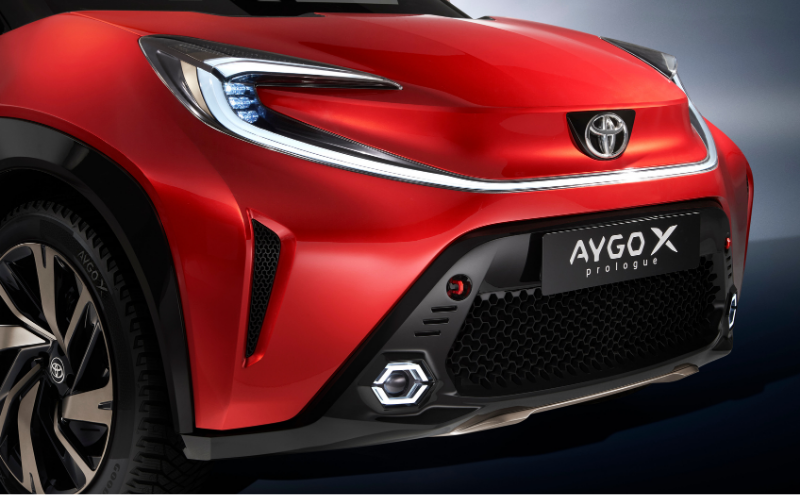 Toyota's European Design President, Ian Cartabiano, declared: 'Everybody deserves a cool car. When I look at the Aygo X prologue, I'm really proud to say that the ED2 team have created exactly that.
'I'm excited to see it revolutionising the segment.'
The Aygo X prologue is expected to arrive on UK shores early 2022.
If you'd like to register your interest in the all-new Toyota Aygo X prologue, click the link below and get in touch:
Our friendly team of experts on all things Toyota are happy to help with any questions you may have. We look forward to hearing from you.