Introducing Toyota's Largest Self-Charging Hybrid: The All New Toyota Highlander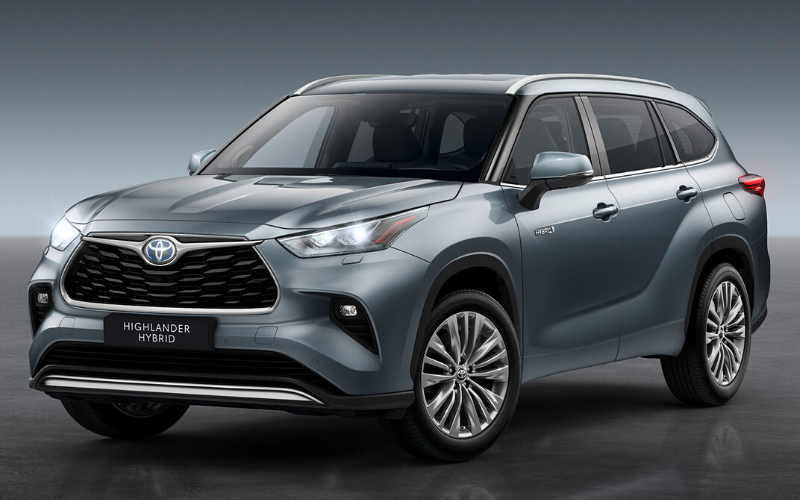 The seven-seater Highlander SUV, Toyota's largest self-charging Hybrid SUV, is to go on sale in the UK for the first time ever.
Although it is not currently available in the UK, the Highlander has become an increasingly popular SUV choice around the world. Therefore, British Toyota fans are delighted at the news that the next generation is set to be on our roads early next year.
The 2021 Toyota Highlander will come exclusively with a full hybrid electric powertrain.
The Highlander brings together the Toyota SUV qualities of comfort, drivability and safety with a fuel and emissions-efficient Hybrid powertrain, intelligent, all-wheel drive, a flexible interior and a two-tonne towing capacity!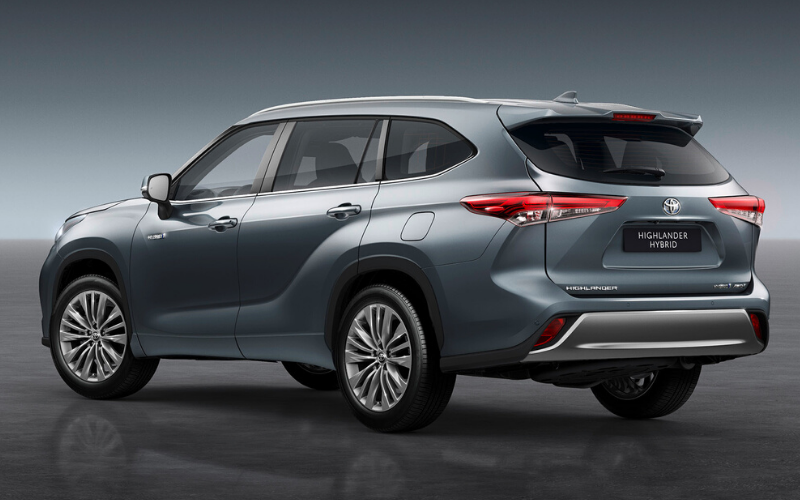 Interior and Exterior Design
The all-new Toyota Highlander measures 4950mm long and is fitted with striking 20-inch alloy wheels, helping create an urban SUV look that is sleek, dynamic and sophisticated. The exterior styling is said to match the Highlander's power, durability and its rugged appeal of a versatile all-wheel-drive vehicle.
Perfect for a growing family, the interior offers practicality, durability and space-on-demand in a comfortable, premium-quality environment.
The Toyota Highlander will be a spacious seven-seater: a 180mm sliding range for the second row seats ensures generous third row accommodation for two adults and easy access.
The Highlander's interior technology includes a multimedia system, satellite navigation, head-up display, wireless phone charging, smartphone connection via Apple CarPlay and Android Auto, ventilated front sets and a digital rear-view mirror (only available with Premium pack).
The digitalised rear-view mirror will provide a wide image, unobscured by rear passengers or headrests.
A kick-sensor (only available with Premium pack) will allow hands-free access to the 658-litre luggage area! There will also be underfloor storage space, whilst fully flat-folding the second and third row seats can bring the load capacity up to whopping 1,909 litres.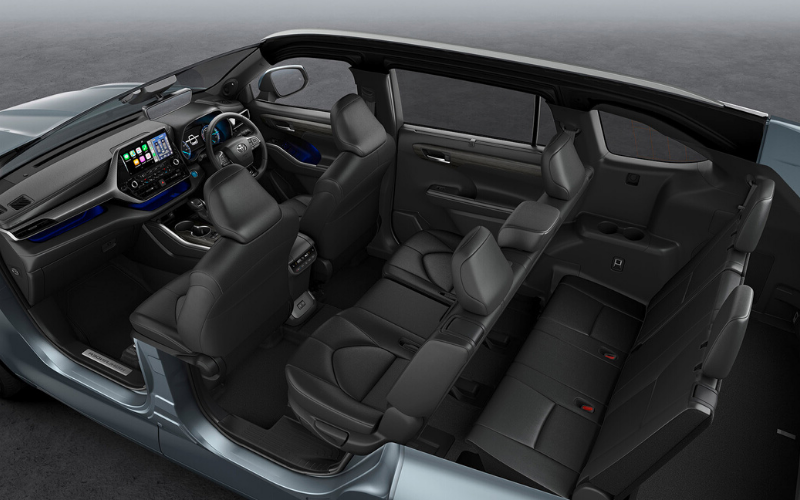 Powertrain and Driving Dynamics
The all-new Toyota Highlander's fourth generation self-charging hybrid powertrain features a 2.5-litre petrol engine, with front and rear electric motors.
The UK market, who are continuously turning to electric or hybrid options, will most likely appreciate Toyota's latest powerful, yet fuel-saving technology.
The Highlander's total system power will hold 241bhp and its WLTP combined cycle CO2 emissions will be around 146g/km, with 42.8mpg fuel consumption. This gives the all-new Hybrid Highlander the best balance of power and CO2 emissions in its segment.
Safety
To keep all passengers safe, the all-new Toyota Highlander will be equipped with the latest Toyota Safety Sense package of active safety and driver assistance systems.
The package includes a Pre-Collision System with active steer assist, to provide further collision avoidance support. The Pre-Collision System detects pedestrians in the vehicle's path by both day and night, and bicycle riders in daylight.
Other state-of-the-art safety features include a full-range Adaptive Cruise Control with Road Sign Assist, Lane Departure Alert and Lane Tracing Assist, and Automatic High Beam.
The all-new Toyota Highlander can be expected in showrooms at the beginning of 2021.
Details of UK specifications and pricing will be announced nearer the time of launch.
In the meantime, if you'd like to find out more about Hybrid and Electric Vehicles, click the link below: