Jaguar To Join Land Rover At Farnell Guiseley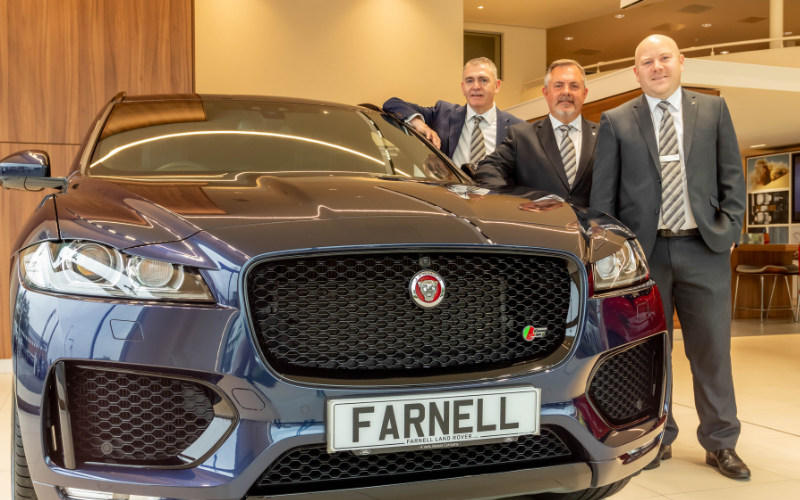 Following a £4 million refurbishment Farnell Land Rover Guiseley is expanding its offering to incorporate the prestigious Jaguar brand.
The site has undergone a significant redevelopment and now features a 10-car showroom, designed to showcase new products, in addition to state-of-the-art servicing technology.
Operations director Jatinder Aujla said: "This is an incredibly exciting time for the Farnell division, a name which has been inextricably linked with Land Rover in West Yorkshire since 1948 and is now becoming synonymous with the Jaguar Land Rover brand.
"The Jaguar Land Rover brands have seen considerable growth over the last few years and epitomise style and luxury and our retail sites reflect this. We are looking towards future opportunities for further growth and the creation of career opportunities for talented people across many disciplines.
"Bringing Jaguar to Guiseley to sit alongside Land Rover is very rewarding and reflects our confidence in both the brand and the local area."
Steve Whitaker, who is local to the Guiseley area, and has more than 20 years' experience in the motor retail sector oversees the site. He said: "This is a fantastic endorsement of Farnell Guiseley and the new Jaguar cars look amazing in the redeveloped showroom.
"It will also enable us to showcase a range of electric vehicles from the plug-in Land Rover hybrid to the multiple award-winning Jaguar I-Pace.
"I am certain that Jaguar customers will enjoy the fantastic facilities, and of course the exemplary customer service they expect from a premium retailer.
The Farnell Group was founded in 1882 by Albert Farnell as a shop selling pushbikes. He went on to stock the first motorised Rover pedal cycles and in 1904 built an ancestor of the first Rover car.
The Guiseley site was built in 1984 and the company's head office relocated from Bradford.
Vertu Motors acquired the business in 2013. At the time Robert Forrester, Vertu's chief executive, described the deal as the "most significant moment" since the company's acquisition of Bristol Street Motors kick-started its growth.