Jeep Wrangler achieves yet another major honour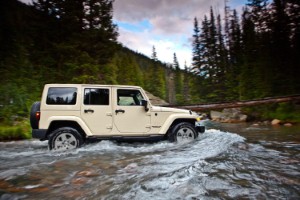 The Jeep Wrangler has continued to excel, with its latest feat being named the 4x4 of the Year, Hardcore class.

Specialist motoring magazine 4x4 Magazine has commended the vehicle with the award, showcasing to the world that the serious off-roader still has plenty to give.

It was specifically the Jeep Wrangler Unlimited that scooped the major honour, with an expert panel of judges praising the US-built vehicle for its unparalleled off-roading capability.

The rugged style of the car was also highlighted by the 4x4 Magazine experts, as well as the wealth of handy equipment which the car provides to drivers and the fact it represents great value for money.

In fact, Nigel Fryatt, editor of 4x4 Magazine, pointed out that the Wrangler Unlimited was the unanimous victor in the 4x4 Hardcore class.

"Head to head with the Land Rover Defender off-road there's little to choose, but if you had to live with either on a daily basis, in all-weathers, all traffic conditions, on and off-road, then there's only one choice. It has to be the Jeep," he explained.

Nigel Land, brand director of Jeep Chrysler UK, said that it was "great" to see the Jeep Wrangler continue to stand head and shoulders above the competition in motoring award ceremonies even when it is already seen as one of the greatest 4x4s ever made.

However, Mr Land stressed: "There is still more to come from Wrangler and we look forward to future accolades for this remarkable vehicle."

Drivers who choose to step behind the wheel of a four-door Jeep Wrangler will be presented with a vehicle that boasts 34mpg on a combined cycle while limiting CO2 emissions to just 217 g/km.

The two-door variety of the acclaimed vehicle improves on these figures, presenting motorists with a motor that can achieve 34,9mpg on a combined cycle and restricting CO2 emissions to 213 g/km.
Posted by Sebastian Turkenburg