JLR Reveals New Global 'Reimagine' Strategy Embracing Luxury Sustainability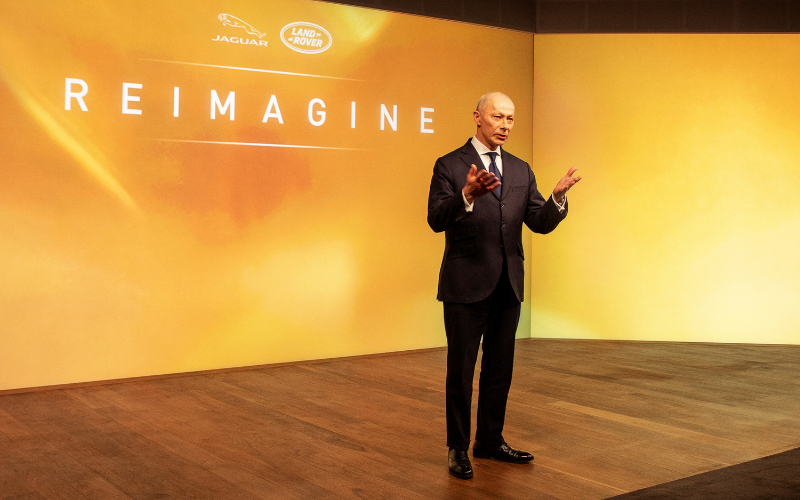 Watch as Jaguar Land Rover's new Chief Executive Officer, Thierry Bollore, announces the brand's new global strategy – starting the journey to become a net zero carbon business by 2039.
Jaguar Land Rover are vowing to represent two distinct modern-luxury brands, with sustainability at their core. This comes as all vehicle manufacturers must move towards a cleaner future.
JLR's CEO has declared the brands' future models will embody a 'sustainability-rich reimagination of modern luxury', come with 'unique customer experiences', and harbour a 'positive societal impact'.
Significantly, JLR have revealed that all Jaguar and Land Rover nameplates are to be available in pure electric form by end of the decade; we are to expect an all-electric Land Rover model by 2024.
Over the next five years, Land Rover have said they'll welcome six pure electric variants as the brand continues to be the world leader of luxury SUVs.
The Reimagine strategy will also see Jaguar as an all-electric luxury brand from 2025, to 'realise its unique potential'.
Watch the full announcement, here:
Thierry Bollore: 'Jaguar Land Rover is unique in the global automotive industry. Designers of peerless models, an unrivalled understanding of the future luxury needs of its customers, emotionally rich brand equity, a spirit of Britishness and unrivalled access to leading global players in technology and sustainability within the wider Tata Group.
'We are harnessing those ingredients today to reimagine the business, the two brands and the customer experience of tomorrow.
'The Reimagine strategy allows us to enhance and celebrate that uniqueness like never before.
'Together, we can design an even more sustainable and positive impact on the world around us.'
Here at Farnell Jaguar Land Rover, we're incredibly excited for the future the brands.
If you'd like to learn more about Jaguar and Land Rover's hybrid and electric vehicles, click the link below: