Land Rover Defender Named 'Best SUV' At Autocar's Britain's Best Car Awards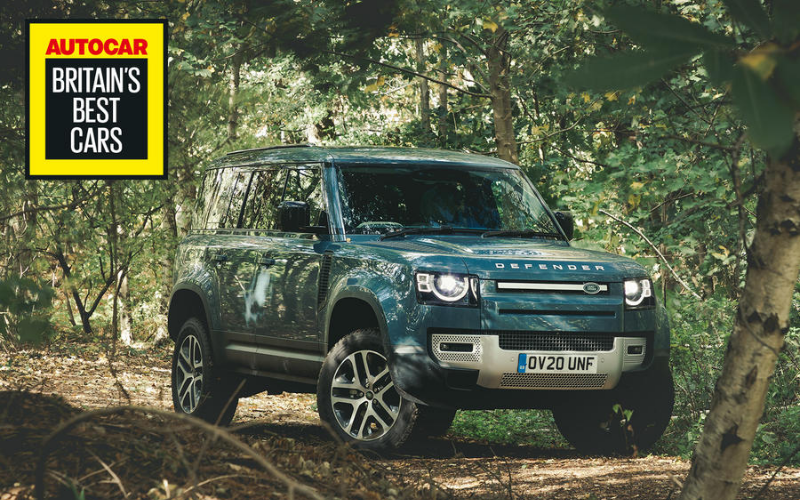 This week, Autocar have revealed the winners of their 2020 'Britain's Best Cars' Awards, in which the categories reflect what the British public want out of their next new car.
Autocar's small team of judges picked winners based not just on a car's 'objective merits' but also on 'more nuanced and subjective factors', such as how likeable and enjoyable a car is. The winners of each class will be able to call themselves the country's best cars, to drive and own.
It's no surprise then, that the Land Rover Defender has been crowned the overall 'Best SUV' of 2020.
Autocar celebrated the reborn off-roading icon: 'No other SUV can claim to be as versatile across such a wide price spectrum, nor as capable on the road as off it.'
The team of judges recognised the SUV's excellent on-road manners and outstanding interior technology, which beats its most premium of rivals.
Additionally, Autocar commended the Defenders 'simple yet functional' electronic assistance, which allows even 4x4 novices to keep up pace with expert trail runners. All of the Defender's advanced external sensors and cameras make navigating even the trickiest of terrains much easier.
From infotainment to performance and capability, the evolved Defender surpasses its competitors.
Autocar commented: 'As follow-ups go, replacing the Land Rover Defender was a Herculean task. The original, on sale in various forms for nearly 70 years, was an off-road institution and a British motoring icon.
'And yet its 2020 successor manages to blend the go-anywhere capability we've come to expect with the kind of interior refinement for which Land Rover has recently become known.
'It's comfortably among the most broadly capable cars in the world today, yet it should prove just as usable and enjoyable to live with for those with no intention of ever stepping foot off road.
'Ultimately, it's this unmatched versatility that makes the Defender our winner.'
If you'd like to shop our great deals on the award-winning Land Rover Defender, click the link below: