Launch Details Announced For Long Awaited All New Volkswagen ID.3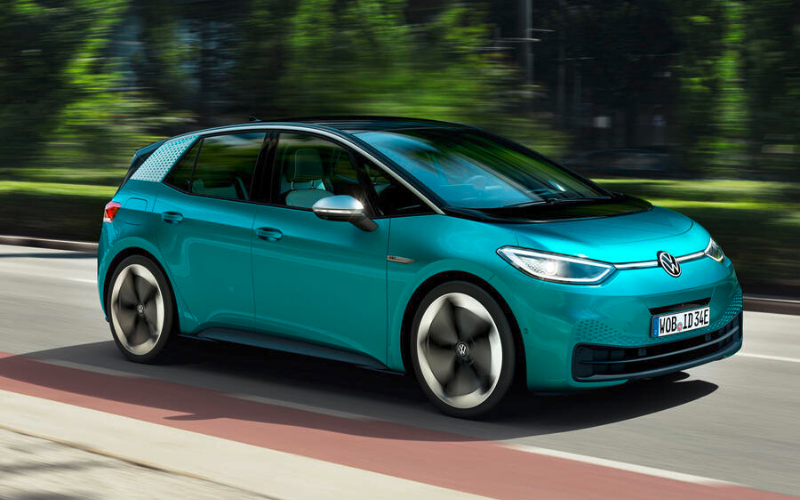 Sales of the highly anticipated Volkswagen ID.3 have already begun in Germany and other European countries, with orders for the special First Edition in the UK set to open next month.
In the UK, orders for the ID.3 First Edition will be taken next month, with deliveries of the new EV due to begin in September.
The electric hatchback will be eventually offered with three battery capacities and two power outputs to choose from, but initially, it will be launched as one special First Edition model.
The ID.3 First Edition will use a mid-size 'Pro' 58kWh battery with a large range of 260 miles. It will offer 201bhp driven through the rear wheels and a top speed of 99mph. The car can be charged through a 100kW DC connection or a 11kW AC system.
The mid-size Pro battery will eventually be offered with two power outputs, with a lower 143bhp version that will be around two seconds slower to reach 0-62mph.
The 45kWh Pure battery will be offered with outputs of 125bhp and 148bhp, while the largest 77kWh Pro S battery will use the 201bhp motor. Because of the extra weight of the battery, the Pro S model will only be offered with a four-seat layout.
In Germany, the all-new Volkswagen ID.3 First Edition has been offered in three trim levels: Basic, Plus and Max - although only the mid-level version will be offered in the UK at first.
The new ID 3 First Edition cars offered in the UK will feature 19-inch alloy wheels, 30-colour ambient lighting, heated seats and steering wheel, matrix LED front and LED rear headlights. The launching models will feature an Exterior Style Silver pack, with a silver roofline and grey sills and bumpers.
The UK models will also come with a rear-view camera as standard, along with Automatic Cruise Control, rear privacy glass and an Anti-Theft alarm. However, it will be the ID.3 models to come that will offer a top-level cockpit infotainment system that includes a Head-Up display.
Volkswagen offered a pre-ordering service for the ID.3 First Edition, with more than 35,000 customers worldwide placing a refundable deposit. Those who placed a deposit in continental Europe will be able to purchase and order their new all-electric car from now onwards.
Head of Sales at Volkswagen, Jurgen Stackmann, said the UK will follow in July - due to the extra time required to gain approval for right-hand-drive versions.
Stackmann also insisted that the all-new ID.3 deliveries remained on track to begin this summer, despite the extended production suspension at Volkswagen's Zwickau plant due to Covid-19: 'The focus of the company now is on ID.3. We're almost ready, and we just need a few more weeks to get the software to where we need it to be.
'The entire team are working on this topic, and we want to deliver a great quality product on time – and that time is this summer.'
Stackmann added that Volkswagen was still aiming to meet its target of building 100,000 ID.3s this year.
In the UK, prices for the ID.3 will most likely start from around £27,500 before the government grant for the entry-level 45kWh Pure version.
Volkswagen has yet to confirm a UK price for the First Edition but has said that it's expected to cost around £39,000. Buyers will be able to choose from four exterior colours, customising their all-electric Volkswagen to suit them.
Here at Vertu Motors, we'll keep you in the loop with all the latest Volkswagen updates and when you can get your name on the list for the incredible all-electric Volkswagen ID.3.
In the meantime, for more information on hybrid and electric cars, click the link below:
Learn More About Electric and Hybrid Vehicles
____________________________________________
The ID.3 has now arrived!
If you'd like to order your own incredible all-electric Volkswagen ID.3, click the link below to browse our online deals: