Local MP Praises Chesterfield Car Retailer Investment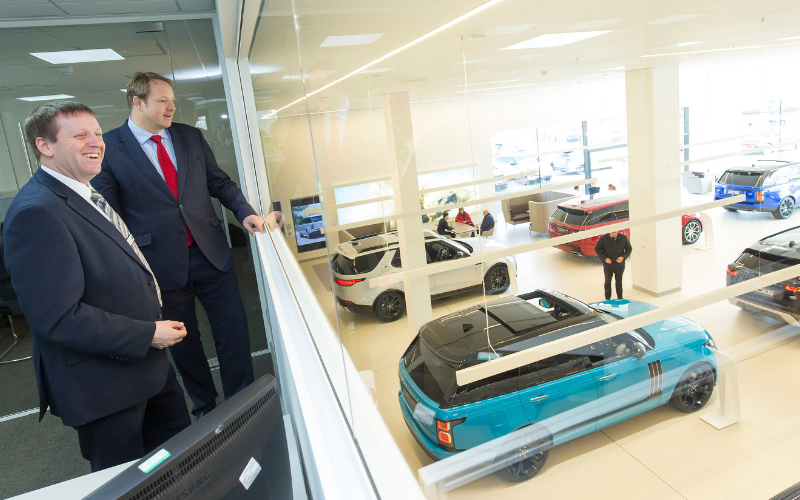 Gordon Lamb Chesterfield Land Rover welcomed local MP Toby Perkins as it celebrated a £5.4 million investment in the new 'ARCH' concept retailer.
The site, which was acquired by Vertu Motors in June 2016, has undergone a major refurbishment implementing the latest brand corporate identity. The showroom, which has been designed in line with the Jaguar Land Rover Arch concept and can showcase nine vehicles encompassing every model from the Land Rover range. It features a dedicated vehicle handover area, interactive colour and trim display and brand merchandise area.
The significant overhaul also includes:
Pre-delivery inspection (PDI) centre
Land Rover Approved used car display
14 technician bays
Separate MOT Testing area
Dedicated 4-wheel alignment facility
SMART repair facility
Robert Bonser, Head of Business at Gordon Lamb Land Rover, said: "This investment is a real statement of our confidence in Chesterfield and in the Land Rover brand.
"It was a proud moment for me to show Mr Perkins around the new dealership, which is looking absolutely fantastic.
"The feedback from customers has been overwhelmingly positive and we look forward to welcoming new and returning customers to view the full range of vehicles and take advantage of the excellent customer service the whole team prides itself on."
Mr Perkins said: "It has been a pleasure to be shown around the new Land Rover dealership and I am always delighted to see businesses investing and expanding in Chesterfield. This is yet another example of a company who consider Chesterfield a thriving place worthy of their investment. We should all take pride in the fact so many businesses want to invest in our town.
"The new site is very impressive for new sales and servicing. The business currently employs over 60 people and the team were understandably proud of their new showroom and facilities.
"Gordon Lamb has been a familiar presence in Chesterfield for many years and this whole site reflects very well on the Land Rover brand and on Chesterfield as a place for those in the market for a brand new or premium used car."