Meet The 2021 Mercedes-Benz C-Class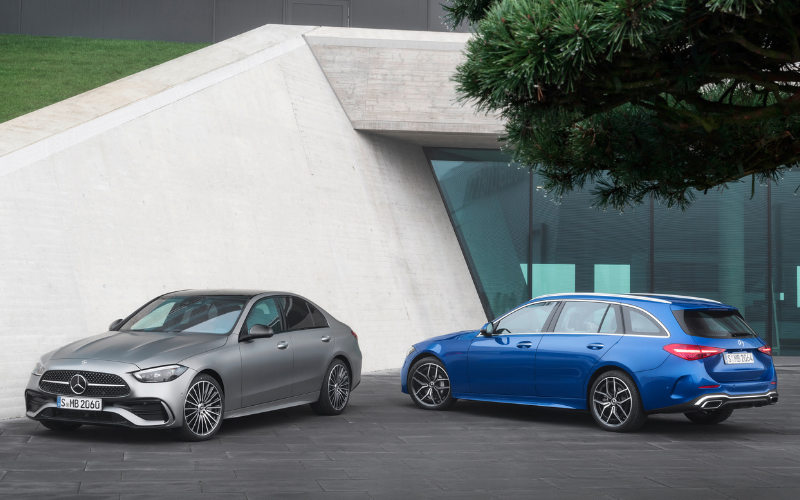 Already it's clear that the all-new Mercedes-Benz C-Class range combines sophistication and innovation.
Whichever refreshed C-Class variant you choose, you're guaranteed a quiet, comfortable, spacious and an all-round impressive luxury car.
The sixth-generation C-Class is the first combustion-engine model from the German manufacturer to only include electrified variants. As you'll see, the 2021 C-Class blends sleek styling with cutting-edge technologies and impeccable build quality.
Discover everything there is to know, here:
Design
Although the exterior proportions of Mercedes-Benz's best-selling volume model remain familiar, the C-Class has received some clear design tweaks.
Across the new range, you'll notice shorter overhangs, a more angular front end and new light-cluster designs.
Mercedes declared at their launch that this is to help the C-Class appear 'in motion [even] at a standstill'.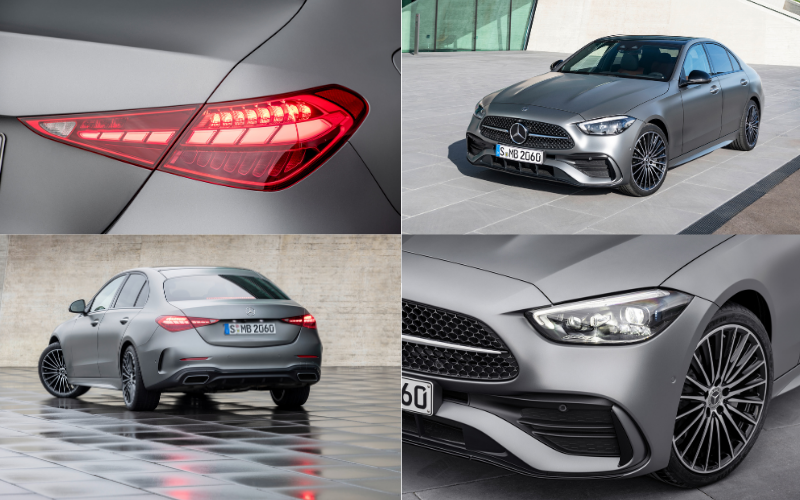 The bonnet sports a pair of prominent power bulges, giving it a confident and more athletic stance on the road.
Creases and character lines have been minimised to accentuate the shoulder line, while the C-Class Estate gains a more obviously inclined roofline.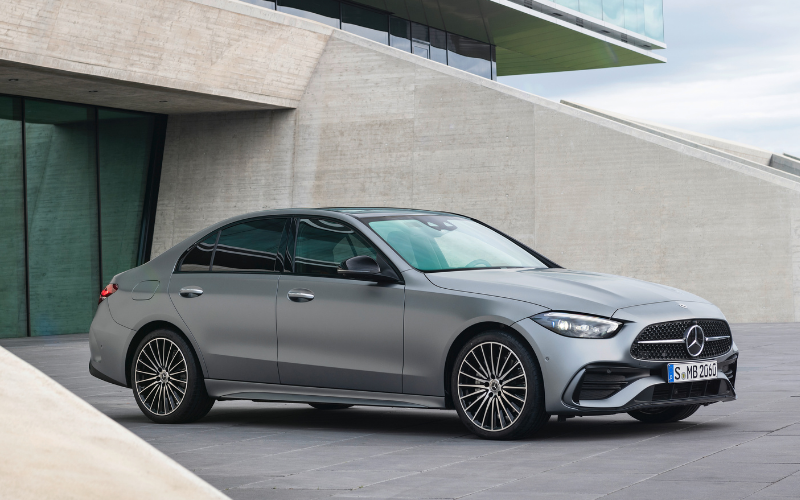 This gives it a sportier edge without compromising the space and functionality within.
As with all the latest Mercedes-Benz models, the front-grille design evolves according to the trim level. Higher-specification C-Class variants gain added chrome and visually aesthetic features.
Drive
The new Mercedes-Benz C-Class is powered exclusively by electrified four-cylinder engines, making the range stronger and more efficient than ever before.
Both plug-in and mild-hybrid variants will be available, including a yet-to-be-revealed AMG range-topper.
Mercedes-Benz have said to expect the drive to be impeccable smooth and confident.
Reportedly, the Mercedes-AMG Formula 1 team even worked with the C-Class development team, to introduce a new turbocharger with better responsiveness and efficiency. Combined with the electrical assistance, this helps the petrol C-Class achieve a WLTP average of between 36-46mpg, depending on specification, while emitting just 141-180g/km of CO2.
For those concerned with numbers, the petrol line-up starts with a 1.5-litre C180, which produces 168bhp and 194lb ft, and is able to reach 0-62mph in just 8.6 seconds. It can also hit a top speed of 144mph – not that you'd need to, it's just impressive to know.
Interestingly, the 2.0-litre C300 is set to produce 255bhp and 295lb ft, achieving 62mph from a standstill in as little as 6.0 seconds.
The C-Class can also offer Mercedes' 4Matic four-wheel drive system, if you should choose. Sending more torque to the front axle, this provides even better dynamics and gives you greater confidence tackling challenging weather conditions.
All in all, the new C-Class boasts athletic looks, agile handling, efficient performance, and a raft of advanced technologies to maximise your comfort, safety and driving enjoyment.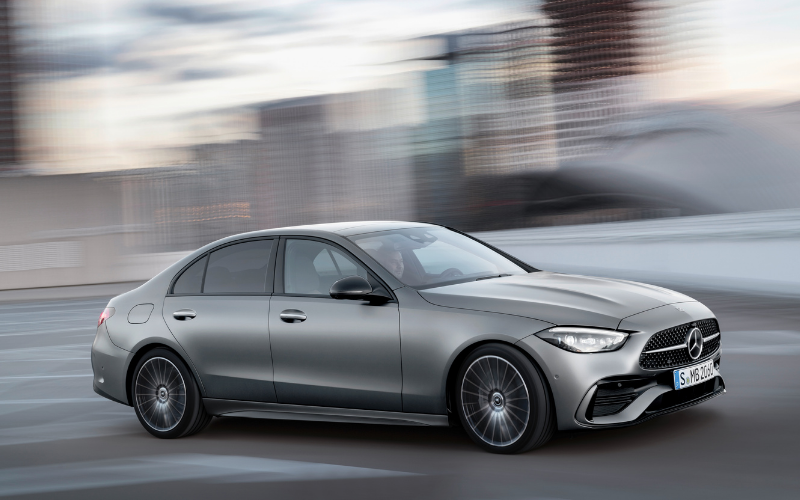 Electric Range
If you'd like to have the option to drive on pure electric power, the powerful plug-in hybrid C300e will be introduced to the range shortly after launch.
The refreshed PHEV C-Class ups the WLTP-certified electric-only range from 34 miles to 62 miles, courtesy of a new 25.4kWh battery pack, which is mounted under the boot floor.
Additionally, the C300e packs a combined 304bhp and 406lb ft punch - making it not only very efficient, but also super sporty.
Mercedes have declated that it can operate on electricity alone at speeds of up to 87mph and can be charged in as little as 30 minutes with a 55kW fast charger. It also benefits from an adjustable energy recuperation system, which can boost the battery up to 100kW when coasting or decelerating.
Interior
With both models, expect increased passenger room inside the cabin. The C-Class's wheelbase has expanded 25mm to hit 2865mm, whilst the overall length is stretched a further 65mm.
You'll also see that the boot has gained an additional 30 litres of cargo capacity in the Estate model.
Inside the new C-Class, the influence of the latest and greatest Mercedes-Benz S-Class is evident. A portrait-orientated, tablet-style crisp central touchscreen floats between the front seats - looking both futuristic and more accessible.
Measuring an impressive 10.25-inch as standard, with the option to upgrade to an 11.9-inch, the touchscreen facilitates all of the latest infotainment and driver assistance systems. The screen is even angled slightly towards the driver, for ease of use and visibility on the move.
A high-definition LCD digital instrument display, which sits proudly above the dashboard, can be specified in 10.25-inch or 12.3-inch forms.
Additionally, there's a choice of Navigation, Assistance or Service operating modes, while optional ambient lighting with optical fibre technology can be specified too.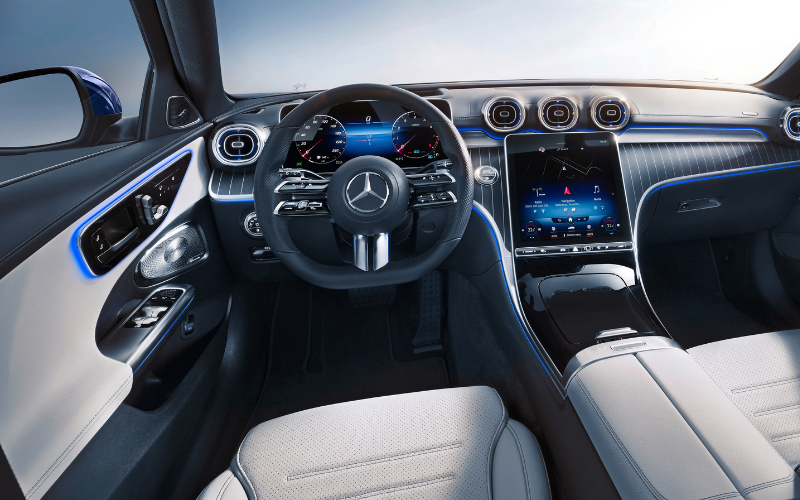 Technology
Intuitive and advanced, the new C-Class offers an array of intelligent Mercedes-Benz assistance systems to enhance your driving experience.
With the new Mercedes-Benz C-Class's state-of-the-art infotainment system, MBUX connectivity and intelligent navigation, every drive is convenient, easy and fun.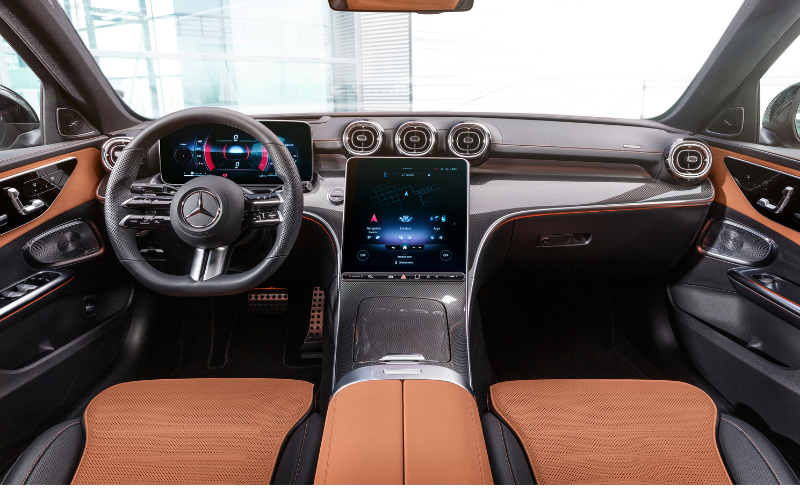 The Mercedes-Benz C-Class's host of on-board technology also mean you're never out of touch on the go. It's the second model in the brand's line-up to use the second-generation MBUX infotainment system, which brings an upgraded version of the 'Hey Mercedes' voice assistant, various smart home functions, an integrated music streaming platform, 'Over-The-Air' updates and optional 'Augmented Video' software.
Mercedes' new Augmented Video software digitally renders your surroundings on the central touchscreen, making navigation much easier to use and understand, especially in urban areas.
Prices for the all-new Mercedes C-Class are likely to start around £35,000 for the Saloon model and around £38,000 for the Estate.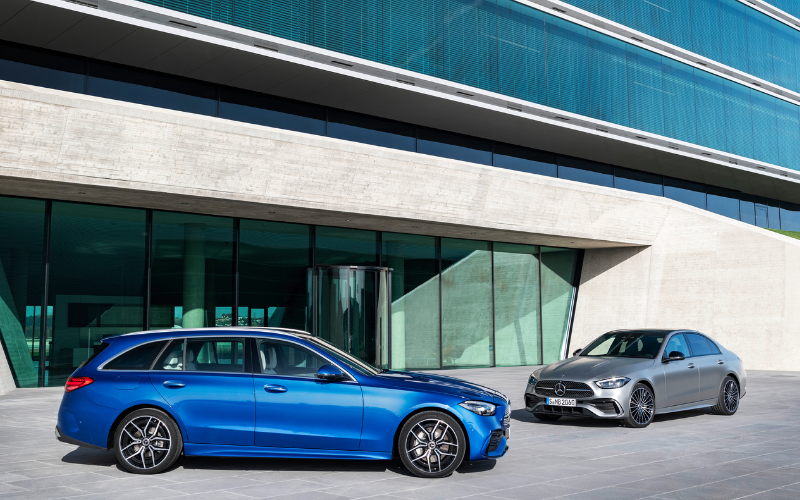 With orders set to open late March 2021, you can expect the first deliveries of the new C-Class to arrive this summer.
Until then, if you'd like to register your interest in the all-new Mercedes-Benz C-Class, click the link below: