Meet The Next Jaguar F-PACE: Arriving Spring 2021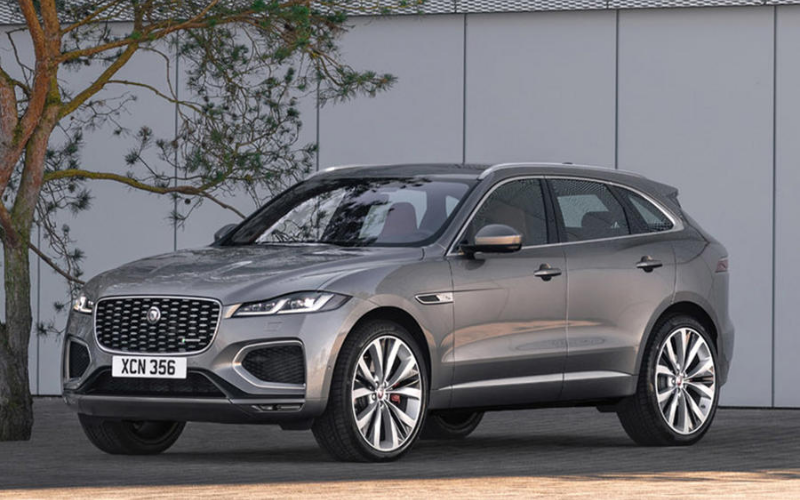 More luxurious, connected and efficient than ever before, the all-new 2021 Jaguar F-PACE is on its way. Set to reach our showrooms early next year, find out everything we know so far about the updated luxury performance SUV.
For over half a decade, the F-PACE has been an incredibly popular high-end compact SUV, providing luxury, comfort and great performance to its drivers. With an assertive new exterior, beautifully crafted all-new interior, the latest generation Pivi Pro infotainment installed and the choice of in-line four and six-cylinder engines, the next F-PACE will be the best yet.
The all-new Jaguar F-PACE line-up will include PHEV and MHEV technology, giving more efficient options to suit a wider range of drivers. The plug-in hybrid F-PACE is said to offer up to 33 miles of pure electric driving – perfect for covering most daily commutes.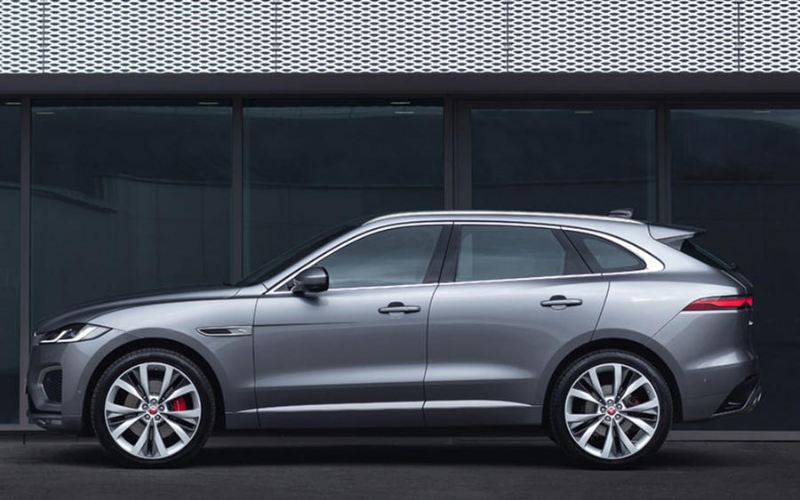 Chief Product Engineer at Jaguar, Colin Kirkpatrick commented: 'The new Jaguar F-PACE delivers a powertrain to suit all customers. Our next generation PHEV system delivers great fuel efficiency and low running costs.
'The extensive powertrain choice includes our latest Ingenium petrol and diesel engines, which feature advanced technologies and provide the perfect blend of performance, refinement and efficiency.'
Watch the world premiere of the all-new Jaguar F-PACE, here:
The exterior of the updated F-PACE looks to be completely enhanced, with a new bonnet design, super-slim all-LED quad headlights, new grille, and new rear lights and bumper for a more assertive presence.
At the rear, new slimline lights feature Jaguar's double chicane graphic – first previewed on the all-electric I-PACE – to accentuate the width of the vehicle. The new bumper design and sculpted new tailgate also add visual drama and deliver a more confident appearance.
The all-new interior features exquisite details, luxurious materials and intuitive technology to create a tranquil cabin space for all occupants. Upgraded technologies include Jaguar's latest Pivi Pro dual-sim infotainment, accessed through an all-new 11.4-inch HD curved glass touchscreen.
Making sure the infotainment is always up-to-date, Software-Over-The-Air capability ensures the very latest vehicle systems are installed seamlessly and remotely.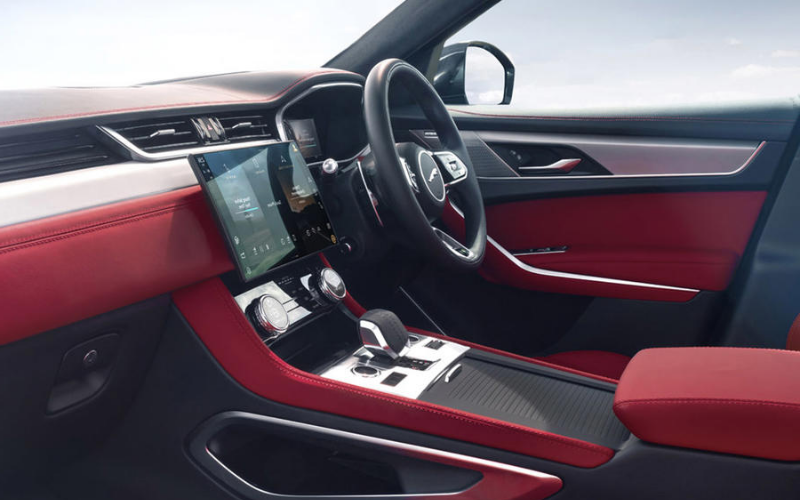 The new Drive Selector – just one of the many new quality interior details – features an upper section finished with 'cricket-ball' stitching, the lower part being made of 'precision-engineered metal for enhanced tactility'.
Jaguar's Design Director, Julian Thomson, noted: 'The new F-PACE is dynamic and assertive with an elegant stance on the road – it represents a significant development of Jaguar design language.
'The heightened luxury and attention to detail inside the F-PACE with seamlessly integrated state-of-the-art technologies ensure both driver and passengers feel a real sense of occasion whenever they get in the vehicle.'
In terms of performance, All-Wheel drive is standard across every new F-PACE model, whilst Intelligent Driveline Dynamics provides a rear-wheel drive if needed, with the ability to vary torque to individual axles almost instantly, depending on the terrain under-foot.
In the all-new Jaguar F-PACE, the latest JaguarDrive Control features Comfort, Eco, Rain-Ice-Snow and Dynamic driving modes, which can be chosen manually by the driver based on the road conditions.
The settings, selected through a new rotary dial next to the all-new Drive Selector, adapt the F-PACE's steering, transmission, throttle and (when specified) Adaptive Dynamics settings.
An array of new safety features, such Auto Vehicle Hold, have been added. Auto Vehicle Hold keeps the new F-PACE steady on hills and smooth when pulling up at junctions. This makes it the most advanced and supportive F-PACE yet.
Exterior to interior, explore the new Jaguar F-PACE in more detail, here:
Although the next F-PACE won't be available for a little while, why not look at the amazing deals we have on the current, very popular F-PACE, here at Farnell Jaguar: