Mercedes-Benz Sees A Triple Win At Auto Express New Car Awards 2020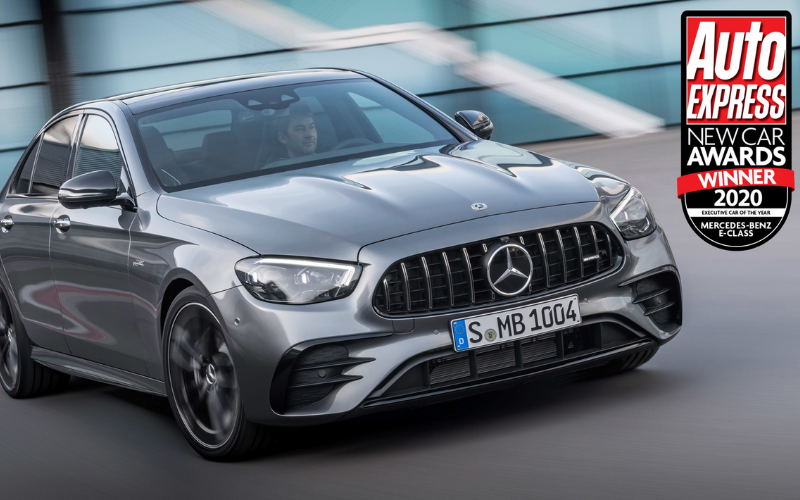 At this year's Auto Express New Car Awards, Mercedes-Benz took home the titles of 'Executive Car of the Year', 'Premium Hybrid Car of the Year' and 'Small Premium SUV of the Year' for the E-Class and GLA respectively.
Auto Express's annual new car awards featured more than 25 automotive categories, honouring an extensive range of vehicles and manufacturers.
With winning the 'Executive Car of the Year' award, judges particularly praised the Mercedes-Benz E-Class for its excellent semi-autonomous driver aids. These help to take the stress out of long trips using motorways, which many E-Class owners endure regularly.
Auto Express also highlighted the new E-Class's suitability for families, commending the car's spaciousness and exceptional levels of safety. The E-Class comes with a whole host of safety assistance technology to look out for and avoid dangers on the road.
Sean Carson, Auto Express's chief reviewer, commented on the E-Class's win: 'If you were going to list the key attributes any executive saloon needed to posses, it would read like a checklist for the new Mercedes E-Class: style, space, comfort and an element of luxury, efficiency, performance and technology.
'With more connectivity, sharper graphics and features such as augmented reality for the sat-nav, it's as advanced as in-car tech comes.'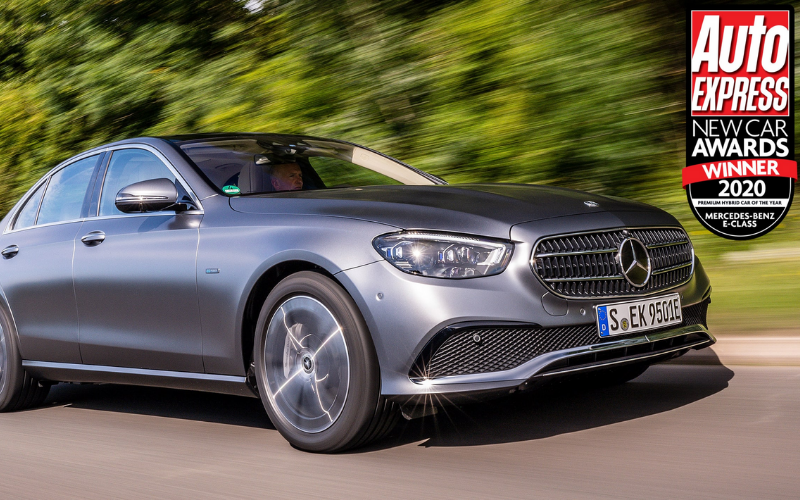 The E-Class was also crowned Auto Express's 'Premium Hybrid Car of the Year', beating stiff competition as the electric vehicle market has continued to grow this year.
However, the Mercedes E-Class is no stranger to this award – it won last year too.
What helped to clinch the win was that the E-Class PHEV continues to offer a 7.2kW charger, meaning it takes just an hour and a half to fully charge with a home wallbox.
Mercedes-Benz's third prestigious award at this year's New Car Awards, was the title of 'Small Premium SUV of the Year', for their increasingly popular GLA.
Auto Express highlighted the new GLA's outstanding in-car technology. With an impressive touchscreen and central touchpad, there are two accessible ways to control the car's myriad of assistance and infotainment features.
The judges recognised that the GLA is incredibly responsive, with exceptional graphics and plenty of connectivity to keep drivers in touch on the go.
Sean Carson, Auto Express's chief reviewer, noted: 'High quality and great materials combine with a range of punchy, frugal and smooth engines that – in some cases – are linked to new transmissions, so that on the move the car's mechanicals melt away into the background.
'The GLA is a template for what a modern small premium Sports Utility Vehicle should be, so it's no surprise that Mercedes has picked up another award here.'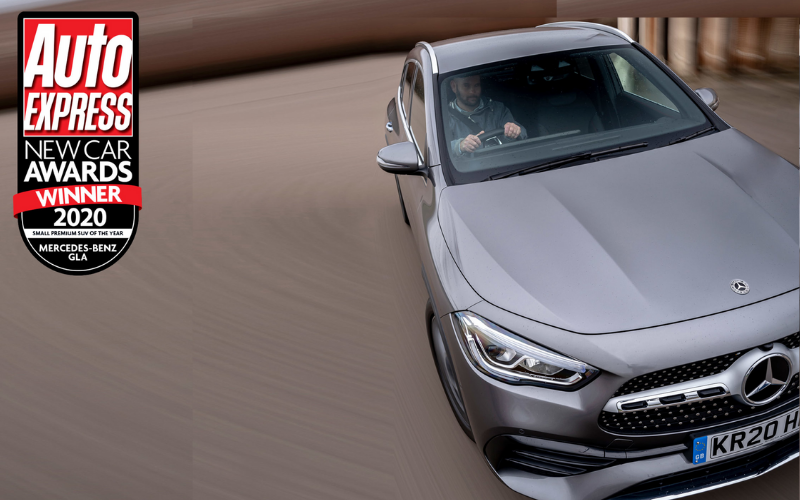 Due to current circumstances, this year's awards were held through a special socially distanced ceremony, which was streamed online.
You can watch the full 2020 Auto Express New Car Awards, here:
Why not make an enquiry or to book a test drive in your chosen favourite Mercedes-Benz? Discover what makes the all-new GLA and E-Class truly special for yourself.
If you'd like to take a look at our fantastic deals on the award-winning Mercedes-Benz E-Class or Mercedes-Benz GLA, click the relevant link below:
New Mercedes-Benz E-Class Deals