My Honda E And Me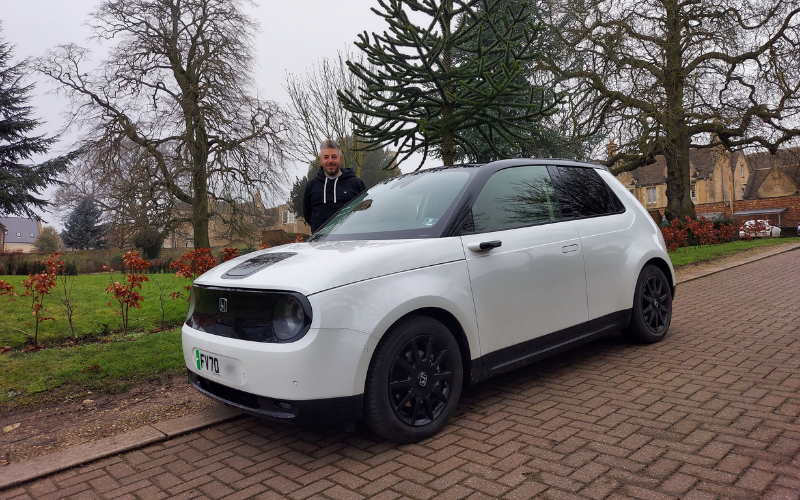 Get to know what it's really like to own the all-new Honda e.
As it's now been a couple of months since the Honda e first arrived in the UK, we've asked one of our Honda Grantham customers what it's like to live with the brand's first electric car.
Already award-winning, the Honda e has been hailed as one of the most innovative, intelligent and unique EVs on the road right now. In terms of technology, it's clear it has a lot to offer.
However, at Vertu Motors we thought it best to gather up some first-hand experience; what's a day in the life with the all-new Honda e like?
Luckily, Lincolnshire's Adam, a Store Manager for Jack Wills, is here to tell us...
Adam collected his Honda e on 29th December 2020. Since then, we've asked him a variety of questions to understand why he decided to switch to electric, choose the Honda e, and how it's been since he picked up the keys:
What car did you have last and why the change?
'My last car was a Porsche Macan S that I'd owned for the last 3 and a half years. I've previously owned a Boxster S, Cayenne S and an Audi R8 to name but a few of my cars and consider myself to be somewhat of a real car enthusiast.
'My finance deal for the Macan was due to expire in the next few months, so I'd been on the hunt for its replacement for a while really, which had been prolonged with the various lockdowns we've unfortunately had, meaning test driving cars was a difficulty.
'I wanted my new car to save me on running costs and generally reduce my monthly outlay, giving me the opportunity to save more, which was a very important factor in the current financial climate. I also wanted a car that remained something I would enjoy driving (I'd be using it every day to get to and from work).'
What made you choose the Honda e as your next?
'I wasn't sure whether now was the right time to change over to an electric vehicle, so took the opportunity to test drive a few different EV models when I could (BMW i3, i3S, Peugeot 2008 and finally the Honda E), to see whether they would be right for me.
'The technology available on all EVs is great, however, I was blown away by what the Honda E was able to offer - it was an easy decision to opt to get one!
'The look of the car from the outside, with its modern-retro styling, coupled with the interactive elements on the interior, with its unique infotainment dashboard, made it stand out from the other cars I had debated.
'I haven't been disappointed with either since I've taken delivery of my Honda E Advance model.
'I change my cars fairly regularly and am not particularly fussed about owning a car at the end of a finance agreement, so this time around I've opted for a personal contract lease with a maintenance package, rather than a PCP, as I found I was able to lower my monthly payments, but still had the benefits of having servicing covered for the next few years, amongst other things.'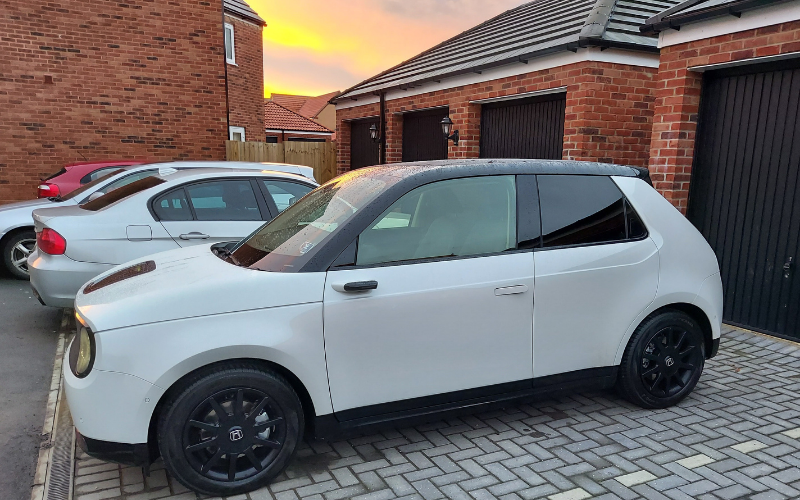 What's your top three features of your Honda e and why?
'The first one has to be the interactive dashboard, as I've previously mentioned.
'It's just so different from any other car available on the market currently and is a real selling point of the Honda E. The features including the ability to change your background wallpaper to an image of your choosing, plus the option of having a virtual fish tank where you can even feed the fish - that's about as unique a feature as you can get!
'Secondly, I'd say having cameras as wing mirrors is another feature I love on the car. I thought it would take me a while to get used to not looking outside the car to see my mirrors, however I have quickly gotten used to using the screens. They've remained clear and easy to see through varying weather conditions like sunshine, rain and snow.
'Finally, I'd say having a 3-pin plug in the car is another unique feature that I love. I've been able to plug an Amazon Firestick into there and the adjacent HDMI plug, to enable me to watch Netflix, Amazon and YouTube on the dashboard, to name but a few channels you're able to watch.'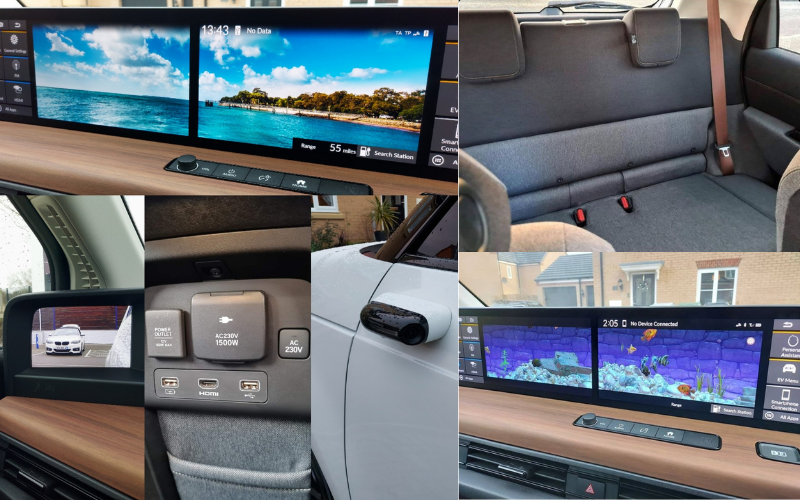 What do your kids think of your Honda e?
'I have two boys, a 4-year-old and an 11-month-old - my eldest absolutely loves the car!
'Every night when I've come home from work, he asks if he can go out to the car to be able to feed the fish as he doesn't want them to go hungry, bless him! He also loves being able to watch his Netflix programmes on the Central screen, so Paw Patrol has been a regular feature on there!
'There's plenty of room for his car seat in the back, as well as our youngest's, as I know some people have been worried about rear legroom. This has not been an issue for me, with the Isofix bases being able to slot in nice and easily.
'I was worried about the limited space in the boot, but it hasn't been an issue so far thankfully; there's plenty of space for shopping bags. However, for bigger trips out as a family, my wife still has her 4x4; we tend to use this to fit in all the extra bits you need for a day out with the kids.'
What's charging been like – is it easy to do and what's the expense like?
'I've had the car now for exactly a month and I haven't had to pay a penny yet on charging!
'With my previous car, I was having to pay around £100 a month on diesel, so my savings are plain to see right from the get-go.
'I'm in the very lucky position that I have two free to use Pod Point charging stations at the shopping centre that I work at, which I've been able to use to charge the car when I've been there.
'Secondly, just around the corner from home, I have a Tesco that has just recently installed four free Pod Point chargers. I've been able to utilise these, meaning my 3-pin plug home charging cable is still waiting to be unwrapped in my boot!'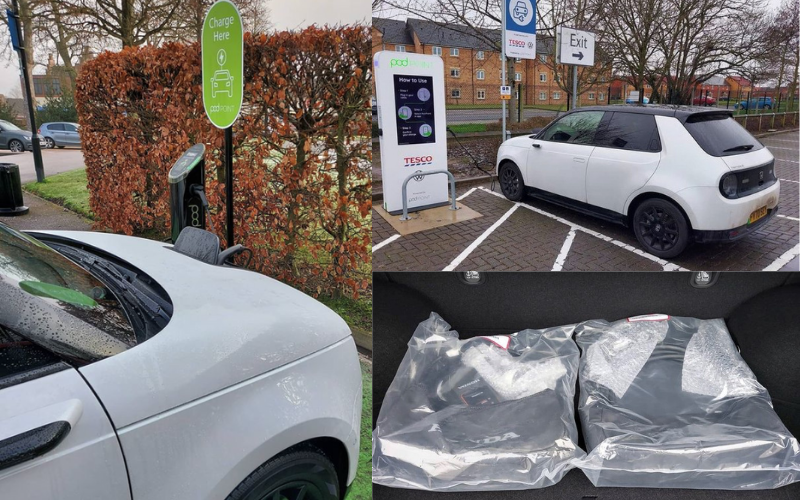 How long does it take to fully charge and what has your range been like?
'The car hasn't been driven as much, obviously due to the current lockdown being in place, however, I've been finding that it's been taking around 4 hours to charge from 20% to 100% using the 7kw chargers.
'For anyone wondering what the real-life conditions mean on the distance you can get between full charges, I'd say that a full charge gets me around 100 miles of range.
'I'm sure the more I'm able to drive the car over the coming weeks and months will mean I'll get an even better understanding of how the range is affected by outside factors.'
With all the cold and even snowy weather, what's your Honda e been like?
'Overall, the car has been perfectly fine to drive in the recent wintery conditions. It was a bit slippy in the snow and ice - as you'd expect from any rear-wheel-drive car - but I felt at ease with all of the safety systems available.
'The car is really nimble and agile in normal conditions and manages to feel quite punchy, particularly at low speed (0-30 miles an hour whilst in sport mode especially).
'I find the ride to be very comfortable and steady whilst cornering too.
'I have found that the range is affected in cold conditions, with the heating on, you can expect to drop around 15-20 miles, which is the price you have to pay for having a warm car to sit in and a clear windscreen to see out of! I would expect to see a similar drop in range in the summer months with the air conditioning on too.'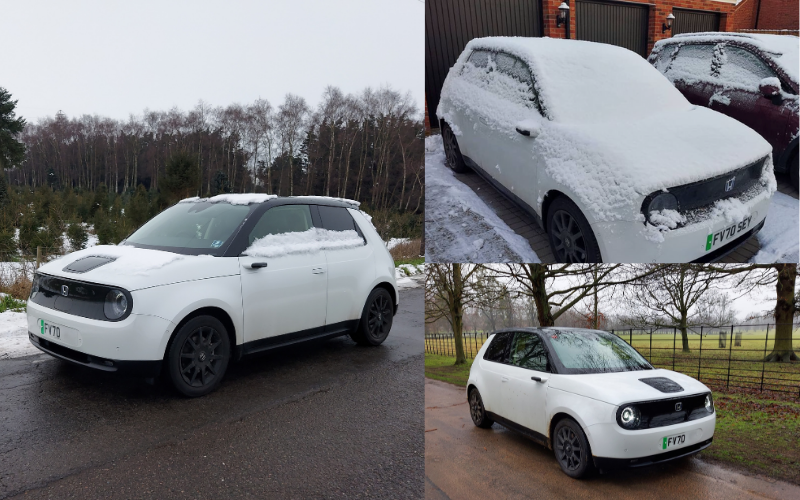 If you could make a suggestion to Honda about how to adapt the next generation of the Honda e, what would it be?
'I think the main thing to improve upon would be the battery range so that it wasn't as limited as it is currently. The range is fine for me as my commute to work is 15 miles each way, but I believe that if the full charge increased to say 150 miles plus in the future, then I think that would make the car even more appealing for people who are unsure about it at the moment.
'At the minute in my head, it's like driving around on a quarter tank of fuel on a full charge, so there's always that thought about having to charge the car again in the not-too-distant future before I start to get range anxiety.
'It's been designed as a city car and the fact that there are far more shorter journeys made by people than longer ones, so I can understand the reasoning for the battery size as it stands now, but I definitely see the benefit in increasing the range over time, to boost the car's overall appeal.'
Is there anywhere you would like to take your Honda e once lockdown is lifted? (We're looking forward to the Instagram content!)
'I think the answer to that question is absolutely anywhere haha!
'It'll just be nice to be able to go somewhere a bit further afield than the local area for a drive, and it'll suggest that a return to normal life is on the horizon.
'If I were to be pushed to give an answer though, I'd say a trip to the beach would definitely be nice in the summer!'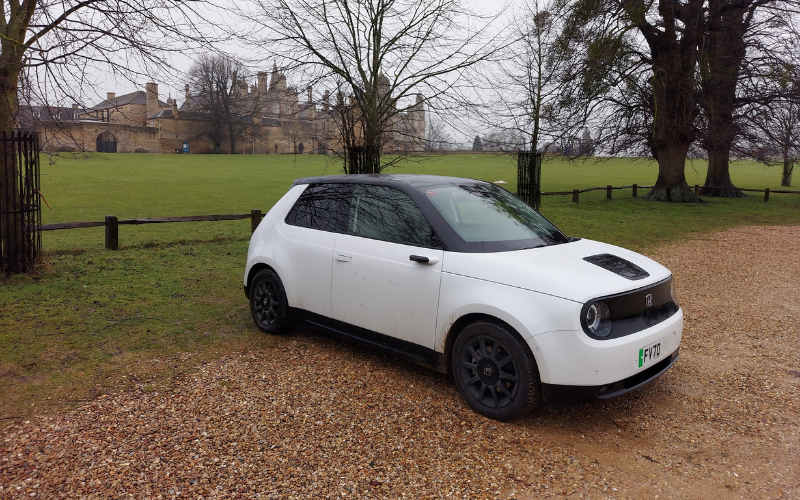 If you'd like to keep up with Adam on his EV journey and see more of his Honda e in action, be sure to follow his newly set up page @myhondae on Instagram:
View this post on Instagram
You can also take a look at our deals on the all-new Honda e online:
Equally, if you'd like to find out more about electric vehicles, visit our EV hub page, here: