National Award For Guiseley Apprentice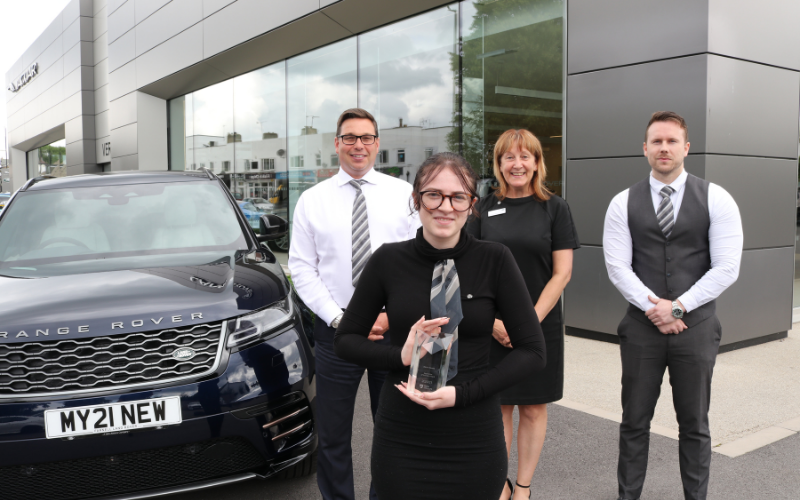 Stevie Dennis, accounts apprentice at Vertu Land Rover Guiseley, has been recognised for her commitment to learning and development with a national award.
She received the Vertu Masters Apprentice of the Year Award – awarded to the colleague who achieves excellent results in their apprentice programme and demonstrates strong workplace skills ahead of their current stage of development.
Stevie was nominated by two managers, Kim Spencer and Emma Moriarty. They noted that 'During the past two years Stevie has shown immense dedication and perseverance throughout. Her positive attitude and drive touched many people within her retailers, forming great working relationships.
'As well as working full-time she has completed her AAT Level 3 qualification and is continuing on to Level 4, excelling in her exams. She has an eagerness to learn every aspect of the job and aspires to be a Vertu accountant one day.'
Vertu Motors has inducted 15 new members into its Masters Club, which recognises colleagues from the Group's 154 dealerships who have excelled in their role and delivered outstanding levels of performance.
The winners were chosen from nominations made by their colleagues and included awards that reflect the company's values of commitment, integrity, passion, respect, and professionalism.
Robert Forrester, chief executive of Vertu Motors plc, said: "The Masters Awards are an opportunity for us to thank colleagues who go the extra mile, and in many cases do so over a very long period of time. Sadly, we have been unable to get together to celebrate their achievements with an awards ceremony, but this makes them no less important.
"Stevie is the type of young talent we need to ensure the success of the business going forward and I am delighted her hard work and dedication has been recognised with this award."
Image: Left to right, James Smith (Business manager), Stevie Dennis (accounts assistant), Penelope Atkinson (Assistant Accountant), Adam Tomlinson (General Sales Manager).