National Awards For South West Volvo Dealerships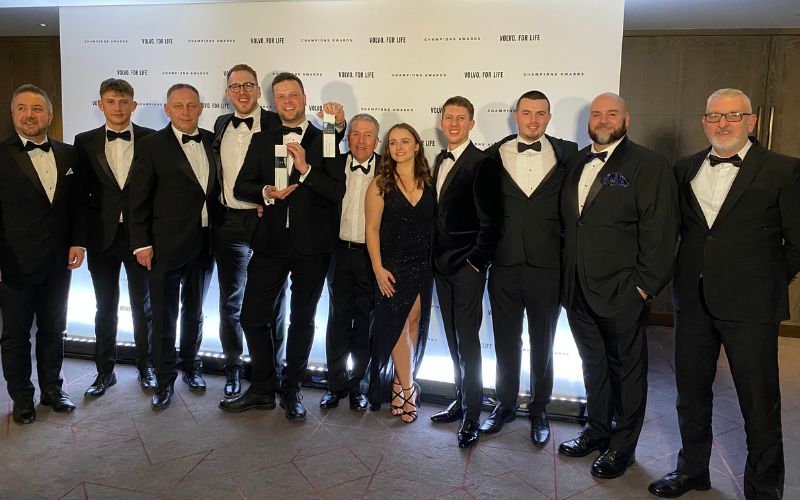 Vertu Volvo Taunton and Vertu Volvo Truro have been recognised for their excellence in the prestigious Volvo Champions Awards.
For 2022, Vertu Volvo Taunton was named 'Consumer Experience Team of the Year' and Vertu Volvo Truro won the title of 'Regional Retailer of the Year'. The performance of more than 90 UK Volvo Retailers was measured across a number of KPIs throughout 2022 for these awards.
Vertu Volvo Truro is a consistent winner of awards – twice being named Volvo Retailer of the Year for the UK, three times the dealership was runner-up in that category, and the team has also previously won the Volvo Used Car Retailer of the Year award.
Both Volvo dealerships were purchased by Vertu Motors plc in December 2022 as part of its acquisition of Helston Garages Group; all colleagues who achieved these awards remain working at the site.
Nick Jones, Volvo Franchise Director at Vertu Motors, said: "We are very proud of the awards presented to Vertu Volvo Truro and Taunton at the 2022 Volvo Champions Awards.
"The Taunton team, led by General Manager Alan Woodland and Aftersales Manager Paul Dungey, worked tirelessly to deliver outstanding levels of customer service throughout last year.
"In Truro, Tom Rothwell and Spencer Knibb respectively led their Sales and Aftersales teams to deliver a very strong 2022 result overall.
"These awards underline how significant all roles are within our dealerships. Congratulations to all our colleagues across Vertu Volvo Taunton and Truro!"
Robert Forrester, Chief Executive of Vertu Motors, said: "This is a terrific achievement for Helston Garages Group and whilst not reflecting on the Vertu Motors group in any way, it demonstrates the quality of the businesses that we acquired in the south-west of England.
"Many congratulations, to all our hardworking colleagues at Vertu Volvo Taunton and Vertu Volvo Truro. These awards are very well deserved and long may your success continue!"