New Audi A1 officially on sale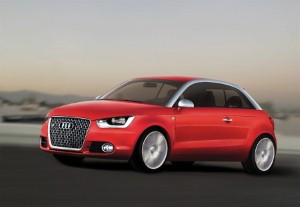 Posted by Sebastian Turkenburg

Audi's smallest model has now gone on sale, it has been revealed.

The new Audi A1 is fitted with premium specification levels despite its diminutive size and will retail at between £13,145 and £18,280.

Features of the car include alloy wheels, electric mirrors and front windows, air conditioning and a six-speaker CD player, while Sport models add Bluetooth preparation, sports seats and suspension and larger diameter wheels.

New car buyers can choose between three efficient TDI and TFSI engines, which benefit from turbocharger technology as well as start-stop systems that help reduce CO2 emissions.

The new 1.2 TFSI petrol engine offers a top speed of 112 miles per hour (mph) and can accelerate from zero to 62mph in 11.7 seconds.

In related news, the manufacturer announced earlier this month that it has created an exclusive new version of its R8 offering, the R8 GT, which will be available to order this summer.