New Euro NCAP Assisted Driving Test Awards Audi Q8 'Very Good' Rating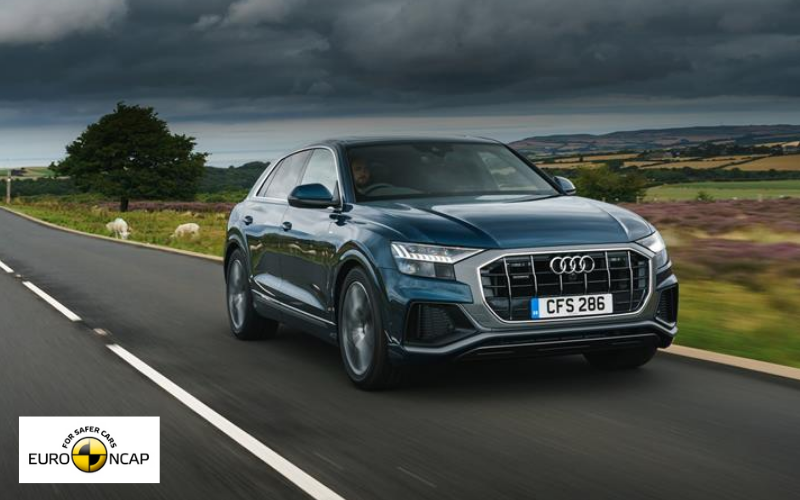 Euro NCAP's latest safety assessment checks how a car's system and automated technologies perform, with Assistance Competence (which establishes how well the Driver Engagement and Vehicle Assistance work together) and Safety Backup being the two main focal areas.
The new 2020 Q8 offers Audi's Adaptive Cruise Assist, which resulted in an impressive top Euro NCAP assistance competence score of 162 points (78% of the total score), against nine competitors from various vehicle classes, including two other vehicles from the premium segment.
The new Audi Q8 also achieved a very high 84% for the vehicle's safety backup systems.
The driver assistance package that comes with the 2020 Audi Q8 has several functions that enable semi-automated driving.
The Audi Q8 combines map-based speed limit information with real time camera inputs to manage fixed, variable and temporary speed limit signs. The system even adapts speed for upcoming road features such as curves and junctions.
These assistance features therefore noticeably relieve the driver in many everyday driving situations. For example, when driving on motorways or dual-carriageways, the new Q8 offers an Active Blindspot system designed to prevent lane changing into adjacent vehicles.
State-of-the-art systems warn the driver in case of an impending accident and intervene - for example, through autonomous emergency braking - to reduce the severity of possible collisions or even avoid them altogether.
Euro NCAP particularly praised the fact that in the case of an unresponsive driver, the Audi Q8 performs a controlled stop in lane. Additionally, if the radar or camera are blocked, the Q8 provides a timely warning and prevents system activation.
Euro NCAP commented: 'The Audi Q8 excels in the level of Vehicle Assistance with a similar level of Driver Engagement resulting in a high-performing, balanced system.'
We can see that the new Audi Q8 ensures the best safety is afforded to its driver and passengers, whilst implementing active assistance systems to make driving simpler and more enjoyable.
Click the link below to take a look at our great deals on one of the safest and most helpful SUVs on the market:
For more detail on how the 2020 Audi Q8 performed, you can view the complete Euro NCAP report here.