Plymouth Argyle March on Despite Cup Final Heartbreak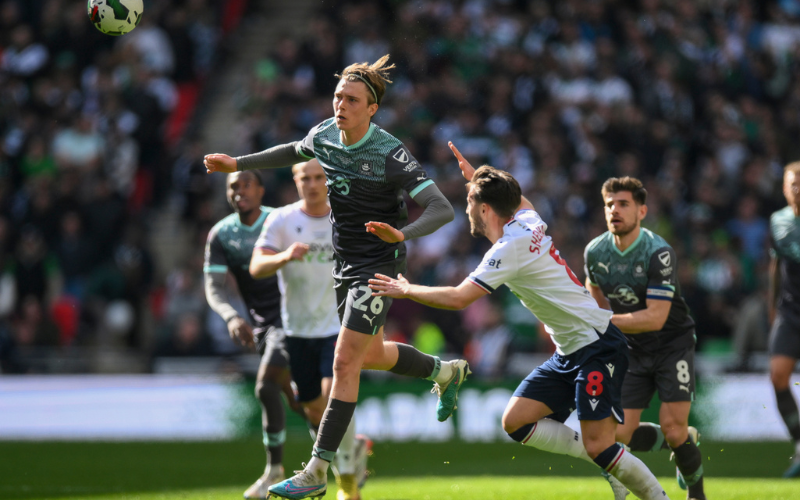 On Sunday 2nd April the Pilgrims faced an exciting challenge. The team, alongside a 39,000-strong Green Army headed to Wembley in search of a first-ever cup final victory at the Papa John's Trophy Final.
A momentous occasion, it was the third time Argyle have visited Wembley – this time being the largest mass movement of fans in the club's history.
The opposition, Bolton Wanderers, were always going to be tough opponents. After a challenging few years, Wanderers are relishing an upwards trajectory. They are currently enjoying their second consecutive season in League One and are pushing for promotion - alongside Plymouth Argyle.
The stage was set for a fantastic afternoon of football as both teams arrived ready for action.
However, unfortunately for Argyle, it wasn't to be.
Bolton burst out of the starting blocks scoring two goals inside the first ten minutes to assert their authority. Although Argyle settled and managed to contain Bolton a little better by half time, Bolton netted a third shortly after the restart. Things were sealed when they added a fourth in the 61st minute. The game ended 4-0, and Bolton Wanderers were crowned 2023 Papa John's Trophy winners.
Despite the disappointing result, Plymouth Argyle have paid tribute to their passionate fans who travelled to Wembley and proudly backed the Pilgrims until the very end.
Moving on, Argyle must now focus on the league. They have just eight games left to cement the 2022/23 season as one of their best-ever. The priority now is promotion to the Championship.
Remaining optimistic, Argyle captain Joe Edwards commented: "We've got to step up now. It's an opportunity to still achieve something special this year, and we have to look into these eight games with that mentality. They're all cup finals, and we've got to do a lot better than we did today in them.
"We know the job at hand, and we'll make sure that we're up for it."
Things are still very much all to play for, and Vertu Motors will be behind the club the whole way.