Polestar Celebrates Public Listing in New York By Ringing Nasdaq Bell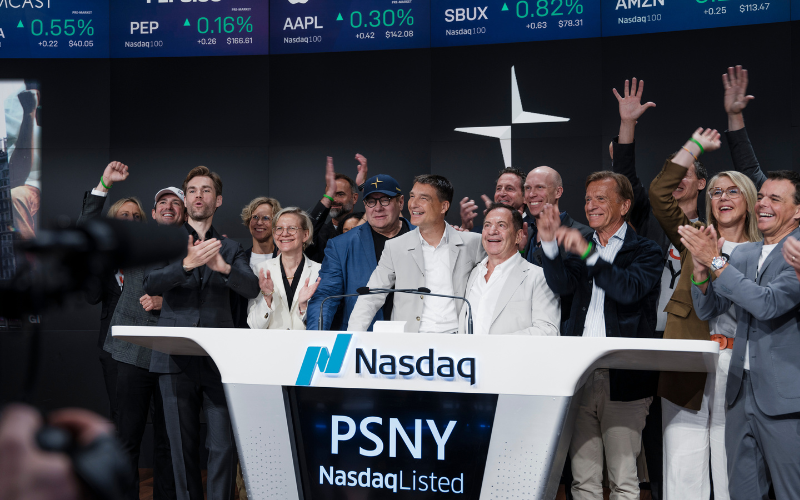 The Swedish electric car brand has recently celebrated achieving public listing status at the New York City stock exchange, ringing the Nasdaq bell to mark the occasion.
Polestar have announced their official public listing status at the stock exchange in New York City on Tuesday 28 June.
The brand began trading under the ticket PSNY on 24 June 2022 and have celebrated their public listing by ringing the famous Nasdaq bell this week.
The iconic bell-ringing ceremony offers businesses the chance to present their company with the help of brand exposure in front of a global audience, hosted by a senior executive from Nasdaq.
Polestar's CEO, Thomas Ingenlath, joined fellow members of the company and Gores Guggenheim teams in the US capital to celebrate the milestone, as the company joins the move towards sustainable motoring.
CEO Ingenlath said:
"This is such a proud day and ringing the bell at Nasdaq is a symbolic celebration. Today truly marks the beginning of the next chapter in the story of Polestar. We have a clear vision of what that story will be, and the listing gives us the platform to accelerate and push harder for a transition towards more sustainable mobility."
Displayed on digital billboard screens across Times Square, New York's famous advertising hotspot, images of Polestar's 2,000 global employees were shared alongside the company's mission statement. There were also PSNY-branded Polestar 2 cars on display in the square.
Others watched proudly from the company's offices and retail locations across its 25 active markets, brought together virtually to watch the event live as they celebrated locally.
The public listing marks the next stage of growth for Polestar as the company plans to extend its reach within the global EV market, achieving their sustainability goals as a business, which includes a 100% climate-neutral car by the year 2030.
The milestone sees Polestar in a strong position for economic growth as they expand their product portfolio, which includes the launch of three premium electric cars (two of which will be SUVs), by 2024.
Starting with the Polestar 3, the model is expected to launch in October 2022.