Premier League football shirts raise £1,500 for charity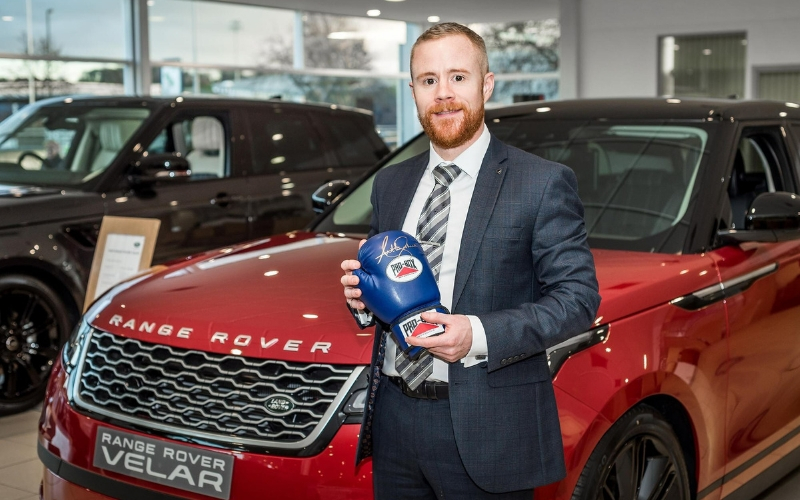 A charity auction of sporting memorabilia has raised more than £1,500 for BEN, a not-for-profit organisation supporting colleagues and families working in the automotive sector.
Chesterfield business manager of Gordon Lamb Land Rover on Sheffield Road, Tom Iveson, was the highest bidder for an Anthony Joshua signed boxing glove.
Tom participated in a charity boxing match last year and raised more than £580 for Cancer Research UK. As a boxing enthusiast, Tom had his heart set on winning one of the two signed gloves worn by the unified world heavyweight champion.
A number of signed Premier League football shirts were also gifted to the winners from clubs including Manchester City, Liverpool, Tottenham Hotspur, Everton, Crystal Palace, Burnley and Huddersfield Town.
Nigel King, Farnell Land Rover Jaguar fleet director for Vertu Motors, facilitated the charity auction in aid of Ben, a charity well-supported by the company.
Ben is an independent charity and dedicated partner to the automotive sector, providing support for its people and their families. The charity offers a range of services including financial aid, in addition to social health, physical health and mental health support.
Nigel King said: "Throughout the years, Vertu Motors has continuously supported Ben and I wanted to organise something very special to fundraise for the charity. I have first-hand experience of how the charity can help people with the services that it provides, as the work that it does is invaluable.
"I want to thank everyone who took part in the auction, and to the clubs and individuals who donated a prize. It has been a huge success, with very happy bidders and money raised for a fantastic charity."
Tom Iveson said: "I have always been a fan of boxing and I have looked out for boxing gloves and other memorabilia that I could buy, however a lot of it is so expensive.
"When I saw that some Anthony Joshua gloves were a part of this auction, I was over the moon.
I kept an eye on the auction and made a last-minute spontaneous bid which paid off, and I felt good about treating myself because I knew that the money was going towards a worthwhile charity."