Rotherham Woman Wins Car On Ant And Dec Show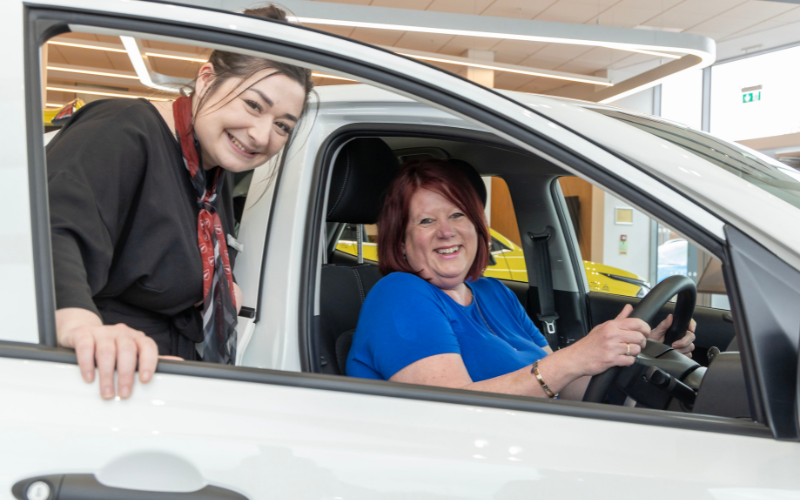 A Rotherham woman has driven away from Vertu Kia Nottingham in a brand-new car after winning the star prize on Ant & Dec's Saturday Night Takeaway.
Sue Bellis won the Kia Picanto on the first episode of the nineteenth season of Ant and Dec's Saturday Night Takeaway in the popular Win the Ads segment, which sees members of the public answer a series of questions to win prizes featured during ad breaks.
Everything from cars, holidays, electronics – and even fish fingers – are up for grabs with contestants quizzed about the week's news and current events.
Colleagues at Vertu Kia Nottingham went all out to give Sue an experience fit for a TV superstar, chauffeuring her to the dealership and giving her the chance to pull back a sheet and reveal her brand-new Kia.
Sue said: "I'm absolutely over the moon with my new car! I'm still in shock to have won; it's very surreal. It didn't feel real until I pulled the cover off the car and was shown around all the flash technology in it.
"Everyone at Vertu Kia Nottingham made it such an experience and were so lovely when we were organising the collection. There was a bit of an audience and a photographer – I felt like a real celebrity! I was just waiting for Ant and Dec to appear, but sadly I think they were too busy."
Sophie Burch, New Car Sales Manager at Vertu Kia Nottingham, said: "This is the first time that I've been involved with a car handover like this but hopefully not the last!
"I've watched the show over the years and it's exciting to play a small part in it. I think it's been a bit of a rollercoaster for her, but Sue was thrilled collecting her Kia Picanto! We hope she enjoys driving her new car and look forward to seeing her back here soon for its regular servicing."
Vertu Motors plc Group Operations Director, Chris Taylor, commented: "We are delighted that Sue has been able to enjoy this experience at Vertu Kia Nottingham.
"I know our whole team led by General Manager Geoff Wicks are very proud to be involved. It's always exciting to see people win the ads on Saturday Night Takeaway!"