Slough Apprentice Wins Formula One Teamwork Experience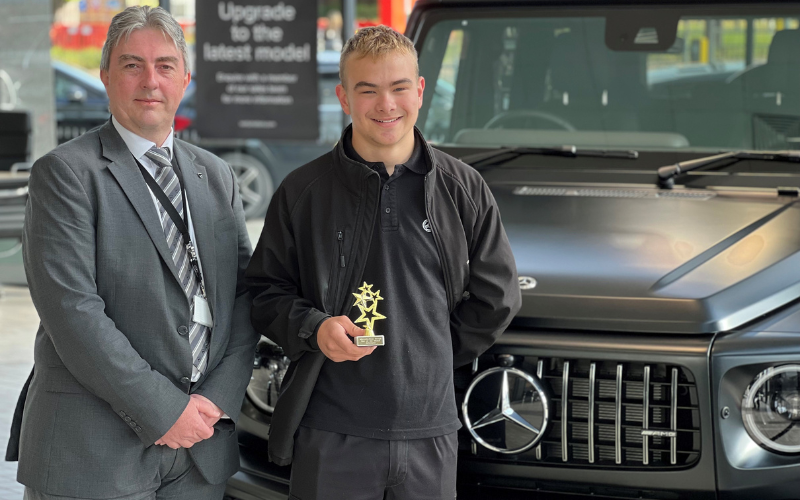 Max Errington, an Apprentice Technician at Vertu Slough Mercedes-Benz, is revving up for a week of work experience at Lewis Hamilton's AMG Petronas Formula One team headquarters.
He has been awarded the exciting prize after being selected for the Mercedes-Benz Tony Pritchard Recognition Award.
Max was nominated by Service Manager Scott Marshall in the Apprentice of the Year Awards, as an apprentice who has demonstrated Mercedes-Benz values consistently, has always submitted work on time, received brilliant feedback from customers and is an active team player.
Max wins a week of work experience at the F1 team's headquarters in Brackley, Northamptonshire, in the week leading up to the British Grand Prix at Silverstone.
Scott Marshall said: "Max immediately sprung to mind as a nominee in the awards. He is showing great potential and is highly regarded by his colleagues."
Raj Virdee, Head of Business at Vertu Slough Mercedes-Benz, said: "Apprentices like Max are the future of our business, and I am delighted that his commitment and professionalism have been recognised with this award.
"I am certain he will have an amazing time working alongside the Formula One technicians, as they prepare for the British Grand Prix!"
The Mercedes-Benz Apprenticeship Academy develops young people for the Retailer network, in order to support succession planning and Mercedes-Benz growth aspirations. The brand-focused programme has a 96 per cent achievement rate, with 70 per cent of graduates still within the dealer network after 10 years.