Students from Leeds City College Explore Exciting Opportunities at Vertu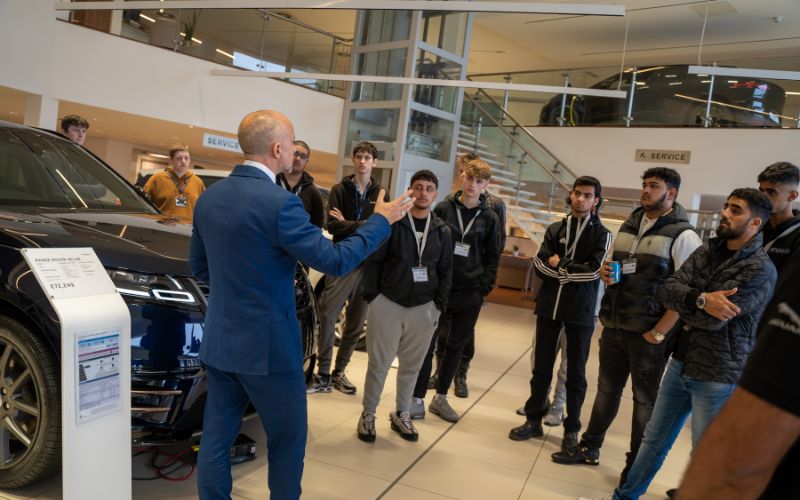 A group of enthusiastic students from Leeds City College's Engineering School embarked on a visit to Vertu Leeds Jaguar Land Rover, immersing themselves in the world of luxury cars and exploring potential career paths within the automotive industry.
The visit, organised by Matt Webley, a pastoral teacher at the college, aimed to inspire and ignite the students' aspirations towards their careers.
The students were welcomed by Rik Shield, the Head of Business at Vertu Leeds Jaguar Land Rover. The visit commenced with an exclusive tour of the dealership, providing the students with an opportunity to discover the range of cars offered by the manufacturer.
The students also witnessed firsthand the expertise of the technicians who service and repair the vehicles.
Engaging with colleagues at the dealership, the students gained valuable insights into various roles available, ranging from sales to automotive technicians. These conversations provided invaluable guidance to the students, giving them a clearer understanding of the skills and qualifications necessary to pursue their chosen paths within the sector.
Matt Webley emphasised the importance of nurturing the students' aspirations and exposing them to real-world experiences. He said: "It was a privilege to witness the students' excitement as they explored the Vertu Leeds Jaguar Land Rover dealership.
"Our aim was to provide them with a glimpse into the possibilities and opportunities that await them in the automotive sector. We are grateful to Rik Shield and his team for their warm hospitality and invaluable insights."
Rik Shield, Head of Business at Vertu Motors Jaguar Land Rover Leeds, expressed his delight in hosting the students and inspiring the next generation of automotive professionals. Rik said: "We were thrilled to welcome the students from Leeds City College's Engineering School to our dealership.
"It's essential to expose young minds to the world of automotive excellence, helping them envision the diverse career paths available within our industry.
"We hope that this visit has inspired their passion and motivated them to pursue their ambitions."