The Toyota Prius Is Named Best Used Hybrid Car At Auto Express Used Car Awards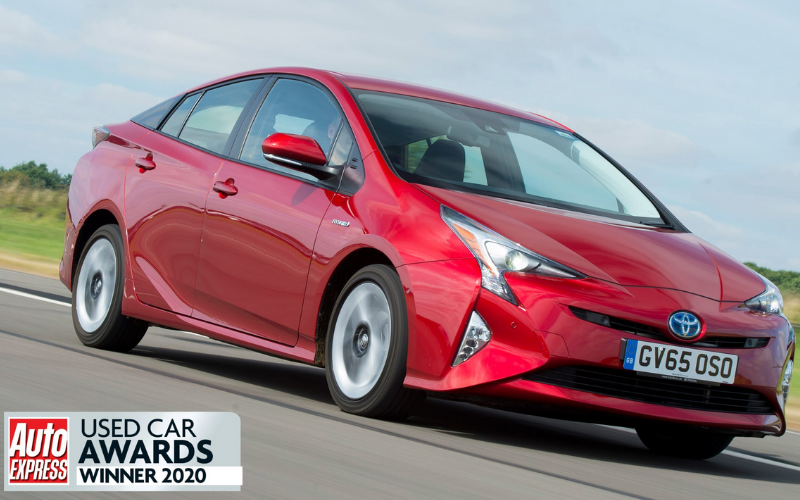 Despite it being a highly competitive category, Toyota's popular hybrid car, the Prius, has driven away with the 'Best Used Hybrid Car' award at this year's Auto Express Used Car Awards.
Auto Express declared that 'the Prius has a fine reputation for environmentally-friendly motoring.
'It's a great option if you're looking to minimise your fuel bills without sacrificing other features, such as comfort or technology.'
They went on to say: 'A sophisticated suspension set-up delivers a refined ride and impressive body control, so while the Prius focuses on sipping fuel, it's actually surprisingly good to drive.
'The 1.8-litre petrol engine and electric motor set-up claimed sub-100g/km emissions at launch, and the 2016 example we found will be free to tax.'
Auto Express commended the Prius' Business Edition spec too, declaring that this was the best variant the award-winner had to offer:
'The Business Edition spec is the trim level to go for. This features dual-zone climate control, LED lights, Toyota's Touch 2 infotainment system, a colour head-up display, adaptive cruise control, lane-departure warning, blind-spot monitoring, cross-traffic alert, heated seats and even wireless phone charging.'
The Toyota Prius' practicality was also something to be highlighted when justifying the award: 'You can add practicality to its broad list of attributes too. The platform was designed with hybrid powertrains in mind, so the batteries don't eat into space in the rear, while the 343-litre boot is still fair.'
The Toyota Prius is also a hybrid that's incredibly safe. The Toyota Prius received the maximum Star rating in the Euro NCAP's tests, offering outstanding crash protection and scoring very highly in all categories.
The Euro NCAP is an independent organisation to judge a car's safety, producing yearly reports on all the latest models.
Having reviewed the 2009 and 2016 Toyota Prius model updates, Euro NCAP declared that both were to have a 5-star safety rating with just their standard features intact.
As well as the usual safety mod-cons of a new car, including ISOFIX fittings for really little ones, the Toyota Prius comes with a range of Assistance Systems as standard. That means it will automatically keep a look out for and avoid if possible, potential dangers on the road.
Check out the current range of Used Toyota Prius cars we have available now – enquire about one of our amazing deals or book a test drive today. Or alternatively, browse our full selection of used cars.