Toyota Chesterfield helps 'Fund a Better Tomorrow'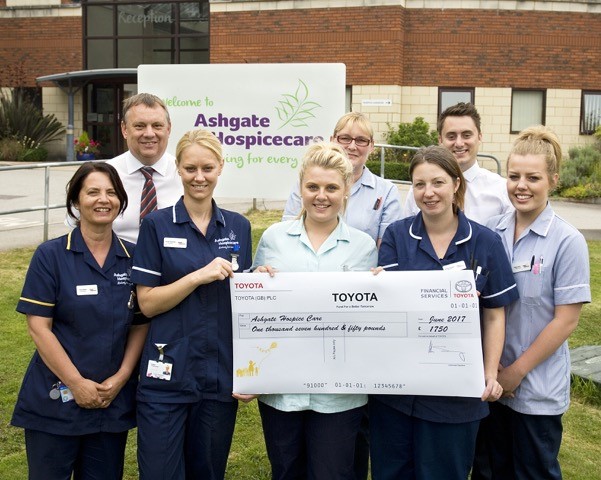 Vertu Toyota Chesterfield has made a donation of both time and money to Ashgate Hospicecare.
The donation of £1,750 to Ashgate Hospicecare from the Lockoford Lane dealership's Fund a Better Tomorrow charity fund will contribute towards the refurbishment of the bathrooms at the hospice to create a therapeutic experience for their patients.
The team from Vertu Toyota will also be donating their time to help maintain and improve the hospice site. In spring, they will be helping to transform the outside hospice areas for the benefit of patients by planting new plants and flowers and painting the exterior of the building.
The donation comes from Toyota's Fund a Better Tomorrow Fund, which was established in 2012 to enable UK Toyota dealerships to support local charities, schools and community schemes. To date, it has supported more than 200 projects and donated in excess of £350,000.
Paul Jenkinson, general manager at Vertu Toyota Chesterfield, presented Ashgate Hospicecare with the cheque for £1,750. He said: "I'm very proud that Vertu Toyota Chesterfield is able to support Ashgate Hospicecare. The Hospice is a very worthy recipient of support from the Better Tomorrow fund and colleagues from the dealership enjoy donating their time to the hospice. It does fantastic work helping those with life limiting illnesses and their families in the local area."
Lucy Nickson, chief executive of Ashgate Hospicecare, said: "We're very grateful for the support of Vertu Toyota Chesterfield. We rely heavily on donations and fundraising in order to maintain our levels of services to those who need it most. Without the support of businesses like Vertu Toyota we simply couldn't continue."