Toyota Hilux Named Pick-Up Of The Year At Great British Fleet Awards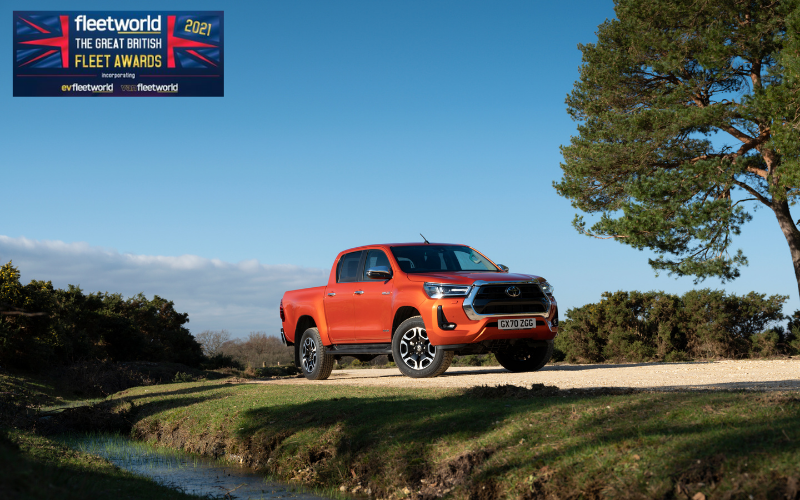 Taking home the title of 'Pick-Up of the Year' in the Great British Fleet World Awards, the recently refreshed and more powerful Toyota Hilux has bagged its first official accolade.
In addition to Hilux's award, the latest Toyota Proace City was also 'highly commended' as part of the Compact High Cube category.
The Great British Fleet Awards are hosted by industry-renowned publication Fleet World, focusing on the best vehicles available for fleets today.
The expert panel of judges recognised the all-new Hilux's latest design enhancements and the availability of a more powerful engine option.
Toyota have noted previously that the Hilux completely represents the 'quality, durability and reliability' of their brand.
The latest Toyota Hilux, which was just launched at the end of last year, has a striking new frontal design.
The Invincible grade model comes with a more powerful 2.8-litre engine option. However, this is fitted as standard to the Hilux Invincible X.
From new equipment features, to added comfort and improvements in performance both on and off-road, it was hard for World Fleet not to pick the all-new Hilux.
John Kendall, Van Fleet World Editor, commented: 'Hilux is one of the few names that would be recognised just about anywhere in the world. The Toyota pick-up has just about become a byword for dependability.
'It largely shunned the fashionable end of the pickup market, where wheels rarely get dirty, until late 2020 when Toyota gave it a 201hp engine option and a refresh.
'Hilux still has a strong following among working users, providing single, extended (extra) and double cab options to suit their varying needs.'
Referring to the Toyota Proace City, Kendall continued: 'The Toyota Proace City marks Toyota's return to the European compact high cube van sector, offering buyers a range of driver assistance systems.
'The addition of an electric model is bound to sustain interest in a van that has already proved a hit with fleet buyers.'
The all-new Toyota Hilux is sold with a five-year/100,000-mile manufacturer warranty, as standard, for your peace of mind.
Along with the Hilux, a wide range of accessories are also available - suitable for both business and leisure uses.
Available to order now, take a look at our fantastic deals across the award-winning Toyota Hilux range: