Try Before You Buy: The All-New Toyota Yaris Augmented Reality App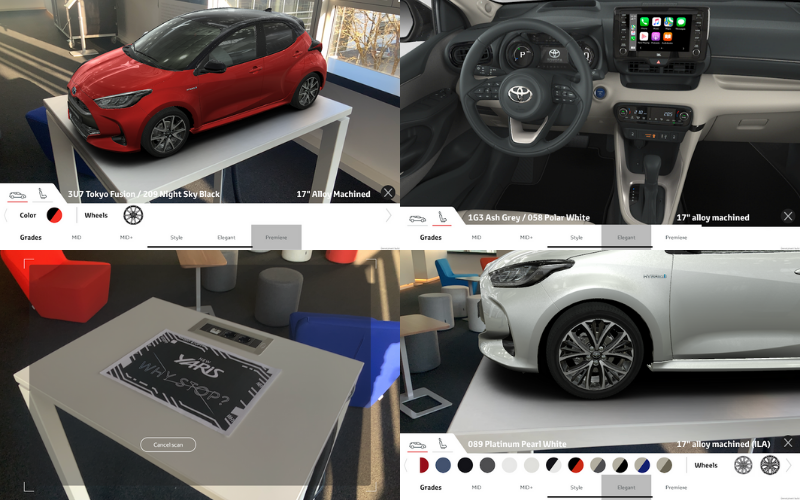 Not sure what the new Yaris will look like on your driveway? Well, wonder no more! The all-new Toyota Yaris Augmented Reality App is a new and exciting way to envision and personalise your future Yaris.
The new AR app allows you to configure your perfect Yaris and display it in your garage, on your driveway or even in your living room.
Choose your grade and play with the exterior colours and wheel choice, then immerse yourself in the interior and compare the different finishes.
Using Augmented Reality technology, Toyota have made it easy to explore the eye-catching design of the new Yaris, understand the differences between each grade, choose your ideal alloy and match with your choice of exterior colour.
The 2020 Toyota Yaris has been highly anticipated. Not only will the all-new Toyota Yaris hybrid bump up your style points, but it is also expected that the small car will meet the demands of everyday life, to make your daily driving experience easier and stress-free!
From great safety features to new and helpful on-board technology, the Yaris has been upgraded.
The new Toyota Yaris will also be a perfect car for first-time drivers. It's cheap to run, has great fuel economy and is an ideal size to start your journey on the roads.
Why not explore your new Yaris today? Visualise the car wherever you want using your smartphone.
The new Toyota Yaris AR app is supported on Android devices and all iPhone devices from a model 6 upwards.
To find the new state-of-the-art app, search 'New Yaris Augmented reality' in either your application store, or use the links below:
Alternatively, if you'd like to look at the amazing range of deals we have on the current new Toyota Yaris, click the link below: