UNIQUE VEHICLE ARRIVES AT LEEDS RETAIL CENTRE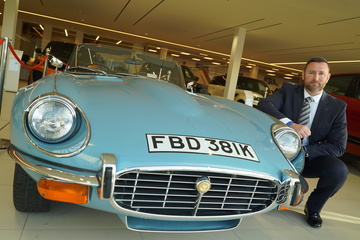 Farnell Jaguar Leeds is offering classic car enthusiasts a unique opportunity to purchase a rare, pristine, Jaguar E-Type Series 3 V12 Roadster.
The 5.4ltr classic, registered in January 1972, is in perfect condition; demonstrating that age doesn't always have to come before beauty!
Treasured by only six owners, the car has fewer than 40,000 miles on the clock. It has remained British registered, unlike other Series 3's which became Californian exports and left-hand drives.
The Series 3 was in production from 1971 to 1975 and fewer than 8,000 made, it still stands today as one of the most iconic classic cars that collectors can purchase.
Throughout its 46 years the car has been kept beautifully and has been fully restored to its original specification. It is for sale for £109,400.
The dealership, on Sheepscar Way, is home to many high specification, used cars including several custom Range Rover SVO's.
Rik Shield, Head of Business at Farnell Jaguar Leeds, said: "One of the best things about having a luxury used car dealership, is that diamonds like this can offered for sale. We know the owner and can verify its unique and long history.
"The car is in immaculate condition and has been cherished and well-maintained. We will be sad to see this one go, but it's certainly a great purchase for any classic car lover."
The car is currently owned by Peter Jones. He said: "As a boy, the E-Type drophead was my dream car, and in 2016 I asked a specialist procurer of classic cars to look out for one for me.
"I bought it the same year and while I love the car, I don't drive it as much as I should. I thought it was time to hand it over to someone who is able to take it on more drives and outings. I am sure that Rik and the team will find the car a perfect home!"