Vertu Honda Doncaster manager rewarded for outstanding work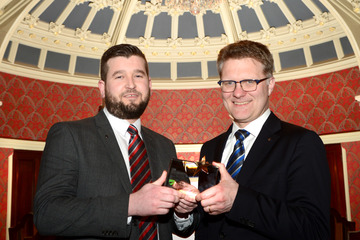 Vertu Honda Doncaster is celebrating after a team member was chosen as 'Business Manager of the Year'.
Stuart Hill was presented with the award at Vertu Motors' CEO Awards dinner, hosted by the Group's CEO, Robert Forrester. The awards, which were held at Kilworth Hall in Leicestershire, celebrate the top performing managers who have excelled in positions across the companies it operates, including Vertu Honda, Bristol Street Motors and Farnell Jaguar Land Rover.
Robert Forrester, CEO of Vertu Motors plc commented: "The performance of the Doncaster sales team has been one of the highlights of Vertu Honda's business performance this year.
"Stuart was central to this performance and his level of personal drive and energy generated these results. He has consistently delivered great service to customers and in a hugely successful first year as a business manager."
Stuart added: "This is my first year as business manager and I am thoroughly enjoying the role, the responsibilities it brings and the new skills I have developed as a result. Vertu Honda heavily invests in the training and progression of its colleagues, which I have benefitted from, and I am thankful for its ongoing support."